Austin Peay Sports Information

Brentwood, TN – Austin Peay State University's football home game with Murray State, 6:00pm, Saturday, October 18th, will be part of the Ohio Valley Conference "Game of the Week" package that will be carried exclusively on ESPN3 this fall.
It will be the first game broadcast from New Governors Stadium on a national platform.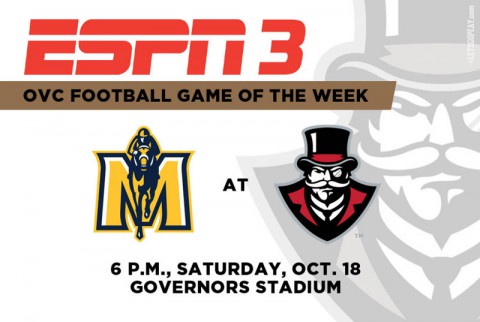 Austin Peay and Murray State will be playing for the 48th time this season. Last season Murray State won its sixth-game in a row in the series in topping Austin Peay 31-3, in a contest that also was broadcast by ESPN3.
Kevin Ingram, host of "The Wake Up Zone" on 104.5 The Zone in Nashville, will handle play-by-play duties.
This marks the second-straight season the league has produced the Game of the Week package in conjunction with WebStream Sports. WebStream Sports, an Indianapolis-based company which is a proven leader in video production, streaming video and content creation. The company, founded in 2006, produces more than 1,000 events annually and has also served as a web streaming consultant for the OVC for the past year.
The OVC Football Game of the Week package is part of a five-year agreement with ESPN which was announced last October. The deal runs through the completion of the 2017-18 season.
ESPN3 is ESPN's live multi-screen sports network, a destination that delivers thousands of global sports events annually and accessible online via WatchESPN.com, on smart phones and tablets via the WatchESPN app, through ESPN on Xbox LIVE to Gold members and on Apple TV and Roku.
It is currently available in more than 85 million homes at no additional cost to fans who receive their high-speed Internet connection or video subscription from an affiliated service provider. It is also available at no cost to approximately 21 million U.S. college students and U.S.-based military personnel via computers connected to on-campus educational networks and on-base military networks.
2014 OVC Football Game of the Week on ESPN3 Schedule
Sept. 20th – Eastern Kentucky at UT Martin, noon
Oct. 4th – Wildcard Selection (Eastern Kentucky at Austin Peay, UT Martin at Jacksonville State, Murray State at Tennessee Tech, Tennessee State at Southeast Missouri)
Oct. 11th – Jacksonville State at Tennessee State, 2:00pm.
Oct. 18th – Murray State at Austin Peay, 6:00pm.