Clarksville, TN – Determined to put last year's injury-hampered season behind her, Austin Peay State University volleyball senior outside hitter Jada Stotts is ready to take her spot as one of the elite all-around players in the Ohio Valley Conference.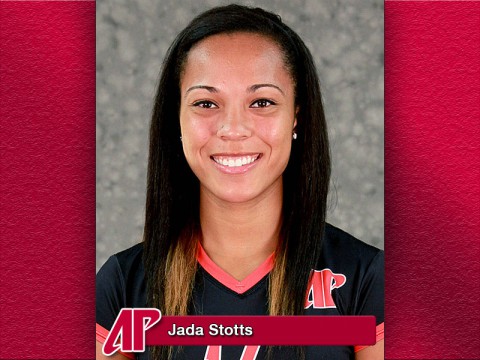 Stotts came into her junior season in 2013 being named pre-season All-OVC after posting a 400-plus kill season as a sophomore, with an attack percentage just under .200, but just four matches into the season suffered an ankle injury that kept her out for a month.
"It was extremely frustrating," said Stotts of the injury. "I always want to contribute to the team, but it was also kind of a learning experience.
"I got to see a lot with being out when I was out and learn a little bit more."
But even after coming back after the month layoff, Stotts was never fully able to regain the form she was playing with before the injury.
"I didn't come back like I want too," Stotts said. "And I didn't come up with the stats and stuff I would have liked and my team would have liked to see from me, but I'm healthy now and I plan on staying healthy throughout the season."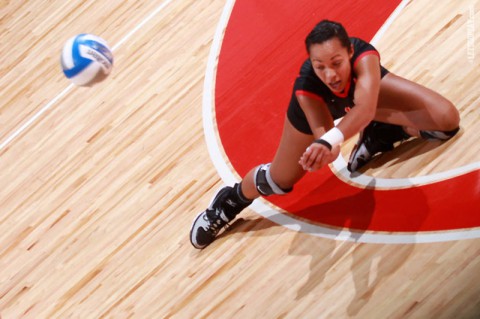 Still, she was able to record a team-high 304 kills in 2013, but only had a .133 attack percentage and missed out on being named to any regular-season All-OVC team.
"It's very exciting and I feel honored to be selected pre-season all-conference," Stotts said. "But that's not enough for me. Last year I was picked pre-season all-OVC, but didn't make it onto the regular-season (all-conference team) and that was disappointing.
"I don't want to be in that position again this year. I worked hard over the summer and this pre-season it's really hit me that this is my last pre-season ever and I just want to give my everything and all because this is my last time around."
That is a sentiment that Lady Govs head coach Taylor Mott echoes, because a healthy Stotts is a difference maker that causes matchup problems for their opponents.
"Last year was tough because she came into the pre-season amazing and then gets hurt and was never really ever able to recover from it," Mott said. "But we're excited this year with her being back, and healthy, and we're trying to keep her that way because I think she can do great things this year.
"Jada has become very effective both on the front and back row and opponents have to know where she is on the floor. It's hard to defend her is practice, which is exciting for us. If she can get back into playing shape, I think she's going to be hard for anybody to stop."
Austin Peay was picked fourth in the pre-season poll of league coaches and sports information directors, but 11 returning letter-winners – including five starters – and a healthy Stotts may be enough for the Lady Govs to make a deep run at a conference title.
"I want to finish out at home in front of our crowd," Stotts said. "I dream of winning the championship here in front of our friends and family and it's even more so now that I'm a senior. I definitely think we have the team that can do that this year."