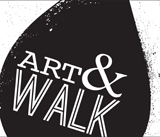 Clarksville, TN – Produced by The Downtown Clarksville Association, First Thursday Art Walk is a free, self-guided tour spanning a 5-block radius that combines visual art, live music, engaging events and more in the heart of Downtown Clarksville.
With 10+ venues, bars and businesses participating each month, the First Thursday Art Walk in Clarksville is the ultimate opportunity to savor and support local creative talent.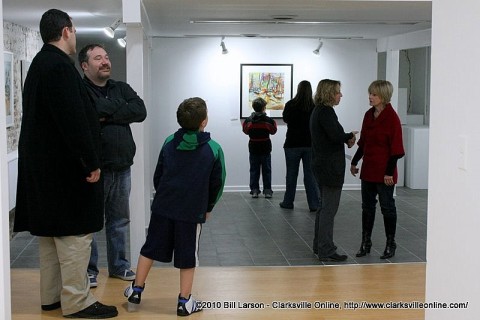 The October Art Walk will be held October 2nd from 5:00pm to 8:00pm at the shops and galleries on Public Square, Franklin Street, and Strawberry Alley.
The participating businesses are listed below as well as a description of the work they will be exhibiting and services they will be offering during the event.
The Downtown Artists Co-op (96 Franklin Street)
The DAC is an association of talented local artists and interested patrons dedicated to promoting the visual arts in the Clarksville/Montgomery County area.
Our objectives are to sponsor art exhibitions of work by Co-op members and regional artists, to provide continuing support for the Co-op and its membership through the sale of art work, to encourage arts education with outreach programs and scholarship fundraisers, and to develop membership services which directly support the arts community.
Artist Information
The Downtown Artists Co-op will feature Nada Fuqua's exhibit entitled "Landscapes Mostly, a Continuation during the October First Thursday Art Walk.  "Tennessee country sides require a different palette from South Dakota."  Nada looks for the unusual, something that she perceives as special." She works mostly in oil, pastel, and pencil.
The artist in the window at the Downtown Artists Co-Op for the October exhibit opening is Cliff Whittaker. Cliff has been a photographer for over 50 years.  His works will have a playful Halloween theme using one of our members as his model. Images will include Zombie Dorothy, The Electric Girl, and more.
Please join them at the DAC Gallery, 95 Franklin Street for the opening reception on Thursday, October 2nd, 5:00-8:00pm. As always, the opening reception is a center point of Clarksville's First Thursday Art Walk.
Edward's Steakhouse (107 Franklin Street)
Edward's Steakhouse is proud to host local artist, Larry Richardson, during the October First Thursday ArtWalk.
Born in rural western Kentucky, Larry's love of the outdoors led to a career that included an advanced degree in biology, work in parks and wildlife, art publishing, US Senate and currently as a painter of scene of "where I like to be."
He began to consider art seriously when he worked with noted wildlife painter Ralph McDonald, helping him develop a new business in the 1970?s.  Since then, he has been involved in both art publishing and sales throughout his career.
Larry enjoys plein air painting, which involves painting outdoors using impressionist techniques.  The method follows a "loose style" utilized by some of his favorite artists like Winslow Homer, Thomas Eakin, John Singer Sargent Frank Benson and others who employ the same genre.
You can view painting, read field nots, watch for upcoming shoes at www.larrycornerstone.com . He has won awards for his landscapes at the annual Downtown Artist Co-op juried shows in Clarksville.
Stop in and see the art and take in their Thursday night special, 1/2 priced $7.00 appetizers and 2 for 1 draft drink specials.
The Runner's Hub (127 Franklin Street)
The Runner's Hub hosts group runs around Historic Downtown Clarksville every Thursday evening at 5:30pm.
The Roxy Regional Theatre (100 Franklin Street)
Peg Harvill Gallery
For those who enjoy the visual arts, the Peg Harvill Gallery, located just beyond the lobby, hosts twelve shows annually featuring locally and nationally known artisans. Shows generally open the first Thursday of each month for our First Thursday Art Walk.
Artist Information
The Peg Harvill Gallery at the Roxy Regional Theatre is pleased to host local artist, Mike Andrews for the October First Thursday Art Walk.
Gallery hours during Art Walk will be 5:00pm – 6:30pm.  Additional gallery hours are Monday through Friday, 9:00am–2:00pm.
For tickets to and information about our current production of "On The Town," please visit www.roxyregionaltheatre.org or call the box office at 931.645.7699.
The Gilroy Neighborhood Pub (140 University Avenue)
Continue your evening of Art Walk down Franklin Street and stop in The Gilroy for a refreshing beverage and a great meal.
After Walk Party at The Gilroy
2-4-1 Drafts til midnight, 2-4-1 Cocktails til 10:00pm
Customs House Museum (200 S. 2nd Street)
The Customs House Museum and Cultural Center is Tennessee's second largest general interest museum. It features fine art, history, and children's exhibits.
Artist Information
Exhibits
Leslie Shiels: Dizygotic  Through November 2nd
Ohio artist Leslie Shiels explores the concept of twins through depictions of animals. The paintings in this series are mirror images that are supported by the allegory of Fraternal twins; very much the same but completely different and sometimes opposite.
Women Painting Women  Through November 2nd
Customs House Museum celebrates women artists with its annual exhibit. This year's slate of artists hailing from Tennessee, California, Georgia, and Ohio, offer a variety of artistic views of the female form.
Even When: Recent Works by Susan Bryant and Billy Renkl  Through October 26th
New works from husband and wife team Susan Bryant and Billy Renkl, including both individual and collaborative pieces.
Richard Hogan: My View  Through October 31st
Margaret Evangeline: From the Collection  Through October 31st
Margaret Evangeline is a contemporary painter, sculptor, and installation artist who lives and works in New York City. See her paintings from the museum collection, including our never-before displayed "Flag Veil River."
Aletha Carr: New Connections  Through October 31st
Carr's assemblages consist of discarded objects, such as marbles, action figures, and electronics. Her work is a reminder of our collective history, and observing it is an act of remembering and re-interpreting.
Mildred & Mables (109 Franklin Street)
Artist Information
Mildred and Mable's will be open late during the October First Thursday Art Walk.  Stop in and see great ways to transition your wardrobe and home this Fall.
Our Primitive Kountry (120A Strawberry Alley)
Artist Information
Our Primitive Kountry will be open late for the October First Thursday Art Walk.  Take a stroll down Strawberry Alley and see all the offerings they have to spruce up your decor this summer!
Couture Crush (101 Franklin Street)
Couture Crush will stay open late for the October First Thursday Art Walk.  Stop in and see all the great offerings to help transfer your wardrobe into FALL
The Framemaker (705 North Second Street)
Artist Information
Pastel Paintings: New Work by Suta Lee
The Framemaker proudly presents new work by artist Suta Lee. This series of pastel paintings is based on photographs taken by the artist while traveling abroad. The exhibit is part of Clarksville's First Thursday Art Walk on October 2nd, 2014. An opening reception will be held from 5:00pm to 8;00pm. The artwork will remain on display at the Framemaker throughout the month of October during normal business hours (Mon. through Fri. 10:00am – 5:00pm).
Suta Lee is an Associate Professor (Painting) at Austin Peay State University. Past exhibitions include Art of Tennessee, Frist Center for the Visual Arts, Nashville, TN, and Solo Exhibition, Customs House Museum, Clarksville, TN.
Olen Bryant was born in Cookeville, TN. He attended Murray State University, served in the United States Army, and continued his education at the prestigious Cranbrook Academy of Art. Bryant has taught in numerous school systems, including Austin Peay State University, where served as Professor of Art from 1964 to 1991. Bryant's work has inspired generations of sculptors and artists. He is truly one of Tennessee's artistic treasures.
Olen's sculptural forms are easily recognizable expressions of the human figure. In addition to sculptures, Bryant has an extensive collection of sketches, which will be on exhibit.
The Framemaker is located at the corner of North Second Street and Georgia Avenue, across from The Clarksville Academy.
Rogate's Boutique (115 Franklin Street)
Artist Information
Rogate's Boutique will host local artist, Leslie Campbell, during the October First Thursday Art Walk.
"Most of my work features a woman on a journey in life.  As a military spouse, I've been on lots of journeys all over the world.  In today's Army, the spouse is usually on the journey alone or with other women.  We often seek each other's company to get through a deployment or new move, and sometimes we are ok with just being alone and finding ourselves."
"To some extent, with each move and deployment we   re-create ourselves, often times into stronger more independent women.  I see myself in a lot of what I create and I sense those images resonate with a lot different women.  Not just military spouses."
"The works are mixed media paintings in which an image gets layers of paint, colored pencils, charcoal, oil pastels, textiles, and papers until I've created the perfect woman in her perfect world.  My pieces are meant to empower women and make people smile and daydream."
The Well (224 Union Street)
Artist Information
The Well is excited to join the October First Thursday Art Walk!  Located at 224 Union Street, The Well will feature a local APSU grad who will be showing, as well as some art from some local children and artisans. Additionally, The Well will have a theater group from Lipscomb University who will be performing throughout the evening.