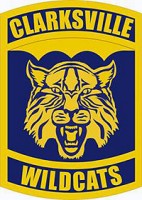 Clarksville, TN – The cafeteria at Clarksville High School was filled with people celebrating the six athletes preparing to sign their letters of intent on National Signing Day. Smiling and wearing gear from their future schools, the six athletes from three different sports were Abby Anderson, Dennis Merriweather, Mason Gasaway, Ella Baggett, Autumn Copeland and Justis Bailey.
Abby Anderson is the first Lady Wildcat volleyball player to sign a letter a intent to a university. Anderson committed to King University in Bristol, Tennessee. She was a decorated four year starter at Clarksville High. In addition to being chosen to this season's Region 5 All Tournament Team, she was named to the All District Team for the second time.
"I started e-mailing a bunch of colleges. Then, I started researching them, seeing which ones I like and where I wanted to go. It came down to a couple of colleges including King. My coach Jami Thomas brought King to me. That was really cool," Anderson said. "I fell in love with it when I went on my tour and visited there. I love the school and the team already. It's exciting."
Dennis Merriweather and Mason Gasaway are senior football players who both signed their intent to play at Georgetown University in Kentucky.
Merriweather played both safety and linebacker for the Wildcats. "He was really a leader for us in the older group," football head coach Isaac Shelby said. "Really good athlete, really good guy, a 3.0 student …we are really excited about Merriweather's future."
Merriweather said he enjoyed the visit to Georgetown and one of the reasons he chose them was because they had the major he wanted. He said he looks forward to both playing football and attending school there.
Gasaway was the Wildcats punter and kicker. He was chosen for both the all area and all district teams. "It's just exciting seeing so many people that are here to support me, care about me enough to come and experience this special moment with me" Gasaway said. "I can't wait to spend the next four years at Georgetown."
Gasaway said at first he was confused and unsure of where he wanted to go after high school. "I knew what I wanted to major in. I just couldn't find a perfect fit for me that was going to work best academically and set me up best for the future as well as athletically too. I just prayed about it," Gasaway said. Eventually he was recruited by Georgetown. Gasaway said it felt like home when he visited and after more prayer decided to commit to the university.
Ella Baggett, Autumn Copeland and Justis Bailey are three standout senior Lady Wildcat soccer players who signed their intent letters. Part of the team that won the state title this season, Baggett scored 40 goals this season and broke a school record for most career goals (131), while Bailey and Copeland were stalwarts in the backfield on defense.
Copeland committed to Cumberland University, Justis committed to Lipscomb and Baggett signed with Samford University in Alabama. There were tears as well as smiles as the players described the process of selecting their future schools.
"It was just really great, the guidance of my family, my coaches, to find such a great school both athletically and academically as Samford. I am really excited about it," Baggett said.
"All three of these girls share something in common. They are all super hard workers," Lady Wildcats soccer head coach Jeff Jordan said. "These girls are total players and their hard work is paying off."