Austin Peay (7-15/2-6) vs. UT Martin (13-8/5-3)
Thursday, February 5th, 2015 | 7:30pm CT
Clarksville, TN | Dunn Center

Clarksville, TN – Austin Peay will continue its search for offensive consistency when it plays host to Ohio Valley Conference surprise UT Martin, 7:30pm, Thursday in Dave Aaron Arena.
The third game of a five-game homestand, the Governors are seeking to snap a two-game losing streak.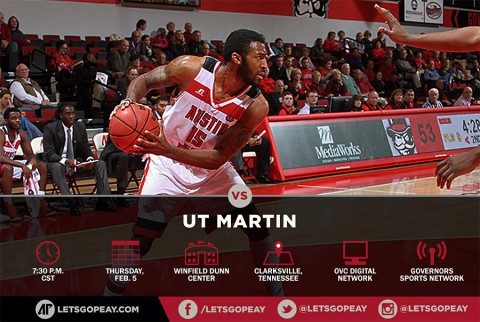 APSU is coming off a pair of weekend losses to Morehead State and Southeast Missouri, the latest Saturday by 70-64. It dropped to 2-6 in OVC play and 7-15 overall.
The contest was 10th in the last 11 games where the Govs have scored fewer than 70 points. In both weekend losses, they shot less than 40 percent from the floor (22 of 58/37.9 percent against SEMO). The Govs now have shot less than 40 percent 14 times this season.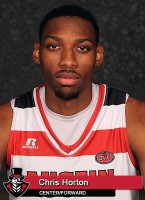 The Govs struggles have occurred despite one of the best stretches by a Gov in recent history. Junior center Chris Horton has rolled off five straight double-doubles—he scored 23 points in each of APSU's weekend losses. He has also grabbed a career-best 18 rebounds in the loss against Southeast Missouri, despite not grabbing his first rebound until 9:50 was left in the first half. Horton had 11 offensive rebounds in the contest.
If Eastern Illinois is the surprise team in the OVC this season at 7-3 and second place in the OVC West, then UT Martin is not far behind in catching experts off guard in 2014-15. The Skyhawks were picked to finish sixth in the OVC West and find themselves in third place at 5-3 in the OVC and 13-8 overall.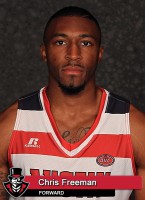 New coach Heath Schroyer, the former Wyoming coach who was an assistant at UNLV a year ago, brought along guard Deville Smith, who is averaging 14.7 points and 4.4 assists per game as perhaps the OVC's top newcomer. In addition, the Skyhawks also Twymond Howard, the former UTEP forward, who is averaging 13.5 points and 6.4 rebounds per game.
Guard Marshun Newell is one of the returnees who has flourished in 2014-15. He is averaging 12.5 points, shooting 41 percent from three-point range, along with 6.2 rebounds per outing.
UTM will look to bounce back after a 65-62 loss at OVC leader Murray State last Saturday. In the contest, UT Martin rallied from an 11-point halftime deficit to tie the game with 5:00 remaining. However, the Racers scored five of the final seven points in the final minute to hold on for the win.
The More You Know
The Series: This is the 96th meeting between Austin Peay and UT Martin, a pair of Ohio Valley Conference West foes who also competed as junior colleges and later members of the VSAC before eventually landing in the OVC. The Governors lead the series, 70-25. The Govs have won the last three contests, including both games a year ago–an 81-68 victory in Clarksville, January 2nd, 2014, and 88-85, March 1st, 2014 in Martin.
What A Win Would Mean:
The Govs would improve to 8-15…they would gain their second OVC home victory…they would improve to 3-6 in league play…they would improve to 6-4 at home this season…it would be APSU's third win of 2015…they would open February with a win…they would improve to 71-25 all-time against UT Martin…it would make Dave Loos 32-11 all-time against UT Martin…it would make Loos 1-0 all-time against first-year UT Martin coach Heath Schroyer.
What A Loss Would Mean: The Govs would fall to 7-16 overall…it would drop the Govs to 2-7 in the OVC…the Govs would slip to 5-5 at home…they would go to 0-1 in February…it would be the Govs third straight home defeat…APSU would fall to 1-4 against the OVC West… Loos would drop to 472-420 overall and 390-367 as the Governors head coach.
Broadcast Information
Radio • Governors Sports Network
Play-by-Play: Greg Walker
Analyst: David Loos
TV • GovTV • OVCDN
Play-by-Play: Will Pryor
Analyst: Adam Baumgardner
Governors on the Web
Live Video: www.OVCDigitalNetwork.com/showcase
Live Audio: www.LetsGoPeay.com
Live Statistics: www.statbroadcast.com
Video – Dave Loos