Clarksville, TN – On February 10th, 2015, Clarksville Police Detectives along with United States Postal Investigators conducted surveillance on Richard Thornton, Keenen Crane, Rachel Jones, and Ranquon Freeman, residents of Georgia.
The surveillance was conducted in reference to an ongoing investigation regarding a counterfeit check cashing scheme referred to as Operation Homeless. Throughout the investigation, it was found that the subjects located and recruited a homeless individual to cash checks for them.

The subjects are known to steal mail from a local business to aid in producing counterfeit checks on the business' checking account in the homeless person's name.
The homeless person was then sent to local banks where he cashed the counterfeit checks given to him by the subjects.
As a result of the investigation, all subjects involved were arrested and charged with Forgery, Criminal Simulation, Criminal Conspiracy, and Solicitation. All money received from the counterfeit checks was recovered.
This is an ongoing investigation and the lead investigators in the case are Detective Chris Cunningham with the Clarksville Police Department and Postal Inspector Misty Racimo.
If any local banks believe to be victims of this scheme, please contact Detective Chris Cunningham at 931.648.0656 Ext. 5195 or, to remain anonymous, call the CrimeStoppers TIPS Hotline at 931.645.TIPS (8477) or the US Postal Inspection Service at 1.877.US.MAIL5. (1.877.876.2455).
Richard Thornton
Name: Richard Thornton
Date of Birth: 12/ 20/ 88
Gender: M
Race: B
Address: 3394 Homera Place, Decatur, GA
Arresting Officer: Chris Cunningham
Charged With: Forgery, Criminal Simulation, Conspiracy, Solicitation in General, Evidence – Tampering with or Fabricating, Drugs – Simple Possession/Casual Exchange
Booked Into: Montgomery County Jail
Bond: $66,000.00
Keenen Crane
Name: Keenen Crane
Date of Birth: 4/ 30/ 91
Gender: M
Race: B
Address: 3590 Broad Oak Court, Decatur, GA
Arresting Officer: Chris Cunninghham
Charged With: Forgery, Criminal Simulation, Conspiracy, Solicitation in General
Booked Into: Montgomery County Jail
Bond: $55,000.00
Rachel Jones
Name: Rachel Jones
Date of Birth: 3/ 7/ 90
Gender: F
Race: B
Address: 1825 Cedar Walk Lane, Conley, GA
Arresting Officer: Chris Cunninghham
Charged With: Forgery, Criminal Simulation, Conspiracy, Solicitation in General
Booked Into: Montgomery County Jail
Bond: $55,000.00
Ranquon Freeman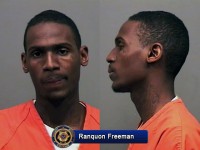 Name: Ranquon Freeman
Date of Birth: 5/ 10/ 89
Gender: M
Race: B
Address: 2044 Miriam Lane, Decatur, GA
Arresting Officer: Chris Cunninghham
Charged With: Forgery, Criminal Simulation, Conspiracy, Solicitation in General
Booked Into: Montgomery County Jail
Bond: $55,000.00