Clarksville, TN – Today March 26th, 2015 at 7:18am, the Clarksville Police Department was dispatched to a traffic collision at the intersection of Purple Heart Parkway and Evans Road.
A dump truck carrying a load of gravel traveling eastbound on Purple Heart Parkway struck the driver side of a four-door car traveling northbound on Evans Road. The dump truck rolled over on its side dumping out all its gravel and came to rest on the westbound lanes of Purple Heart Parkway.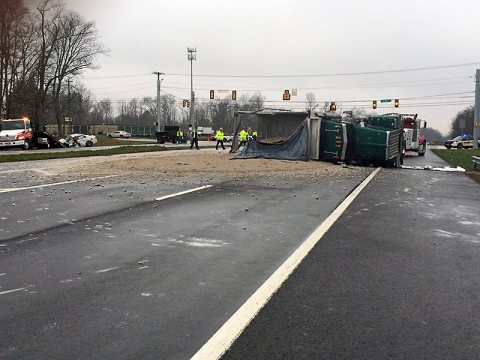 The driver of the four-door car was transported by bus to TriStar Skyline Medical Center in Nashville with what appeared to be non-life-threatening injuries.
The driver of the dump truck had no reported injuries. All lanes of travel on Purple Heart Parkway have been shut down from the time the collision occurred.
There is no further information at this time.
If anyone has any information related to this incident, please call Officer John Reyes at 931.648.0656 Ext. 5376 or the CrimeStoppers TIPS Hotline at 931.645.TIPS (8477).