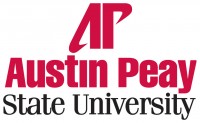 Clarksville, TN – Fort Campbell not only plays an important role in the efforts of the United States military, but also serves as a pillar of the local Clarksville community. With the goal of thanking community and academic leaders, Fort Campbell opened its doors Friday, April 24th for Military Alumni & Friends Day.
"We here all appreciate what you all in the community do for us … (the community) really bends over backwards to support us," Bob Jenkins, Fort Campbell director of public affairs, said. "There is a really symbiotic relationship between Fort Campbell, Clarksville and Austin Peay State University."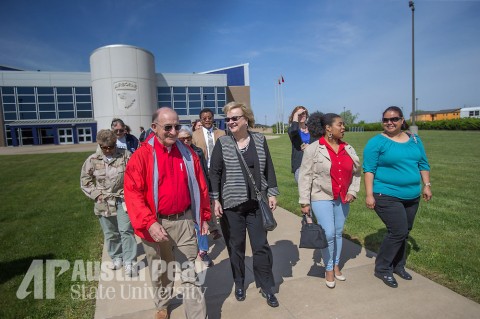 Dr. Alisa White, APSU president, was joined on the tour by APSU staff and alumni. Community leaders including Sherry Pickering and Stacey Hopwood with the Montgomery County Veterans Coalition also took part in the event.
The group spent the morning and afternoon touring the base, led by representatives from Fort Campbell. Included was a visit to The Austin Peay Center at Fort Campbell to see the University's efforts as the only institution of higher learning in America with a branch campus on a military installation.
Visitors were also taken to 101st Airborne Division (Air Assault) headquarters, where they were given the chance to explore the division's rich history, including its Medal of Honor recipients and artifacts from its role in nearly every major conflict since World War II.
The group also got a hands-on look at the installation's Engagement Center, which features an indoor simulation firing range with M16 rifles. Participants had a chance to practice their aim with target shooting, as well as a run-through of the military's "shoot-or-don't shoot" training exercise.
While at HQ, Brad Ninness, garrison executive officer, gave attendees a presentation on the work being done at Fort Campbell. More than just a military installation, Fort Campbell is the largest employer in Tennessee and Kentucky, with an economic impact totaling nearly $4 billion in payroll, retirement and other disbursements.
Fort Campbell also employs nearly 40,000 people between military and civilian employees.
The installation also invests heavily in higher education, spending nearly $9 million in 2014 in tuition assistance to current and former military.
"Our vision at Fort Campbell is to make it the best soldier and family experience possible," Ninness said. "Our motto is 'Work. Retrain. Return.' … 70 percent of our military retirees end up in the local area between Clarksville, Hopkinsville and Nashville."
For more information on The Austin Peay Center at Fort Campbell, visit online at www.apsu.edu/apfc , or call at 931.221.1400.
For additional information on Fort Campbell, visit online at www.campbell.army.mil, or call the public affairs office at 270.798.3025.