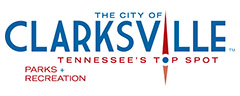 Clarksville, TN – Live music, games, great food and of course fireworks were the highlight of the City of Clarksville's eighth annual Independence Day Celebration at Liberty Park held Friday, July 3rd, 2015.
"Tonight is our July 3rd Independence Day celebration," stated Clarksville Parks and Recreation Special Events Supervisor Jessica Goldberg. "We have great music and lots of food. It's just a great family event."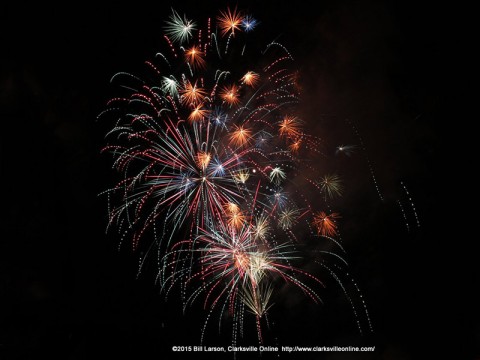 Some of the concessions available were hamburgers, BBQ, fresh squeezed lemonade, Hawaiian snow, and of course funnel cakes.
For locals Vincent Quarks and Adonis Thompson with Clarksville Brothers BBQ, it was their first time selling food at the event. Some of their entrees included grilled bratwurst, hamburgers, pulled pork BBQ, rib sandwich, chicken wings and more.
"I enjoy cooking, so I got with my friend Vincent and started Clarksville Brothers BBQ," said Thompson. "Everything has been going pretty good so far. The turn out has been great."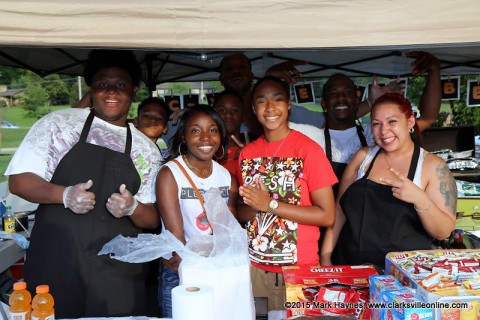 Clarksville Brothers BBQ can be contacted at 931.220.6993 for catering and other events.
Music for the night was provided by the 101st Airborne Division Rock Band Cover Down. In between sets, kids came onto the lawn in front of the stage to play games like the potato sack race and hula hooping.
"I have been bringing my family out to see the fireworks for the past couple of years," stated Kathy Smith. "I think Parks and Recreation does a great job putting on this event for the citizens of Clarksville."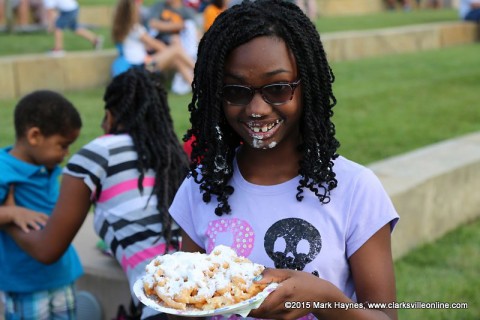 It was estimated that between 12,000-15,000 people came together at Liberty Park to celebrate Independence day and to show support for our country and our troops. It shows what a patriotic community Clarksville really is.
When 9:30pm rolled around, it was time for the highlight of the celebration, the fireworks.
Special thanks to the City of Clarksville and Clarksville Parks and Recreation for putting on such a wonderful event. Thanks to the Clarksville Police Department for helping make the traffic in the area a little more bare able.
This year's sponsors were Navy Federal Credit Union, The Leaf-Chronicle, Clarksville Family Magazine, Clarksville Online and Clarksville Transit System.
If you didn't make it this year, make plans to attend next year's event.
Photo Gallery