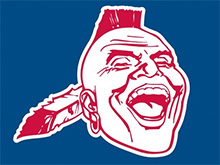 Clarksville, TN – Bit of an amazing ride for Juan Uribe, no?
He begins the season with the prohibitive favorite Los Angeles Dodgers as the starting third baseman, only he's kind of average and some Mets castoff named Justin Turner starts playing out of his mind, so the Dodgers send him to Atlanta, which wouldn't be awkward except that they did so right in the middle of a series against the Braves.
So he and his stogies and a half-dozen of his cars come to Atlanta and become sort of folk-hero-y; after all, the last time we saw him he was ruining the best chance of an extended playoff run during the Fredi Gonzalez era. But he shuffles Chris Johnson to the pine and delivers some nice moments while with the Bravos and hey, here's another photo of him smoking a big cigar with the Stanley Cup because Juan Uribe rolls like a boss.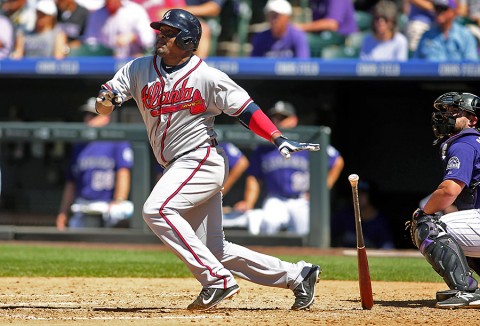 In fact, Uribe played so well for a team so clearly uninterested in contending that he became a prime trade chip as we neared the deadline and so John Hart swapped him and Kelly Johnson for a couple of prospects who won't sniff big-league ball until 2019 to the Mets.
And Uribe lands in New York as David Wright insurance and all of a sudden the LOLMets look like they're going for it, only Jenrry Mejia can't stop getting suspended for PED's and suddenly Tyler Clippard's involved and a team without two nickels to rub together suddenly thinks it's going to pay the king's ransom it's going to take to pry Carlos Gonzalez away from the Rockies – and since his home/road splits are… ummmm… suspicious, maybe they'd be better off just not doing anything but this is a franchise with a little brother syndrome stretching back to the Mike Piazza era so who the hell knows what they're capable of?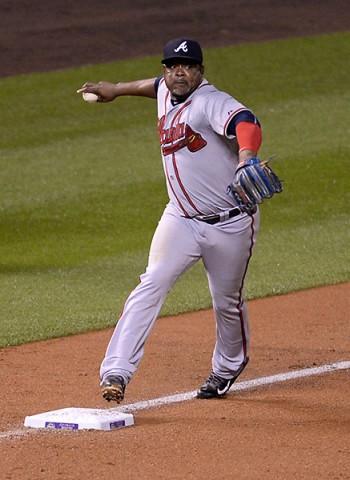 And then the bizarre Carlos Gomez deal-no deal happened on Wednesday night and took the whole thing to another level. Never change, Mets.
Uribe is the kind of guy that a contender needs – experienced veteran, clubhouse glue-guy, two-time World Series champion (2005 White Sox, 2010 Giants and I just hope that part of the Mets plan is to assume the universe wants Juan Uribe to win a World Series every five years). He was fun but wasted on the Braves and at this time in the year, contenders will pay good money (or prospects) for the privilege of employing 36-year old stogie-lovers.
This was evidenced by the Mets decision to part with Rob Whalen and John Gant – who clocked in at 24th and 25th, respectively when MLB.com unfurled the Braves most recent top prospects list – for the right to have Uribe and KJ suit up for them.
Anyway, best of luck to Uribe and KJ, recent and longtime fan-favorites, as they both played well enough to earn a de facto promotion for the stretch run – if it works out right, they get to play games that matter in September and October. And it gives the Braves a chance to see if Eury Perez, Adonis Garcia or Pedro Ciriaco are worth making plans for, which we're all very excited for I'm sure.
Deadline Watch
At press time, the rumored Alex Wood to Los Angeles deal had not been completed. If it happens under rumored construction (Wood, Jim Johnson and Jose Peraza for Hector Olivera, Mike Morse and a balance pick)… that's not very good. In fact, that's really bad. If I can, I will update this space as things develop, but if not we will talk about this PLENTY next week because Jesus Christ, that is just awful. Fringe All-Star, worthy bullpen guy and top prospect for injury-riddled, already-rich, 30-year old 'prospect', another freakin' pick and Mike Morse's Corpse (great name for a punk band).
What to Read
This isn't really baseball-related, but it is Braves related and its important. I didn't know that trainer Jeff Porter's wife had been killed by a GSP trooper in 2011 when the trooper elected to get involved in a police chase on Interstate 20. It's sad, and it's something we never think about when we think about the collateral damage of a police chase. Worth your time.
If you only catch one game of the Phillies series, make it…
The one that Cole Hamels would've pitched (Friday), so you can snicker at Phillies fans forced to watch the team that rolled through the division for 2006-11 get blown up two years too late. I'm fairly certain Ruben Amaro is The Mole. Anyway, Phillies fans will probably take it easy on young Matt Wisler when Not Cole Hamels is the one toeing the slab for the home faithful on Friday.
(Unless Ruben Amaro screws this up. Don't rule that out.)
Complementary Old-Timey Baseball Quote
"It's not easy to hit .215. You have to be going terrible and have bad luck, too." – Steve Kemp, on a batting slump, quoted in The Sporting News, July 22, 1985.
Best Performance by a former Brave last week
Melky Cabrera hit .478 (11-for-23) with five straight multi-hit games, a multi-homer game and nine RBI for the White Sox. And while most of the names that have appeared in this spot this season have left some positive impression somewhere along the line, Melky cost the Braves a not-quite-washed-up Javier Vasquez, got paid $3 million to sulk and suck, and remembered how to hit (.303 in five seasons since) immediately after he was cut loose. I only remember how little of a crap he appeared to give during his one Atlanta season and probably got way too much enjoyment out of him getting popped for PED's in 2012.