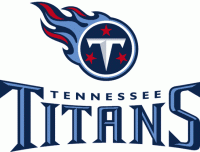 Nashville, TN – On Friday night, August 14th, the Tennessee Titans traveled to Georgia to take on the Atlanta Falcons for their first preseason game at the Georgia Dome. The Titans fell behind early 17-0 but came back to tie it 24-24 in the third. The Falcons scored a touchdown in the fourth to ice the game.
Atlanta started the game with the ball after the Titans deferred the ball. The Falcons took their opening possession 91 yards for a touchdown. The drive was capped off by a 13 yard pass from quarterback Matt Ryan to Julio Jones.
Ryan completed all six of his passes for 86 yards. It was his only drive of the game.
On the Titans first possession, Marcus Mariota was sacked for an 11 yard loss. On the next play, Mariota threw the ball to Bishop Sankey but it was intercepted by Falcon outside linebacker Justin Durant who returned it to the Tennessee 9 yard line. The Tennessee Defense stepped up and held Atlanta to a field goal.
The next drive started on the Tennessee 16 yard line. After a couple of Sankey runs that netted 4 yards, Mariota lost control of the ball. The fumble was recovered by Falcon linebacker Paul Worrilow who ran it back 14 yards for a touchdown.
Despite the early problems, Mariota kept his composure and on the third drive, the led the Titans on down the field 86 yards for a touchdown in 10 plays. Running back Dexter McCluster capped off the drive with a six yard touchdown run. During the drive, on 3rd and 12, he connected deep left with wide receiver Harry Douglas for a 17 yard catch.
Mariota ended the game completing 7 of 8 passes for 94 yards. Zach Mettenberger came in once Mariota was done for the night. He completed 8 of 11 passes for 129 yards, a touchdown and one interception.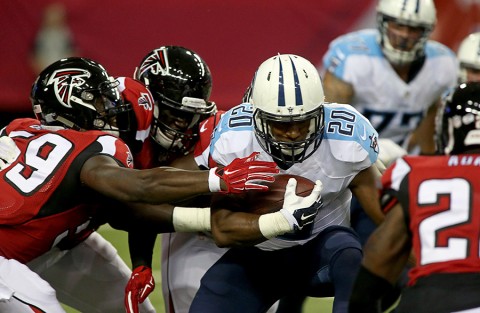 Runningback Bishop Sankey found few holes to run through. He finished with 15 yards on 8 attempts. He's longest went for 7 yards. David Cobb had much better luck than Sankey. He ran for 53 yards on 11 touches. He showed why the Titans are so high on him by breaking a few outside and then showed his power by running over some players.
T.J. Yates, who came in for Matt Ryan, completed 9 out of 15 passes for 105 yards and one interception. Running back Jerome Smith netted 25 yards on 7 attempts for the Falcons.
The Titans are back home Sunday, August 23rd to take on the St. Louis Rams at Nissan Stadium. Kickoff is set for 7:00pm CDT.
Box Score
| | | | | | |
| --- | --- | --- | --- | --- | --- |
| | 1 | 2 | 3 | 4 | Final |
| Tennessee Titans | 0 | 13 | 11 | 0 | 24 |
| Atlanta Falcons | 17 | 7 | 0 | 7 | 31 |
Tennessee Titans

Passing
CP/AT
YDS
TD
INT
Z. Mettenberger
8/11
129
1
1
M. Mariota
7/8
94
0
1
C. Whitehurst
5/5
39
0
0
A. Tanney
3/3
38
0
0
Rushing
ATT
YDS
TD
LG
D. Cobb
11
53
0
10
B. Sankey
8
15
0
7
A. Andrews
4
13
1
5
D. McCluster
1
6
1
6T
D. Fluellen
2
5
0
4
Z. Mettenberger
1
-1
0
-1
M. Mariota
1
-6
0
-6
Receiving
REC
YDS
TD
LG
C. Coffman
4
58
0
27
H. Douglas
3
46
0
17
P. Supernaw
3
43
0
32
D. Green-Beckham
1
32
0
32
R. Richardson
1
30
1
30T
A. Andrews
2
25
0
26
J. Ford
3
24
0
11
A. Fasano
2
13
0
9
J. Hunter
1
13
0
13
K. Wright
1
9
0
9
T. Westbrook
1
6
0
6
D. Cobb
1
1
0
1
Fumbles
FUM
LOST
REC
YDS
H. Douglas
1
0
0
0
M. Mariota
1
1
0
0
Kicking
FG
LG
XP
PTS
R. Succop
1/1
28
1/2
4
Punting
NO
AVG
I20
LG
B. Kern
1
21.0
0
41
Kickoff Returns
NO
AVG
TD
LG
J. Ford
3
25
0
27
T. McBride
1
29
0
29
Punt Returns
NO
AVG
TD
LG
J. Ford
1
5
0
5
T. McBride
1
3
0
3
D. McCluster
1
0
0
0
Atlanta Falcons
Passing
CP/AT
YDS
TD
INT
T. Yates
9/15
105
0
1
M. Ryan
6/6
86
1
0
S. Renfree
6/7
68
0
0
Rushing
ATT
YDS
TD
LG
J. Smith
7
25
0
12
M. Ford
11
20
1
9
A. Smith
9
18
1
9
T. Ward
3
6
0
3
T. Yates
2
0
0
0
Receiving
REC
YDS
TD
LG
J. Jones
4
61
1
26
J. Hardy
3
41
0
22
L. Toilolo
3
36
0
21
N. Williams
3
36
0
18
M. Clark
3
29
0
13
E. Weems
1
14
0
14
L. Hankerson
1
13
0
13
P. DiMarco
1
12
0
12
C. Mitchell
1
9
0
9
B. Reedy
1
8
0
8
Fumbles
FUM
LOST
REC
YDS
P. Konz
1
0
0
-20
M. Person
1
0
0
-11
K. Biermann
0
0
0
0
P. Worrilow
0
0
1
14
T. Yates
0
0
2
0
Kicking
FG
LG
XP
PTS
M. Bryant
1/1
45
4/4
7
Punting
NO
AVG
I20
LG
M. Bosher
3
41.7
2
56
Kickoff Returns
NO
AVG
TD
LG
T. Ward
2
23
0
27
B. Reedy
1
20
0
20
N. Williams
1
24
0
24