UT Athletics Department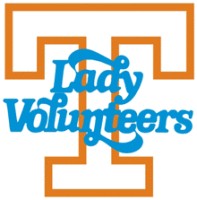 Knoxville, TN – Diamond DeShields was spectacular on Wednesday night with 31 points and seven steals to lead No. 8/8 Tennessee to an 85-49 victory over East Tennessee State at Thompson-Boling Arena.
Tennessee (6-1) thrived thanks to a big night from a trio of players that the Lady Vols did not have last season. DeShields was 12-of-20 from the floor and also tallied eight rebounds and five assists. She was not the only Lady Vol who had a career night. Te'a Cooper shined in the second half to finish with a career-high 23 points on 9-of-18 shooting. Mercedes Russell posted a double-double, her third on the season, with 13 points and 10 rebounds in the win.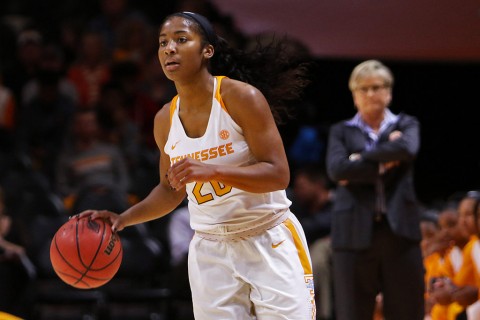 The Lady Vols held ETSU (3-5) to 37 shots, the second fewest number of shots by an opponent in the past 20 years. Stetson was held to 34 shots on 3/19/11. UT had 35 shots in the second half.
Shamauria Bridges led the Bucs with 21 points on 9-of-19 shooting.
UT also racked up 22 steals in the win, which tied for the 11th-most in school history and the Lady Vols' most since recording 22 steals against Alcorn State on November 25th, 2012.
DeShields came out of halftime on fire, sparking a 10-0 UT run at the start of the third quarter. Thirteen seconds into the second half, she stole the ball at midcourt and ignited the crowd with a behind-the-back pass in transition to Andraya Carter for a layup.
On UT's next possession, DeShields fired a bullet pass inside to Russell for an easy layup. A minute later she made layups off of steals by Jordan Reynolds and Carter and then proceeded to steal the inbounds pass for a third-straight layup, giving Tennessee a 43-24 lead and firm control of the game.
Tennessee led 16-11 after the first quarter, but the Buccaneers surged early in the second quarter, hitting three 3-pointers before a free throw by Sadasia Tipps gave ETSU an 18-16 lead. The Lady Vols finished the first half with a 17-6 run over the final six minutes to take a 33-24 advantage into the break.
Russell scored seven points on the Lady Vols' 17-6 run to close the second quarter. ETSU shot 50 percent from the floor in the first half while Tennessee shot just 38.5 percent.
Shine Bright Like A Diamond
DeShields scored 23 of her 31 points in the second half. Her 31 points were her most as a Lady Vol. DeShields now has three 30-point games in her career.
DeShields has scored 20 or more points 16 times in her career. She reached the 20-point mark 14 times as a freshman at North Carolina during the 2013-14 season. Her seven steals tied for the 13th-most by a player in Tennessee history and the fifth-most by a sophomore.
Dominating The Paint
Tennessee outscored ETSU, 56-8, in the paint. The Lady Vols had a 28-0 edge in the paint in the first half.
Largest Lead
Tennessee led by as much as 38 points. UT led 85-47 when Meme Jackson made a layup with 44 seconds left in the game. ETSU led by two points with 7:16 remaining in the first half when Sadasia Tipps made a free throw to put the Bucs up 18-16.
For Starters
Diamond DeShields made her first career Lady Vol start and scored in double-figures for the fourth consecutive game. With Te'a Cooper coming off the bench for the first time this season, Mercedes Russell is now the only Lady Vol to start all seven games.
Strong Start On Defense
The Lady Vols led 16-11 after the first quarter. UT also held ETSU to 10 points in the third quarter, marking the fifth time that Tennessee had held an opponent to 11 or fewer points in a quarter.
On November 15th, the Lady Vols held Central Arkansas to eight points in the second quarter. Tennessee held Syracuse to 11 fourth-quarter points on November 20th. On November 23rd, UT limited Chattanooga to seven points in the first quarter.
With The Win
Holly Warlick's career record improved to 92-21, moving her to within eight of 100 career victories. Only 16 coaches have achieved 100 career coaching wins in their first four seasons. Warlick is looking to become the 17th.
Protecting Home Court
Tennessee extended its home winning streak against unranked opponents to 44-straight games. UT's last home loss to an unranked team was a 72-71 OT setback against Arkansas on February, 23rd, 2012. The Lady Vols have outrebounded their opponents in each of their seven home games this season.
Up Next
Tennessee closes out its season-opening, eight-game stretch at Thompson-Boling Arena when the Lady Vols host Virginia Tech on December 6th. The game will be televised live on SEC Network with tipoff slated for 2:00pm ET (1:00pm CT). The Lady Vol Network will also feature a live radio and online audio broadcast with Mickey Dearstone on the call.
Virginia Tech will be the second ACC team the Lady Vols face this season. UT defeated Syracuse, 57-55, on November 20th.