Clarksville, TN – On Saturday, December 12th, 2015, at 9:00am, the Clarksville Police Union and Fraternal Order of Police's "Shop with a Cop" was a great success. Officers took over 101 local children, from all over Montgomery County, shopping.
There were over 30 CPD Officers, CPD employees, Police Union volunteers, FOP volunteers, and Clarksville Police Academy Alumni (CPAA) volunteers. Each child spent $100.00 on clothes and toys.
The children were nominated by Montgomery County Elementary school guidance counselors, Clarksville Police Department employees, and Montgomery County citizens.
Every effort was made to find children in need, and make sure they received gifts for Christmas.
This event helps put our Police Officers in a positive light in the children's eyes. Speaking on behalf of the Officers who attended, the Officers received the gift of giving this Saturday. The many excited children seemed to take over the Sango Walmart. We had several citizens come up to our Officers showing their appreciation and support.
Also, Detective Dennis Honholt did an amazing job getting this event together. Putting this event together took a lot of time and effort and he had big shoes to fill. In the previous years, CPD's Tyler Barrett made sure this event was successful.
Tyler recently passed away and he was greatly missed today. I remember his big unforgettable smile each time he saw an excited child pass through the checkout lane with their new toys and clothes. He definitely would be smiling today and would be proud of Detective Honholt, Walmart, the Police Union, the FOP, the CPAA, the CPD, and the residents of Clarksville!"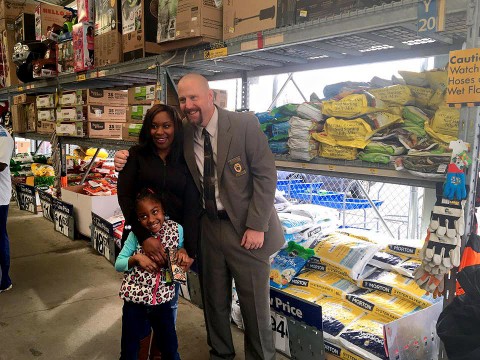 Detective Honholt said, "The union, and the residents of Clarksville were the driving force behind this."
The event is funded by donations given by businesses, civic groups, and citizens inside Montgomery County.  We would like to thank all who gave and made this event possible.
Special thanks to Walmart, the Police Union, the FOP, the CPAA, the CPD, Austin Peay State University, residents of Clarksville, and MCSO Deputy Jim Knoll. Jim is a retired CPD Police Officer and currently works with the he Montgomery County Sheriff's Office.
The CPD Officers in attendance came from all ranks, including Chief Al Ansley.
There were several pictures taken for this event. Please go to the CPD's Facebook page to view all photos.
To view the CPD's Facebook page,  go to the Clarksville Tennessee Police Department Facebook page and like or join our page.
The first picture is of Tyler Barrett in a past Shop with a Cop event. The Second picture is of Detective Honholt. Enjoy the many photos on Facebook!