Clarksville, TN – As of noon today, all of the City of Clarskville's major roads should be cleared. The Street Department is now able to focus on the residential areas and they should be cleared by tomorrow afternoon.
In addition to every available piece of equipment the City had on hand, four additional road graders were rented to help clear the ice and snow.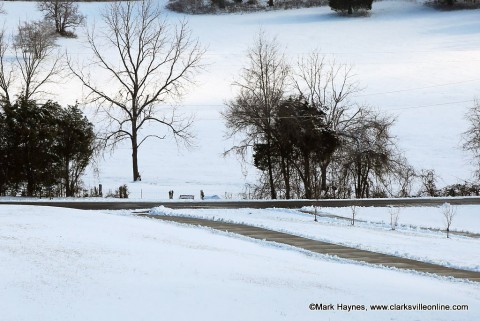 "I want to thank the Clarksville Street Department for the hours they have spent working to keep our roads as clear as possible," said Clarksville Mayor Kim McMillan.
"Due to the nature of the storm, they spent the first 18 hours trying to keep the major roads clear. They have been working around the clock and will continue to work to make sure the streets are clear throughout the City," stated Mayor McMillan.
"David Shepard and the City's road crews, along with our contract partners, have done a tremendous job in an extremely difficult situation. I also want to thank the Montgomery County Highway Department crews for all they've done to help throughout Montgomery County," said Mayor McMillan.
The City's community partners are also doing a great job with shelter needs. Area churches are working together to provide needed shelter. The Salvation Army has a warming shelter open and the New Providence United Methodist Church shelter is still in place. According to the Community Action Agency, everyone who has requested shelter assistance has received it and there continues to be space available.
The Clarksville Department of Electricity responded to three outages yesterday but is reporting no current outages. Two of those yesterday, one on Porter's Bluff and one behind the Ashford Apartments, were caused by fallen trees. The third was caused when a driver hit a pole on Riverside Drive.  The CDE response team is ready to respond to any outages on a 24/7 basis. Clarksville Gas and Water has reported no issues related to the storm.
The Clarksville Transit System continues operating on snow routes today. Anyone needing to access CTS buses for transportation must get to a main road. Please be safe in walking to bus stops as the roads, especially in residential areas, may still be icy. CTS encourages checking on their website, www.ridects.com and the CTS Facebook page for updates.
"Finally, I want to thank the Clarksville Police Department and Clarksville Fire Rescue, along with everyone who has been working in the Clarksville-Montgomery County Emergency Operations Center," stated Mayor McMillan. "In a weather event like this, communication between agencies is critical. Our teams have done a terrific job."
"CPD and CFR have responded to numerous wrecks and calls for assistance. Fortunately, it appears that most people listened to the warnings and stayed off the roads. We hope that things will get back to normal very quickly when the temperatures begin to rise tomorrow," said Mayor McMillan.