#18/22 Tennessee (12-6, 3-2 SEC) vs. #9/9 Kentucky (14-3, 3-3 SEC)
Monday, January 25th, 2016 | 7:01pm ET/6:01pm CT
Lexington, KY | Memorial Coliseum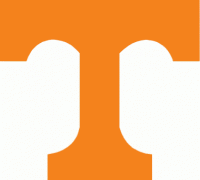 Knoxville, TN – The #18/22 Tennessee Lady Vols (12-6, 3-2 SEC) head back out on the road for a match-up with #9/9 Kentucky (14-3, 3-3 SEC) on "Big Monday". Tipoff is slated for 7:01pm ET/6:01pm CT, and the game will be broadcast on ESPN2 and available online via WatchESPN.
Tennessee enters the contest on the heels of a home victory over Vanderbilt on Thursday night but has dropped two of its last three games.
UT stands 3-2 in league play with victories over No. 20 Missouri, Auburn and Vanderbilt, while it has lost to Florida and Arkansas. UK, meanwhile, beat Alabama, Georgia and Auburn (home), while falling to Auburn (road), #2/2 South Carolina and Ole Miss.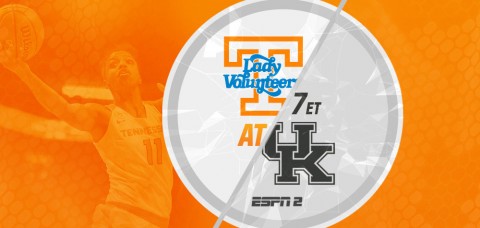 Under Holly Warlick, Tennessee is 30-13 in road games, 58-8 at home and 10-5 at neutral sites for a total of 98-26. The Big Orange women are 564-55 (.911) in all home games, beginning with the 1974-75 season.

Tennessee is 411-31 (.930) all-time in Thompson-Boling Arena (1987-88 to present).
About the Tennessee Lady Vols
After a game at home, the Lady Vols head back on the road, where they've dropped their last two encounters. UT lost its grip on an 11-point halftime lead and stumbled at Arkansas, 64-59, on January 14th, and the Lady Vols led after the first quarter but fell in the end, 79-66, to #3/3 Notre Dame on January 18th.

Tennessee, though, bounced back from those setbacks by holding off Vanderbilt (13-5, 2-3 SEC), 58-49, on Thursday night in Knoxville.

Fortunately, UT staved off the first three-game skid of the Holly Warlick era, the first three-game skid for the program since 1985-86 and the first consecutive SEC regular-season losses since 1996-97. Truly amazing standards that live on.

By limiting Vanderbilt to only 49 points in the third straight meeting between those schools, UT held its third opponent this season below 50 and 12th foe under 60.

Holly Warlick has been starting three sophomores, a junior and a senior in the past six games.

Tennessee is led in scoring by redshirt sophomore guard Diamond DeShields, who is averaging 15.1 points per game. DeShields has scored in double figures in nine straight games and in 15 of 18 contests.

Sophomore center Mercedes Russell and senior forward Bashaara Graves also hit for 10 or more points per game at 10.7 and 10.6, respectively. Graves (8.5) and Russell (8.3) are Tennessee's top rebounders, followed by DeShields at 5.3. With six boards vs. Vanderbilt, Graves now has 916 as a Lady Vol and occupies ninth place on UT's career list, passing Bridgette Gordon vs. Vandy.

Defensively, Tennessee is allowing only 58.3 points per contest, which would rank as the fifth-best effort in school history.

Offensively, however, the Lady Vols are putting up only 66.2 points per game, which would replace 69.3 (1983-84) as the lowest in UT annals.

After facing #9/9 Kentucky, UT travels to Starkville to face #10/10 Mississippi State on Thursday at 8:00pm CT / 9:00p. ET (SEC Network).
About the Kentucky Wildcats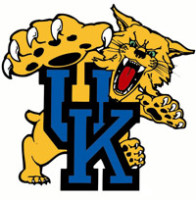 Like Tennessee, Kentucky also enters having lost two of its last three games. UK lost at home to #2/2 South Carolina (73-62) on January 14th, beat Auburn at home on January 17th (54-47) and fell at Ole Miss on Thursday night, 73-65. Auburn won on its home court vs. UK on January 3rd in the SEC Opener, 66-61.
UT beat Auburn in Knoxville, 79-52, on January 10th in a battle vs. the only common opponent the Lady Vols have with Kentucky.
Included in UK's 14-3 slate are victories over #8/11 Arizona State (68-64 OT), #17/17 Louisville (72-54) and #RV/RV Duke (71-61).
Junior guard Makayla Epps leads the Wildcats in scoring, firing in 16.3 points per contest on 49% shooting from the field. Also scoring in double figures are senior point guard Janee Thompson (12.2) and junior forward Evelyn Akhator (12.1). Akhator averages 9.8 rebounds as well to pace Matthew Mitchell's squad.
Mitchell is 208-84 in his ninth year in the Bluegrass and 238-113 overall in 11 seasons.
In 1999-2000, Mitchell was a grad. asst. at UT, working with Warlick and helping coach UT Assoc. Head Coach Kyra Elzy in her (then) redshirt jr. year.
The Series vs. Kentucky
UT enters this meeting with Kentucky holding a 53-10 all-time record in the series and has won the past four vs. UK. The Lady Vols are 20-7 vs. UK in games played in Lexington after winning, 73-72, on January 29th, 2015.

Until grabbing that one-point decision, the Wildcats had won the last two games at Memorial Coliseum and had claimed four of the last six home games they had played there against Tennessee. UT previously had last won in Lexington on February 7th, 2011, taking a 73-67 decision.

Tennessee is 10-0 vs. Kentucky at neutral sites and 9-0 in postseason games. UT is 3-1 in overtime games vs. Kentucky, including 3-0 in Lexington and 0-1 in Knoxville, with the last OT contest in the series coming in 1994.

The Lady Vols own a 23-3 mark against UK in games played in Knoxville, having won the last 16 meetings there until the Wildcats beat the Big Orange on their home court, 75-71, on February 16th, 2014. Prior to that, the last time UK won in Knoxville was on January 23rd, 1985, when the #15/14 Wildcats took a 76-72 overtime victory over the #NR/18 Lady Vols the season before Holly Warlick returned as an assistant coach.

Holly Warlick was 7-1 as a player vs. Kentucky from 1976-80, going 3-0 in Knoxville vs. the Wildcats, and she is 3-2 as head coach.

UT has faced only two other teams more times than the Wildcats – Vanderbilt in 75 meetings and Georgia in 64 games. UT-UK game 64 is Monday.

Either Tennessee or Kentucky had won the past four SEC regular season crowns until South Carolina won in 2014, with UT winning in 2013, 2011 and 2010 and UK prevailing in 2012. UT added another in 2015, tying with South Carolina.

Since 2010, Tennessee, Kentucky or both have been in the SEC Tournament title game, with UT making it again in 2015 and finishing second. Tennessee emerged victorious over Kentucky in the 2010 (70-62), 2011 (90-65) and 2014 (71-70) SEC Tournament championship games.

UT Associate Head Coach Kyra Elzy was on Matthew Mitchell's coaching staff from 2008-12, and Mitchell was on the Tennessee staff as G.A., working alongside Holly Warlick and coaching Elzy in her redshirt junior year (1999-2000).

Bashaara Graves averages 10.7 ppg. and 7.3 rpg. vs. UK in six games. She has hit double figures in four of those (12/20/4/11/11/6). Jordan Reynolds has 10 double-figure games, with two of those coming vs. Kentucky (11 at 2013-14 SEC Tourn.; 13 in 2014-15 SEC Tourn.). Andraya Carter scored in double figures in two of three games vs. UK in 2014-15 (8/11/12).
Last Meeting in Lexington
In a thriller, #6/6 Tennessee won its first road game against a top-10 team since 2008 with a 73-72 victory at #10/10 Kentucky at Memorial Coliseum on January 29th, 2015. The Lady Vols remained perfect in the SEC at 8-0 and moved to 18-3 overall, snapping the Wildcats' 13-game home win streak.
Kentucky had four shots in the final 20 seconds to take the lead, but the Lady Vols' defense came up big, as both Jordan Reynolds and Andraya Carter had blocked shots in the final seconds to secure the victory. The game was within two possessions for the entire night, with neither team leading by more than six points. The contest was tied seven times and the lead changed hands 12 times.
Senior Isabelle Harrison led Tennessee with 19 points (8-of-12 from the floor) and 10 rebounds. Classmate Cierra Burdick tallied 16, making 7-of-13. Junior Bashaara Graves added 11 points. Makayla Epps led all scorers with 23 for Kentucky. Jennifer O'Neill and Alexis Jennings each scored 12. Tennessee shot 60.0 from the floor in the second half, rallying from a 31-25 halftime deficit
Broadcast Information
TV | ESPN2
Play by Play: Beth Mowins
Analyst: Doris Burke
---
Radio |  Lady Vol Network
Play by Play: Mickey Dearstone
---
Online/Mobile
www.UTsports.com
Free audio stream only
www.WatchESPN.com
Free video stream to registered cable subscribers
Sections
Sports
Topics
Alabama, Alexis Jennings, Andrava Carter, Arizona State, Arkansas, Auburn, Bashaara Graves, Beth Mowins, Bridgette Gordon, Cierra Burdick, Diamond DeShields, Doris Burke, Duke, ESPN2, Florida, Georgia, holly warlick, Jordan Reynolds, Kentucky, Knoxville TN, kyra elzy, Lady Vol Network, Lady Vols, Lexington KY, Louisville, Makayla epps, Matthew Mitchell, Memorial Coliseum, Mercedes Russell, Missouri, Notre Dame, Ole Miss, SEC, South Carolina, Southeastern Conference, Tennessee, Tennessee Lady Vols, UT, UT Lady Vols, Vanderbilt, Wildcats