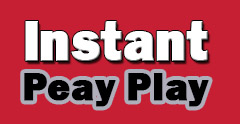 Clarksville, TN – New Austin Peay State University head football coach Will Healy stated he and his staff were going to get it done in recruiting, when he was introduced at Governors Stadium on December 23rd, 2015, and with National Signing Day looming on February 3rd it looks like statement is coming to fruition.
Healy, who is the second youngest head coach in Division I at 30 years of age, has looked to make the most of the 33 days since making that statement with what seems like commitment additions to his probable first recruiting class every few day or so.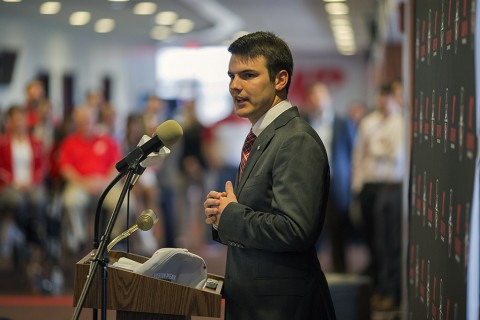 Healy looked to get between six and 10 commitments before signing day, with the Govs hosting three official visit periods to the campus this month — the last one to coming on January 29th-31st – with the official that just ended seeing the Govs get commitments from Jaison Williams and Griffin Wattley.
That pair joined Chris Hopkins (safety/Brentwood Academy), Taeler Dowdy (running back/Blackman HS), Corey Simmons (athlete/Stratford HS), Gorel Soumare (wide receiver/Jefferson County HS), Dillion Daniels (tight end/Batesville HS/Batesville, AR) and Dee Nalls (offensive lineman/Fayette County HS, Alabama), who have already said Austin Peay is their pick to continue their football careers in college.
Williams is a defensive end for Hewitt-Trussville HS (Alabama), who is a quality pass rusher – with nine quarterback sacks among his 96 tackles this past season – while Wattley is 6-3, 210 pound tight end from McEachern HS (Georgia), who is known for running intermediate routes in the middle of the field and exhibits soft hands. He is athletic enough to be a wide receiver.
Williams had an offer from Ohio Valley Conference champion Jacksonville State, Wattley an offer from Butler, Dowdy from Tennessee State, Nalls from Mississippi State and Indiana.
A commit is nonbinding and doesn't guarantee the player will actually attend Austin Peay, but with less than two weeks before signing day, the in-coming class looks to be off to a solid start.
But all of these commitments are just half the story, as Healy has done a bulk of this while also putting together a coaching staff that at this point is all but put together, with only J.D. Sellers staying on the staff from the previous coaching staff, as running backs coach.
According to several internet sources (Austin Peay hasn't announced hires yet) new members Healy's staff are Brandon Cooper and Eddie Hicks (Murray State), Marcus West and Carter Crutchfield (Chattanooga), Joshua Eargle (East Texas Baptist), Max Thurmond (West Alabama) and Wes Satterfield (Southeastern Louisiana)
Cooper will be defensive coordinator, Hicks cornerbacks coach, Satterfield offensive coordinator/quarterbacks coach, West assistant head coach/co-defensive coordinator/defensive line, Eargle run game coordinator/offensive line, Thurmond linebackers/special teams coordinator and Crutchfield will be serving as director of football operations and as recruiting coordinator.
While the football season is still about seven months away from the opening kickoff, Healy has done much over the first 30-plus days of his coaching tenure to help build much needed excitement for a program that hasn't had much to get excited about in several years.