Austin Peay (10-19/8-8 OVC) vs. Eastern Kentucky (16-11/10-6 OVC)
Thursday, March 4th, 2016 | 12:00pm CT
Nashville, TN | Municipal Auditorium

Clarksville, TN – It's back to the tournament for Austin Peay State University women's basketball team, which squares off as the fifth seed against fourth-seeded Eastern Kentucky, 12:00pm, Thursday, March 4th at Municipal Auditorium in the opening round of the 2016 Ohio Valley Conference Tournament.
In head coach
David Midlick
's first season, the Governors have had their share of ups and downs, including a 1-15 record away from the Dunn Center.
But Austin Peay caught fire down the stretch, winning three of its final four contests to go from bubble contender to comfortably qualified for the fifth spot in the tournament field.
This is the second season in a row and 22nd time in history that Austin Peay has achieved a berth in the OVC Tournament.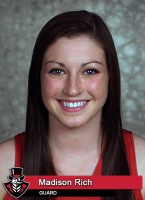 Since the turn of the century, the Governors have been among the most successful teams in OVC Tournament play, advancing to the tournament 13 times and posting a 23-6 record in those contests, winning titles and advancing to the NCAA Tournament in 2001, 2002, 2003, 2004, 2009 and 2010, with a runner-up showing in 2000.
Austin Peay and Eastern Kentucky met in the OVC-season opener, January 2nd, with the Governors winning in convincing fashion, 94-66, in the Dunn Center.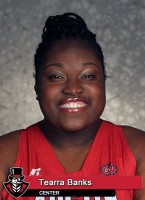 First-team All-OVC guard Tiasha Gray led a quartet of Governors with 21 points and 10 assists, while Madison Rich (18 points), Tearra Banks (16) and Sydney Gooch (14) leading an attack that posted its third-highest point tally (94) and second-best shooting night (53.3 percent) in 2015-16.
The Colonels enter the postseason on a similar roll to that of Austin Peay, winning four of its final five games and six of its last eight after a 4-3 start to OVC play. Jalen O'Bannon (17.4 ppg, 10, rpg) earned first-team All-OVC honors as well as a spot on the All-Newcomer team after transferring from Arkansas State, while Shameekia Murray (14.3 ppg, 5.3 rpg) was named second-team all-conference.
The More You Know
The Peay and the OVC
The Governors enter OVC Tournament play with wins in three of their last four contests, all three coming against tournament qualifiers–UT Martin (February 13th), Murray State (February 20th) and Southeast Missouri (February 27th). A quick look at APSU's history in the tournament and its recent history against the field and potential upcoming opponents:
At the OVC Tournament | 27-14 overall | 6-3 since 2010
At Municipal Auditorium | 9-5 overall | Won the Championship in 1996 and 2004 at NMA
vs. EKU (Round One Opponent) | 31-45 overall | 4-0 in OVC Tournament play | 5-5 since 2010
vs. UTM (pot. Round Two opponent) | 41-34 overall | 2-0 in OVC Tournament | 3-11 since 2010
vs. MUR (pot. Round Two opponent) | 41-42 overall | 4-1 in OVC Tournament | 9-6 since 2010
Gray Milestone Watch
Senior guard Tiasha Gray became only the fifth APSU women's basketball player to reach the 1,500-point plateau with her 27-point performance at East Tennessee, December 21st. Gray also became only the fifth OVC women's basketball player to record 300 career steals, reaching the milestone February 6th at Murray State and broke into the OVC all-time top-10 in assists, February 27th against Southeast Missouri.
She's one of only three players (C. Moye, TTU; P. Chambers, TTU; D. Carson, Youngstown State) in OVC history to break into the top-10 all-time in both assists and steals. Her upcoming milestone marks are listed below: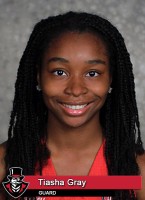 OVC Career Steals | Currently 4th (314)
Next: 324 by Pam Chambers (TTU, 1976-80)
APSU Career Steals | Currently 1st (314)
Previous Record: 243 by Tracie Mason (1987-91)
APSU Career Points | Currently 2nd (1,885)
Next: 2,508 by Brooke Armistead (1999-03)
APSU Career Assists | Currently 2nd (514)
Next: 537 by Kelly Chavez (1997-02)
OVC Career Assists | Currently 10th (514)
Next: 535, by Margaret Peters (YSU, 1981-85)
History On Our Side
Austin Peay sports a perfect 4-0 record against opening-round opponent Eastern Kentucky in OVC Tournament play, having defeated the Colonels in 1994, 1996, 2002 and 2004. Should the Governors advance this time around, they own a 2-0 tourney mark against UT Martin (last played in 2003) and a 4-1 record against Murray State (last: 2012) in OVC Tourament action.
Midlick's Mavens
David Midlick
is well-versed in conference tournament play, having reached the postseason in 11 of his 12 seasons of coaching, including both season's of his previous head coaching tenure at Delta State (2012-14).
A team with Midlick roaming the sidelines has advanced at least one round in each of the previous five seasons: Memphis (second round, American Athletic Tournament, 2015), Delta State (Gulf South Conference semifinals, 2013; GSC champion, 2014) and his previous APSU tenure (OVC Tournament Championship game, 2011; semifinals, 2012).
Broadcast Information
OVC Digital Network
Presented by the Ohio Valley Conference
Play-by-Play: Justin Seamon
Analyst: Brittney Jackson
APSU Lady Govs on the Web
Live Video: www/OVCDigitalNetwork.com
Live APSU Audio: www.LetsGoPeay.com/Listen
Live Statistics: www.StatBroadcast.com