History of Falling increases Crash Risk by 40 Percent among Older Drivers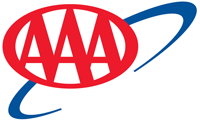 Knoxville, TN – Older drivers with a history of falling are 40 percent more likely to be involved in crashes than their peers, according to a new study released by the AAA Foundation for Traffic Safety.
Falls limit an older drivers' ability to function behind the wheel and can make driving risky for themselves and others on the road. These findings are important since annually a record 12 million older adults will experience a fall.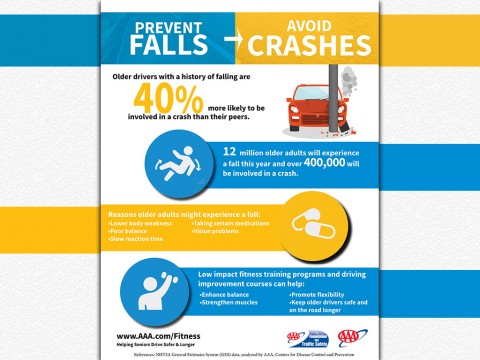 "Drivers age 60 and older are involved in more than 400,000 crashes each year, and it's important that we find ways to keep them and others safe on the road," said Don Lindsey, Tennessee Public Affairs Director, AAA – The Auto Club Group. "This research is critical because it shows that we can now use an older driver's fall history to identify if they are at greater risk for a crash."
The report, Associations Between Falls and Driving Outcomes in Older Adults, is the latest research released in the AAA Foundation for Traffic Safety's Longitudinal Research on Aging Drivers (LongROAD) project. Researchers from the University of Colorado Anschutz Medical Campus along with the AAA Foundation for Traffic Safety say that falls can increase crash risk in two ways:
Falls can result in a loss of functional ability (i.e. wrist fractures or a broken leg), which can make it difficult for older drivers to steer or brake to avoid a crash.
Falls can increase an individual's fear of falling, which can lead to a decrease in physical activity that weakens driving skills.
"When it comes to physical health, you either use it or lose it," said Lindsey. "Falls often scare people into being less active, but decreasing physical activity can weaken muscles and coordination and make someone more likely to be in a crash."
The research suggests that seniors and their families should view falls as a possible early indicator of declining physical fitness. Addressing the health issues that originally led to the fall such as lower body weakness, poor balance, slow reaction time, certain medications, dizziness, or vision problems, can help older drivers strengthen their functional ability and lower their risk for crashing or experiencing another fall in the future.
"Older drivers should find activities that enhance balance, strengthen muscles and promote flexibility," continued Lindsey. "Even a low impact fitness training program or driver improvement course can help safely extend an older driver's years on the road."
Fall prevention is a great way for older drivers to keep themselves and others safe while on the road.  Those concerned about a parent or other older driver should help them monitor risk factors that address health concerns or household dangers.
AAA recommends a series of exercises and stretches to improve neck, shoulder, trunk, back and overall body flexibility, which can help a driver who has suffered from a recent fall.  As a leading advocate for senior driver safety, AAA also offers a variety of programs and resources to help older drivers improve their driving performance and avoid crashes. Click here to learn more about senior driving education offered by AAA.
Older drivers represent the fastest growing age group in the U.S., and by 2030 about one in four licensed drivers will be over 65. AAA offers many suggestions to improve driving safety for older drivers in Tennessee such as vision testing during license renewal. For a complete list of AAA recommendations to strength policies for older drivers in Tennessee click here.
For more information on AAA resources for older drivers, such as RoadWise online/classroom courses or other programs that help seniors better "fit" with their vehicles, visit www.SeniorDriving.AAA.com.
About the AAA Foundation for Traffic Safety
Established by AAA in 1947, the AAA Foundation for Traffic Safety is a 501(c)(3) not-for-profit, publicly-supported charitable educational and research organization. Dedicated to saving lives and reducing injuries on our roads, the Foundation's mission is to prevent crashes and save lives through research and education about traffic safety. The Foundation has funded over 300 research projects designed to discover the causes of traffic crashes, prevent them and minimize injuries when they do occur.
Visit www.AAAFoundation.org for more information on this and other research.
About The Auto Club Group
The Auto Club Group (ACG) is the second largest AAA club in North America.  ACG and its affiliates provide membership, travel, insurance and financial services offerings to over 9 million members across eleven states and two U.S. territories including Florida, Georgia, Iowa, Michigan, Nebraska, North Dakota, Tennessee, Wisconsin, Puerto Rico and the U.S. Virgin Islands; most of Illinois and Minnesota; and a portion of Indiana.
ACG belongs to the national AAA federation with more than 56 million members in the United States and Canada and whose mission includes protecting and advancing freedom of mobility and improving traffic safety.