Written by Staff Sgt. Sierra A. Melendez
2nd Brigade Combat Team, 101st Airborne Division (AA) Public Affairs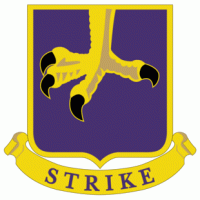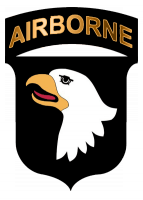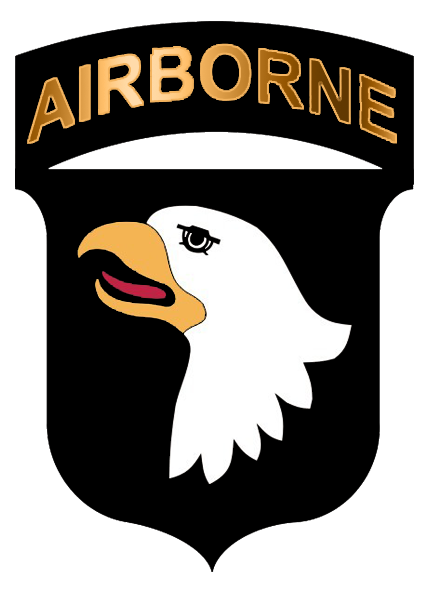 Fort Campbell, KY – The ceremony marks the 4th time the storied brigade cased its' colors in preparation for a deployment to Iraq; the 7th overall in support of the Global War on Terror.
Little remains known about Strike's impending mission, however, their focal point will be advising and assisting Iraqi counterparts against insurgents.
The Strike brigade will join the Screaming Eagle's headquarters, who deployed to the region a few short weeks ago. Units within Strike will be deployed throughout several locations in both Iraq and Kuwait.
Strike will play an instrumental role in advising and assisting Iraqi and Kurdish counterparts in the fight against the Islamic State of Iraq and Levant (ISIL), in addition to establishing a stable environment for the citizens of Iraq.
"While the mission is clear, the path to achieve it is challenging and complex," said Sylvia. "We are arriving at a decisive point in this operation and the environment is dynamic and uncertain."
While Sylvia acknowledges that the brigade combat team is ready to complete any mission given to them, he emphasized that the brigade is acting as a right-hand to their partners and allowing them [Iraqis] to take the lead.
"We will be operating in small units in disparate locations and our ability to accomplish this mission is not measured by our firepower but by our ability to influence and inspire."
In attendance for the ceremony was acting senior commander of the 101st Airborne Division, Brig. Gen. Scott E. Brower, who spoke about the Screaming Eagle legacy and how Strike has always been on America's beckoned call.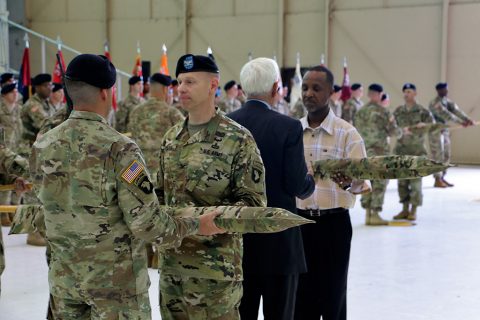 "Form World War II, to Vietnam, to Somalia and Kosovo and the Sinai, to Afghanistan and Iraq before this," said Brower. "Screaming Eagles have always answered our nations call and have always been the example of what right looks like for others to emulate."
While Brower reinforced the notion that Strike is acting as enablers for the Iraqi troops, he stressed the importance of force protection as well.
"In no way does this mean that we will not protect every Screaming Eagle, every coalition partner, or every Iraqi Security Force member," said Brower. "We will do just that. And I know that should our enemies foolishly choose to pick a fight with our Strike Soldiers, it will be the last mistake they will ever make."
In addition to the brigade casing their colors, all six battalions within Strike cased their colors as well, signifying that the command teams are going forward. 1st Battalion, 320th Artillery Regiment, Division Artillery, 101st Airborne Division joined in on the ceremony and cased their colors representing the firepower they will be assisting the brigade with.
Unique to the ceremony, the recently inducted Honorary Colonel of the Regiment, Col. (R) Theodore Purdom and Honorary Sergeant Major of the Regiment Master Sgt. (R) Alonzo Rollins cased the regimental colors.
'Strike 6' reflected on the past 10 months of training, echoing the collective thought that although intensive and rigorous, it is necessary for their mission at hand.
"This is no small task," said Sylvia. "But the Soldiers of Strike have sweat and toiled mightily these past 10 months to hone our skills; learn culture and tact; and study the complexities of this environment. It is without doubt or hesitation that I say 'this team is ready'."
Sylvia wrapped up his speech extending his thanks to Strike Family Members, who more often than not sacrifice just as much as their Soldiers.
"The strength of our Soldiers truly is our Families," said Sylvia. "And your sacrifice and commitment sustain this great brigade combat team each and every day."
In the hours before the ceremony, Sylvia and Command Sgt. Maj. of Strike, John C. Brady, addressed their full formation for the last time in the next nine months.
"I will tell you that there's no finer unit than what is assembled before me right now," said Brady. "You should be proud of your accomplishments. You are a part of something that is bigger than you. It's bigger than me. You represent those that can't and those that won't."
The brigade is slated to return in early 2017.