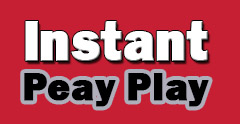 Clarksville, TN – While most teams that finish last in the conference standings the year before don't normally garner a lot of attention at conference media day meetings, but the 2016 Austin Peay State University football team maybe the exception to the rule.
Much has changed for the Govs since finishing the 2015 season with a 0-11 overall record and a 0-8 mark in OVC play, as they and the rest of the Ohio Valley Conference teams meet in Nashville, TN on July 18th at the Holiday Inn on West End Avenue for the OVC Football Media Day.
First, this will be the first OVC Media Day under the Govs new head coach Will Healy, who was named the school's 19th head coach back in December 2015; taking over for head coach Kirby Cannon, who had gone 1-34 in his three seasons at APSU.
Although gone over when he was hired, it will be brought up again that Healy (at 30 years old) is the second youngest head coach at the Division I level – with only the University of Maine's Joe Harsymiak (at 29 years old) being a younger head coach in the NCAA.
Secondly, the Govs enter the season having put together one of the best recruiting classes in not only the OVC, but the Football Championship Subdivision as a whole.
According to 247sports.com, Healey's first recruiting class (26 signees in all) was ranked best in the OVC and fifth overall in the nation on the FCS level.
That group will give Healy plenty to talk about with 13 of those players earning multi-star rating form 247sports.com or Rivals.com, 11 were named to their respective All-State teams and 11 playing for state champions.
But maybe even more important is the fact that of the 26 overall signees, seven were offered scholarships from Football Bowl Subdivision schools.
But while there is a lot of positives heading into the upcoming season that Healy can talk about, don't be surprised if Austin Peay is picked to finish last yet again by the conference's head coaches and sports information director's when the official OVC pre-season poll is released at media day.
The preseason football media poll was released last week with the Govs picked to finish in ninth place in the conference, earning just 21 total points, well behind the eighth-place pick Tennessee Tech – who totaled 38 points in the poll.
Last year's FCS national champion runner-up Jacksonville State was the runaway vote getting to repeat as OVC champion in 2016, with 144 total votes – including all 16 first-place votes.
The Govs open the Healy era on September 3rd at Troy, while a week later — on September 10th – Austin Peay will play their first home game of the year at Fortera Stadium versus Tennessee Tech.