APSU Sports Information

Clarksville, TN – Sophomore quarterback Tommy Hays rushed for two touchdowns and completed over 80 percent of his passes, but the Austin Peay State University football team came up short 45-17 against Murray State, Saturday, at Fortera Stadium.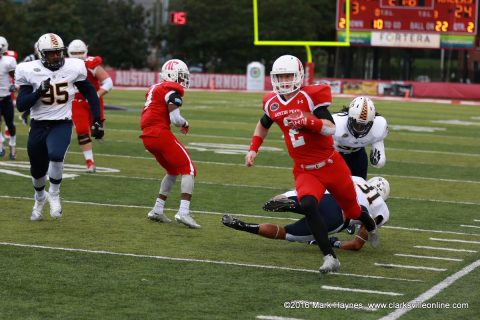 Turning Point
Following a 15-yard touchdown pass from KD Humphries to Jordon Gandy at the 3:11 mark of the second quarter, Murray State booted a short kickoff that was recovered at the APSU 25. Minutes later, the Racers tacked on another seven points after Humphries completed a 10-yard strike to Jesse Blackburn, increasing their lead to 24-3.
Inside the Box Score
The Governors scored on their first drive for the first time since last season vs. Southeast Missouri (November 7th), a 39-yard field goal by senior Nick Gauna.
Tommy Hays gave APSU its first touchdown 26 seconds before halftime, a 22-yard scamper down the sideline. Late in the third quarter, the signal caller scored his second touchdown of the night after scrambling up the middle for an eight-yard score.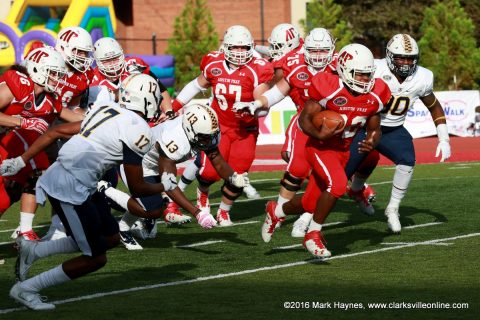 In addition, Hays completed his first 14 passes, finishing with an 82.3 completion percentage. The two rushing touchdowns by Hays was the first time an APSU player rushed for multiple touchdowns in a single-game since Rashaan Coleman had three against SEMO (November 16th, 2013).
In addition, it's the first Governors quarterback to rush for two or more touchdowns in a contest since Brian Baker totaled two on October 27th, 2001 against Morehead State.
The Govs, who entered the game as one of the top teams in the nation in passing yards per completion at 15.05, recorded 10.7 yards on 16 completions, Saturday.
Coming off his big game at Eastern Illinois, junior Jared Beard totaled seven catches for 60 yards, Saturday, including a 21-yard catch and run. Beard has now caught a pass in 13-straight games.
Running back Kendall Morris averaged 7.1 yards per rush, rushing for 57 yards on eight carries. Morris reeled off a 27-yard run, the longest rush for the Govs this season.
Zeandre Floyd registered his first catch of the season, a 16-yard reception in the second half.
Defensively, sophomore James Bond tied for the team lead in tackles with 12, a career-high. Bond also forced a fumble that was recovered by Hunter Lane.
Freshman Neonta Alexander made a career-best 12 tackles after recording 10 last weekend. Alexander also forced a fumble, with Lloyd Tubman recovering on the play.
Junior Malik Boynton had a season-high 10 tackles from his safety position.
For the first time this season, senior Roderick Owens picked off a pass, intercepting Humphries who was targeting a receiver in the corner of the endzone.
Quotes
Head Coach Will Healy on the team's mistakes
"We didn't find a way to create turnovers when the ball was in the air. The mistake of letting the ball hit the turf on a kickoff and they get the ball back is a big, big deal. The stop on 4th and 2 is a big deal. We had enough chances to stay in it, but at the end of the day, we waited on something to happen for us instead of being the aggressor."
Healy on the differences tonight
"We have to find a way to get off the field on third down. We also didn't execute very well on third down, so it was the exact opposite. They executed extremely well on third down, and they got us off the field. I would say that and the turnovers were the big things tonight."
Healy on Hays
"I think he's a good runner. He tried to extend plays and keep his eyes downfield, but there were gaps where he could tuck it and go get yardage. He has done that in a couple games. He's a dual-threat quarterback which is what we want here, and I thought both he and Timarious made good plays extending with their feet. We just have to execute better in the red zone."
Summary
1st quarter
APSU 10:22 – Nick Gauna converted on a 39-yard field goal.
MUR 1:00 – Murray State's Connor Mitchell tied the game with a field goal, also from 39 yards out.
2nd quarter
MUR 12:35 – Jordon Gandy made three catches on Murray State's next drive, capping it off with a nine-yard touchdown reception.
MUR 3:11 – Gandy scored his second touchdown of the day, a 15-yard catch from KD Humphries.
MUR 1:38 – Soon after, Humphries tossed another touchdown, this time to Jesse Blackburn from 10 yards out.
APSU 0:26 – Just before halftime, Tommy Hays gave the Govs a boost, rushing for a 22-yard score.
3rd quarter
MUR 10:29 – Despite starting at their own nine, the Racers mounted a 12-play drive, with Humphries ending it with a 10-yard rushing touchdown.
APSU 6:42 – Hays recorded his second rushing touchdown of the night, an eight-yard scamper up the middle.
4th quarter
MUR 7:19 – Mitchell Stults hauled in a nine-yard touchdown pass, Humphries' fourth of the night.
MUR 3:48 – Humphries tossed his fifth touchdown, this one to Gandy from 12 yards out.
What's Next
Austin Peay begins a two-game road trip, with an OVC contest at UT Martin coming up next Saturday, October 8th, at 2:00pm.
Video
Photo Gallery