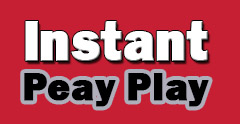 Clarksville, TN – Austin Peay State University's men's and women's basketball have both started their pre-season practices for the upcoming 2016-17 season and like seasons before both have questions to be answered.
The biggest question for both teams is how you replace one of the best players to have played for your respective program, with the men's team having to replace post player Chris Horton and the women's team point guard Tiasha Gray.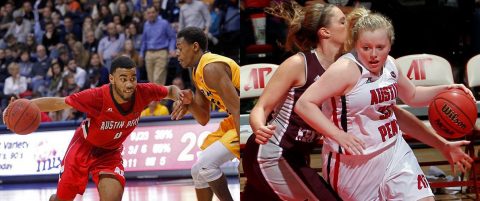 Horton and Gray were both four-year starters, all-Ohio Valley Conference First-Team selections and among the school's all-time leaders in scoring, rebounds, assists and steals so replacing them won't be easy.
The easy answer is both will probably have to do it by committee, until someone steps up and makes that spot their own.
For the men's team, they return seniors Kenny Jones (6-6, 180, South Bend, IN) and Assane Diop (6-8, 217, Dakar, Senegal), along with red-shirt sophomore Chris Porter-Bunton (6-5, 217, Bowling Green, KY).
They will be joined by junior-college transfer Der-Kalo Clayton (red-shirt junior, 6-6, 245, Orlando, FL) and freshmen Sam McCracken (6-8, 190, Cincinnati, OH) and Jartavious Dobbs (6-10, 2-5, Columbus, MS)
On the perimeter, while they did lose Khalil Thompson to graduation, the Govs do return junior Josh Robinson (6-2, 165, St. Louis, MO) and sophomore Jared Savage (6-5, 195, Bowling Green, KY) – who both should be major cogs on this year's team – along with junior Domas Budrys (6-4, 185, Kretinga, Lithuania) and sophomore Steve Harris (6-5, 180, St. Louis, MO)
Joining that group will be freshman Chris Stocks (6-4, 185, Poplar Bluff, MO).
Sophomore Zach Glotta (6-0, 185, O'Fallon, MO) and junior Tre' Ivory (5-11, 185, Louisville, KY) are returning point guards – along with Robinson, who also played point quite a bit late in the season last year.
While the men's team look to see who will step up at center the women's team need someone to take charge at point guard and start the team's offense.
Senior April Rivers (5-5, Las Vegas, NV) has the most experience coming into the season, while junior-college transfer Bri Williams (5-4, Jr., Norcross, GA) and freshman Shelbe Piggie (5-4, Kansas City, MO) also in the mix.
While the point guard position is a question, the Govs return most of the perimeter and post players from last year.
Senior guard Jacey Scott (5-9, Douglas, GA) returning after missing last season due to injuries and will be joined by juniors Madison Rich (5-7, Bee Spring, KY) and Falon Baker (5-8, Portland, TN); sophomore Keisha Gregory (5-10, Johnson City, TN) and newcomers Ant'Treasia Patton (5-7, Nashville, TN) – who transferred from Walters State Community College – and freshman Nieja Crawford (5-11, Forest Park, GA).
On the inside, seniors Tearra Banks (6-2, Louisville, KY) and Beth Rates (5-11, Hawesville, KY) will be joined by juniors Brianna Alexander (6-0, Smyrna, TN) and Sydney Gooch, (5-10, Franklin, KY) and freshman Arielle Gonzalez-Vamer (6-0, Cincinnati, OH).
For this year's men's and women's basketball team's success – especially early-on – will depend largely on how soon someone steps up into Horton's and Gray's open spots and how soon all of the newcomers get use to the speed and physical play of the college game.
Only time and game experience will answer those questions as both teams go through their 2016-17 schedules.