APSU Sports Information

Clarksville, TN – All five starters scored in double figures for Austin Peay State University men's basketball team in its final home non-conference tilt against Lipscomb, but the Governors fell to the Bisons, 99-85, in an electric display of offense at the Dunn Center.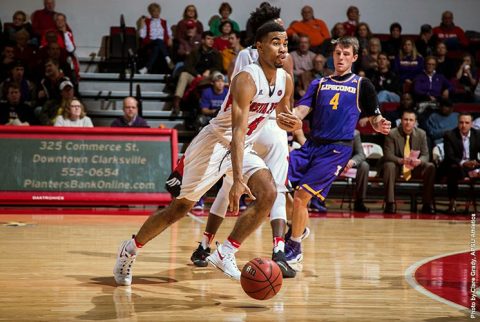 The contest started brightly enough for Austin Peay; after winning the opening tip, junior
Josh Robinson
swished a three-pointer for the game's first points and moved himself into the top-10 all-time in APSU history in career three-pointers.
The two sides would be evenly matched through the first minutes until Lipscomb hit eight consecutive shots from the floor to stretch the lead out to 14 (32-18).
The Governors would claw back to within 10 by halftime and go on a run of their own early in the second half; from the 18:30 mark until 12:36 to go, the Governors hit 11 consecutive shots. Senior Kenny Jones collected seven of his 11 points during this stretch, with his final bucket giving Austin Peay a one-point lead.
Unfortunately, back came the Bisons and once more they went on a game-turning streak, hitting eight shots in a row again to take the contest from tied with 10:43 remaining to a 16-point Lipscomb advantage at the 5:06 mark. A valiant effort for the Governors down the stretch could only get the deficit back to 10 before Austin Peay was forced to begin fouling.
The Difference
Austin Peay hit eight three-pointers, an impressive number that is just above its average of 7.4 per game. Lipscomb hit 18, most allowed by the Governors in 2016-17 and most since Southeast Missouri hit 20 (the record for an opponent in the Dunn Center), February 28th, 2013.
Notably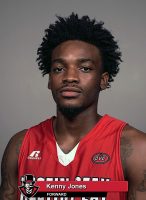 All five starters scored in double figures for the first time in 2016-17.
The Governors snapped a five-game streak of losing the battle in points off turnover, turning 17 Lipscomb miscues into 20 points.
Senior Kenny Jones recorded his first career five-block performance—the first by a Governor since Chris Horton (February 10th, 2016 vs. UT Martin).
The 21 rebounds by Austin Peay were the lowest single-game total since tallying 21 February 15th, 2014 against SIU Edwardsville.
The Governors again shot better than 50 percent from the floor, hitting 54.1 percent (33-for-61) of their shots; it's the fifth time already the Govs have hit at least half their shots from the floor this season.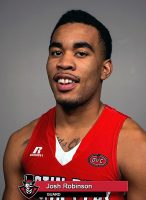 Although the Govs are shooting a robust 45.4 percent over the last six contests, opponents are hitting 55.4 percent from the floor during that span after Lipscomb's 60.0 percent night.
Sophomore Jared Savage tallied 17 points, his first double-figure performance since Nov. 30 against Fort Wayne.
Sophomore Chris Porter-Bunton equaled his career high with 14 points.
Robinson on the Move
With 22 points, Robinson now has 1,154 in his Austin Peay career, passing Will Triggs (1,139, 2010-14) for 22nd all-time. Next: Jim Beshears (1,184 points)
Coaching Quotables
Head Coach Dave Loos
On first-half defense
"In I think four of our last five games, we've given up an average of 100 points. That says it all. We can't guard them, or at least we don't."
On Lipscomb
"They're a good basketball team. I thought if we put it on the floor and let them spot shoot that we'd have a shot, but that's not how it turned out."
Overall
"It's a simple equation. Until we make up our minds that we're going to guard—until it becomes really important to us—things are not going to change."
Up Next For the APSU Govs
Austin Peay closes out the pre-Christmas portion of its schedule with a trip to Bloomington, IN, to face No. 16 Indiana (8-2) at Assembly Hall. The contest is scheduled for 7:00pm, Thursday.