#9 Tennessee (16-15, 8-10 SEC) vs. #8 Georgia (18-13, 9-9 SEC)
Thursday, March 9th, 2017 | 12:02pm CT
Nashville, TN | Bridgestone Arena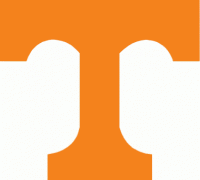 Nashville, TN – Seeded ninth, Tennessee heads back to the state capital for the 2017 SEC Men's Basketball Tournament on Thursday. The Vols meet No. 8 Georgia in the day's first game at Bridgestone Arena, tipping off at 12:00pm CT on SEC Network.
Tennessee (16-15, 8-10 SEC) heads to the Music City looking to make it five consecutive years with an SEC Tournament victory. Last year, the Vols picked up two wins in Nashville, defeating Auburn in the opening game and Vanderbilt in the second round. UT's short run came to an end in the quarterfinals with a loss to LSU.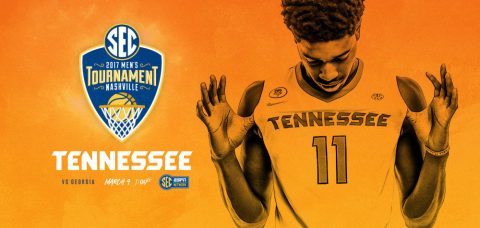 The Vols and Bulldogs (18-13, 9-9 SEC) are meeting for the second time this season. Georgia, which boasts two first team All-SEC performers in guard J.J. Frazier and forward Yante Maten, picked up a narrow 76-75 win over Tennessee at Thompson-Boling Arena on February 11th. Frazier, who is averaging 27.7 ppg over his last seven outings, finished with 29 points.
The Vols head into the postseason led by its own pair of all-conference performers. Senior guard Robert Hubbs III earned second team All-SEC honors on Tuesday after leading the Vols in scoring at 13.9 ppg. Meanwhile, true freshman forward Grant Williams landed a spot on the SEC's All-Freshman team after finishing the year as UT's second-leading scorer (12.8 ppg) and top rebounder (6.0 rpg) and shot-blocker (1.9 bpg).
Williams heads to Nashville having recorded a double-double in three of his final four games of the regular season. He notched a game-high 16 points and 10 rebounds in UT's 59-54 win over Alabama on Saturday in the regular-season finale.
Thursday marks the ninth meeting all-time between Tennessee and Georgia at the SEC Tournament and the first time the two programs have met in the postseason since 1996.
Inside The Series
Overall: UT leads, 93-59
In Knoxville: UT leads, 56-16
In Athens: UGA leads, 38-33
Neutral Sites: UGA leads 5-4
Current Streak: Georgia has won three straight
Last Meeting: Georgia won, 76-75, in Knoxville, 2/11/17
Rick Barnes vs. Georgia: 1-4
Rick Barnes vs. Mark Fox: Fox leads, 3-0
A Win Would
Snap Georgia's three-game win streak in the series.
Give Tennessee a 6-3 all-time record against Georgia in the SEC Tournament. The border rivals haven't met in the tournament since 1996.
Set up a quarterfinal meeting with top-seeded Kentucky Friday at 1:00pm ET/Noon CT.
Vols (Picked 13th) Finish Ninth
Tennessee was predicted to finish 13th in the 2017 SEC race by an SEC and national media voting panel.
UT exceeded those expectations, going 8-10 in league play to finish tied for ninth in the standings.
UT posted a 6-12 SEC record to finish 12th a season ago.
SEC Tournament History
Tennessee is 65-53 (.551) in 56 all-time previous SEC Tournament appearances.
The Vols own the third-best SEC Tournament winning percentage among league schools, trailing only Kentucky (.836) and Alabama (.554).
Since the tournament was renewed in 1979, the Vols are 30-37 (.438).
Tennessee has won the SEC Tournament four times, tying Florida for third-most among league schools. The Vols won the event in 1936, 1941, 1943 and 1979.
UT has reached the championship game 10 times (third most among league schools), most recently in 2009 in Tampa.
Tennessee has only been the No. 9 seed once previously at the SEC Tournament; that was in 1991 in Nashville. That year, the Vols took a 9-21 record into the tournament and then reeled off three straight wins to reach the championship game, where it fell to Alabama.
This is the ninth time Nashville has hosted the SEC Tournament. UT is 11-8 in the tournament when it takes place in "The Music City."
Tennessee's SEC Tournament record at Bridgestone Arena is 7-6.
Memorable Vol Performances at the SEC Tournament
Wayne Chism scored 23, JaJuan Smith added 19 and Tyler Smith put in 13, but it was Chris Lofton's 25-footer with 12.0 seconds remaining that lifted the Vols to an 89-87 win over South Carolina in the 2008 SEC Tournament in Atlanta on March 14th, 2008.
Carlus Groves went 9-for-10 from the floor, scoring 22 points, to lift Tennessee to an 87-70 upset win over No. 18 Mississippi State in the quarterfinals of the 1991 SEC Tournament in Nashville.
It took Tony White 45 minutes to put 30 on Florida, including five points in overtime, as the Vols beat the Gators, 80-74, in the first round of the 1984 SEC Tournament in Nashville.
Tennessee topped Kentucky, the third time UT beat the Wildcats that year, in the championship game of the 1979 SEC Tournament in Birmingham, AL. The Vols prevailed 75-69 in overtime on March 3rd, 1979.
Barnes in League Tourneys
Rick Barnes is 33-28 (.541) in conference tournament games as a head coach.
He led Providence to the Big East Tournament championship in 1994.
So in the last 29 years, Barnes has logged more conference tournament wins and as many conference tournament championships as Tennessee since the SEC Tournament was renewed 38 years ago in 1979 (Tennessee has one league tournament title and 30 wins during that span).
Ron Slay Named Tennessee's 2017 SEC Basketball Legend
Former All-American forward Ron Slay (1999-2003) has been selected as Tennessee's 2017 Allstate® SEC Legend and will represent the Volunteers at the SEC Tournament in his hometown of Nashville this week.
Slay earned third-team All-America honors in 2003 and was selected as the 2003 SEC Player of the Year after leading the SEC in scoring with 21.2 points per game. A team sparkplug and fan favorite, Slay was one of the top scorers on Tennessee's 2000 SEC Championship team, which finished with a 26-7 record and advanced to the Sweet Sixteen.
He finished his career with the Volunteers ranked 13th on the school's all-time scoring list with 1,569 career points, and he was voted onto UT's All-Century Team in 2009.
Following his days as a Vol, Slay enjoyed a pro playing career that lasted more than a decade.
Last Meeting with Georgia
Despite freshman Grant Williams tying his career-high 30 points, Tennessee fell to Georgia in a nailbiter, 76-75, on February 11th, 2017. The loss snapped a five-game winning streak at Thompson-Boling Arena for the Volunteers.
Williams (10-for-16) was the only Vol to shoot better than 50 percent on the day.
Robert Hubbs III
added 10 points but struggled from the field, shooting 3-for-13. The Vols excelled at the free-throw line, going 19-for-24 from the charity stripe.
The first half was back and forth, including eight lead changes and four ties with neither team holding a lead of more than four points.
In the second half, UT jumped out to a 14-point lead sparked by a 15-5 run. However, the Bulldogs, led by J.J. Frazier (29 points, six assists) chipped away at the deficit until they took a 65-64 lead with 3:34 remaining, after which they never trailed. The Bulldogs shot 52 percent from the field, and Tyree Crump added 13 points in his first career start.
Despite forcing 11 turnovers on defense, Tennessee struggled to contain Georgia for much of the second half, allowing Frazier to log 20 points.
UT guard Lamonte Turner made two 3-pointers in the final minute of play; however, it was not enough as Georgia converted efficiently from the free-throw line to solidify its victory. Tennessee sophomore Kyle Alexander also tied his season-high for rebounds with nine.
Tennessee's freshmen accounted for 57.3 percent of the team's scoring, netting 43 of the Vols' 75 points.
Mears Owned the Dawgs
Legendary Tennessee head coach Ray Mears was at his best against Georgia. Mears was 25-4 vs. UGA during his tenure on The Hill (1962-78).
Phillips, Ogbeide have High-Stakes History
Tennessee sophomore Shembari Phillips and Georgia sophomore Derek Ogbeide are both Atlanta natives, and they were on opposing sides in the biggest game of their high school careers back in 2015.
When both players were seniors, Phillips and his Wheeler High School teammates (which included current Boston Celtics star Jaylen Brown) defeated Ogbeide's Pebblebrook High School squad, 59-58, in the Georgia Class 6A state championship game.
Phillips scored 17 points, while Ogbeide finished with 14 points and three blocks.
Other Division I signees in that game included Brown (one-and-done at Cal), Auburn guard Jared Harper and Clemson guard Ty Hudson.
Oliver Coached at UGA
Second-year UT assistant coach Desmond Oliver was an assistant coach at UGA under Dennis Felton from 2004-09.
During Oliver's tenure in Athens with Felton–who himself was once an assistant under Rick Barnes at Providence and Clemson from 1992-98–the Bulldogs made consecutive postseason appearances in 2007 (NIT) and 2008 (NCAA Tournament).
Oliver was on UGA's staff during one of the most memorable conference tourney runs in recent history when Georgia won two games on the same day to capture the 2008 SEC Tournament championship.
Tennessee Playing at least 20 Games in-State this Season
The Vols will play at least 20 games in the state of Tennessee this season (that includes at least one game at this week's SEC Tournament in Nashville).
Tennessee's Thursday game against Georgia in Nashville will be UT's 20th in-state game of the year. The Vols are 13-6 in The Volunteer State thus far.
Three Vols Earn SEC Honors
A trio of Volunteers earned SEC postseasons honors over the last week.
Senior wing Robert Hubbs III was selected by the league's head coaches as a second-team All-SEC selection. Hubbs leads the Vols in scoring (13.9 ppg) and ranks sixth in the SEC in FG percentage (.473).
Freshman forward Grant Williams earned a spot on the eight-man SEC All-Freshman Team. The Charlotte, North Carolina, native ranks among the league leaders in blocks and leads the Vols in both scoring (14.2 ppg) and rebounding (6.4 rpg) in SEC play.
And last week, sophomore Admiral Schofield was named to the men's basketball SEC Community Service Team.
Evans Coming Off Best Game as a Volunteer
Playing his final regular-season home game at Thompson-Boling Arena, graduate transfer Lew Evans enjoyed his best game as a Vol, leading Tennessee to a come-from-behind, 59-54 win over Alabama last Saturday.
In UT's previous game–last Wednesday at LSU–Evans caught an elbow in the mouth that loosened and severely damaged three of his top front teeth (will require dental surgery after the season). He wore a custom mouthpiece against Alabama.
Evans entered the Alabama game averaging 3.2 points and 2.8 rebounds, but he totaled 13 points, five rebounds and two blocks in the winning effort vs. Alabama. He also made a season-high three 3-pointers as the Vols rallied from down 16 in the second half.
Evans got the starting nod on Senior Day; it was his first SEC start of the year.
Tennessee Wins 16 Games, Exceed Last Year's Total
In 34 total games last season, Rick Barnes' first UT squad managed 15 victories.
Last Saturday's Senior Day win over Alabama gave this year's team 16 victories (in 31 games).
Tennessee's eight SEC wins were two more than the Vols managed last season.
Vols Extend Streak of Top-20 Attendance
Tennessee finished 20th nationally in average regular-season home attendance this year, drawing an average of 13,637 fans to 16 games at Thompson-Boling Arena.
The Vols have ranked among the top 20 in men's college basketball average home attendance for 13 consecutive years, including six of those seasons ranked in the top five nationally.