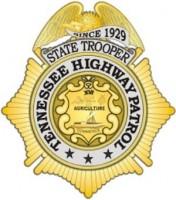 Chattanooga, TN – On March 10th, 2017, Tennessee Highway Patrol (THP) Chattanooga District Troopers Kevin Hoppe and Larry Fowler were working along I-75 South in Bradley County. They observed a 1998 Chevrolet Silverado pickup truck commit a traffic violation around the 27 mile marker.
Troopers pulled the vehicle over and spoke with the driver Robert K. Miller, 45, of Lincoln Park, Michigan. While speaking with him, troopers could smell marijuana inside truck.
When asked about any contraband in the truck, Miller said he had a small amount of marijuana, but did not know what was in the boxes in the bed of the truck. Miller stated that they were loaded by a friend to be transported to Florida.
Miller and his passenger Nicole P. Moote, 40, also of Lincoln Park, Michigan were traveling from Michigan to Daytona Beach, Florida for Bike Week.
A probable cause search was granted. THP's Interdiction Plus Team (IPT) Trooper Rich Thomas arrived to assist with the search and deployed K-9 Marci. K-9 Marci had a positive response on the boxes in the bed of the truck.
The troopers searched the boxes and found THC infused drinks and edibles. Two loaded pistols were located in the truck along with more raw marijuana. A further search revealed 64 pounds of THC edibles and 263 bottles (3,156 fluid ounces) of THC infused drinks and syrup.
THP's Criminal Investigation Division (CID) Sergeant Thomas Clower was notified and conducted interviews with both subjects before they were arrested and transported to Bradley County Sheriff's Office. The vehicle and $1,816.00 dollars were seized.
Miller was charged with possession for resale of schedule 6, possession of firearm during commission of a felony, possession of drug paraphernalia, and simple possession of schedule 6 for resale. Moote was charged with simple possession of schedule 6 for resale.
The Tennessee Department of Safety and Homeland Security's (www.TN.Gov/safety) mission is to serve, secure, and protect the people of Tennessee.