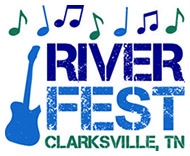 Clarksville, TN – Riverfest, the City of Clarksville's entertainment festival now in its 30th year, is pleased to announce Chris Janson will be the featured headliner at the 2017 Festival. Chris Janson will perform at 9:15pm Saturday, September 9th on the Bud Light Stage at McGregor Park. The concert is free and open to the public.
"Once again, the City of Clarksville is presenting a big star to headline our big-time community festival," Clarksville Mayor Kim McMillan said. "Chris Janson is one of the hottest artists in country music, and he'll be here to push Clarksville's Riverfest to new heights."
Warner Bros. Records/Warner Music Nashville country artist Chris Janson was born to entertain crowds. Last year, his breakthrough No. 1 Platinum single "Buy Me A Boat" was the 7th bestselling country song of the year, although his professional music career began more than 10 years ago.
The "Holdin' Her" singer has written multiple top-charting hits including "Truck Yeah" (Tim McGraw), "That's How I'll Always Be" (Tim McGraw), "I Love This Life" (LoCash), and more than 25 additional hit songs recorded by a long list of established artists.
Janson has been nominated for multiple awards and won Country Song of the Year ("Buy Me a Boat") at the iHeartRadio Music Awards. Janson is currently featured in the Country Music Hall of Fame as part of the ACM Gallery. He plays every instrument on stage, and is best known for his signature harmonica playing.
Additionally, Janson has played the Grand Ole Opry more than 145 times to date, and made numerous television appearances including: The Tonight Show starring Jimmy Fallon, Late Night with Seth Meyers, CONAN, The Today Show, ACM Awards and ACCA Awards.
This year's Riverfest, presented by the City of Clarksville and Bud Light, will host three large stages of entertainment. Music will range from country, R&B, local dance groups, to Christian, and more. Along with the Bud Light stage, Festival visitors will experience last year's popular Wicked Good Sandwiches stage on Saturday in the Amphitheater area. UrbanFest will be joining forces with Riverfest with a brand new area near the boat ramp.
In addition, the LST 325, the only operational WWII ship, will be docked for tours during the two-day event.
For the full Festival schedule check out www.clarksvilleriverfest.com. To receive the latest news and updates on entertainers, be sure to sign up for the newsletter! Local groups who wish to perform may apply online.
Admission to the three-day festival is free, thanks to our partners Budweiser, Google, Wicked Good Sandwiches, U.S. Bank, UrbanFest, Waterdogs Scuba and Safety, The Leaf-Chronicle, Clarksville Living Magazine, Lamar Advertising, Mary's the Music Store, Daymar College, Bi-County Waste Management, and the Downtown Artist Co-Op.
About Riverfest
Riverfest is Clarksville's longest running community Festival. Now in its 30th year, Riverfest brings over 30,000 people to the banks of the Cumberland River in an arts and recreation celebration. This year, the Festival will be September 7th-9th, 2017. Music, art, family events, and more will fill McGregor Park.
Admission and entertainment at the Festival are free and open to the public. More announcements will be made soon, as new events and entertainment are finalized. To stay up to date on the latest Festival happenings visit the Festival website, www.clarksvilleriverfest.com and follow the "Clarksville Riverfest" on Facebook.
The Festival is brought to you by the City of Clarksville Parks and Recreation Department and Budweiser.
McGregor Park is located at 640 North Riverside Drive in Clarksville, TN.
For questions please call 931.645.7476 or visit www.cityofclarksville.com