Clarksville, TN – Sunny and pleasant weather is forecast Thursday through Saturday for Clarksville's Riverfest Celebration, offering a welcome change from last week's storms and flooding.
Heavy rains swept through Clarksville early Friday, pushing the Cumberland River to flood stage, covering McGregor Park's two outdoor stages and forcing Clarksville Parks and Recreation to close the park.
The high water levels have dropped and Riverfest is ready to roll with art, music and entertainment September 8th-9th, 2017 on the Clarksville Riverfront as planned.
McGregor Park will remain closed until festival events start there at 5:00pm on Friday, September 8th.
Thursday, September 7th
The festival kicks off on Thursday, September 7th with the Riverfest Art Experience. This free event will be at 5 p.m. at the Wilma Rudolph Event Center and Amphitheater at Liberty Park. It will include both a Juried Art Show and Film Festival, featuring art and films from local talent. Food and drinks will be available for purchase.
Friday, September 8th
Riverfest continues at 5:00pm Friday, September 8th at McGregor Park with a performance by Sarah Spencer & Melissa Miller on the Bud Light stage, followed by performances by The Old Spirits, Awaken and Kings Avail. The UrbanFest stage will host a mixture of R&B music and the Chopped Barber Showcase.
Saturday, September 9th
The entertainment continues at noon on Saturday, September 9th. The Bud Light stage will feature Nolen Miller, Emma Feldman, the Fort Campbell Band and a host of other artists. At the Wicked Good Sandwiches Stage, watch as local dance academies strut their stuff followed by showcase of regional rock acts. The UrbanFest Zone will host a Step Show presented by Daymar Institute.
Saturday evening, the Bud Light stage will light up the RiverWalk with performances by Tammie Shannon, Carl Wockner and Andy Velo.
Headliner Chris Janson will take the stage at 9:15pm with a high-powered show fueled by his hit songs "Buy Me a Boat" and "Fix a Drink."
Back again, the Wicked Good Sandwiches Stage again will feature alternative rock bands from across the mid-South and include performances by Rufus Dawkins, The Rumps, August Christopher and Brother Ryan & Co.
For the full entertainment lineup visit www.clarksvilleriverfest.com
Road Closures and Park Information
Friday, September 8th and Saturday, September 9th
6:00am, both southbound lanes on Riverside Drive and center turning lane closed. Only one northbound and one southbound lane will be open for two-way traffic.
7:00pm until midnight, Riverside Drive will be closed to through traffic from Spring Street to College Street.
Midnight, far south bound lane of Riverside Drive closed.
The courtesy boat dock and boat ramp at the RiverWalk will be closed through Sunday evening. Boats can be anchored on the county side of the channel during the festival, however, no boat may anchor in the channel or on the RiverWalk side of the channel. River traffic may be subject to safety checks.
There is no swimming in the event area after sunset, from the J.R. Corman Train trestle to the Red River/Cumberland River confluence.
These regulations are subject to change at any time.
Parking and Shuttles
Free parking will be available at the parking lot on West Avenue. Shuttles taking patrons to Riverfest will run every 30-45 minutes on Saturday only, beginning at 10:00am and continuing until 11:15pm. Please see www.clarksvilleriverfest.com to view shuttle route.
Riverfest parking will not be permitted at Two Rivers Business Center at any time or at Riverside Drive businesses during their business hours. Handicap parking will be available at designated parking lots directly across from McGregor Park.
Festival Policies
No pets allowed
No outside food or drinks allowed
No coolers allowed
No roaming solicitation allowed
No flash photography, camcorders, or recording devices during headlining concerts (after 8:00pm)
No fights or foul language
No drones over McGregor Park
No amplification devices allowed
Any violation of these policies will result in immediate confiscation of items and/or expulsion from the festival.
About Riverfest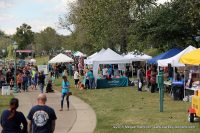 Celebrating its 30th year, Riverfest brings more than 30,000 people to the banks of the Cumberland River in an arts and recreation celebration September 7th-9th, 2017. Music, art, family events, and more will fill McGregor Park.
Admission and entertainment at the Festival are free and open to the public thanks to our partners Budweiser, Agero, Google, US Bank, The Leaf-Chronicle, Clarksville Living Magazine, Lamar Advertising, Mary's Music, Daymar College, and the Downtown Artist Co-Op. For information, please call 931.645.7476 or visit www.cityofclarksville.com.
To stay up to date on the Festival, visit www.clarksvilleriverfest.com, like Clarksville Riverfest on Facebook, www.facebook.com/clarksvilleriverfest, and sign up for the Festival newsletter. The Festival is brought to you by the City of Clarksville Parks & Recreation Department. For more information please call 931.645.7476.