Clarksville, TN – In the immediate wake of a devastating tornado, lives have been lost and homes destroyed, but the damage done to a cherished family business has created more strife for two siblings than high-speed winds could ever hope to cause.
"One of the siblings was focused on being out half a million dollars in damages, while the other one was focused more on the sentimental aspect of having their family business destroyed," Dr. Kim Coggins, Austin Peay State University assistant professor of psychological sciences and counseling, said.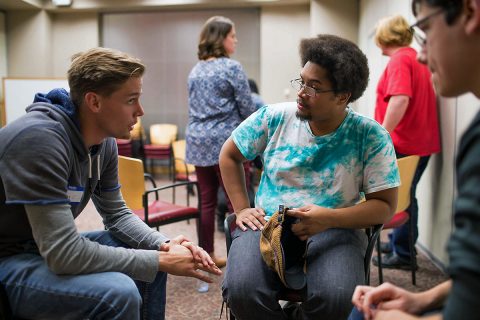 "That personal conflict was going on in the middle of this devastation following a natural disaster. Or at least that's the scenario that our students came up with for the simulation," stated Coggins.
Sibling conflict was just one of the scenarios Austin Peay graduate counseling students had to navigate during an interdepartmental simulation exercise designed to prepare future mental health care providers for the kinds of emotional situations they could encounter during a real-world disaster.
"We have been getting feedback from both our former students and employers in the field that our students needed to know more about crisis and trauma interventions before they went into the workforce," Coggins said. "We added more of a focus on that kind of training in our classwork, but you can read and study things all you want, but until you get a chance to put it into practice, this training doesn't always make a lot of sense."
Coggins partnered with Austin Peay Assistant Professor of acting and director Talon Beeson and students from the University's Department of Theatre and Dance, connecting counseling students in need of experience with acting students looking to hone their improv skills as they played the role of victims gathered at a Red Cross shelter in the aftermath of a natural disaster.
Arriving at the scene after victims have received medical attention, Coggins' students were tasked with attending to the psychological needs of the men and women. Beeson's students were given brief backstories, then allowed the freedom to react and evolve their characters on the spot, forcing counseling students to handle the tense and often volatile emotions that can spring up in the wake of disaster.
"This was a good opportunity to see how different the task of counseling can be when you're not in a quiet room with one client or a family," Coggins said. "We tried to present students with a scenario where everyone was together in a shelter and there were distractions and people yelling across the aisle at each other; everyone is in play at the same time, and this gave students the chance to develop de-escalation and grounding techniques on people experiencing a lot of major emotions."
The partnership was mutually beneficial, as Beeson, a working actor before coming to Austin Peay, saw the simulation as a chance to help his own students get experience developing skills that could benefit them after graduation.
"I teach a course on careers in acting, and one thing that many actors often do to pay the bills is volunteer to work in medical improv simulations," Beeson said. "My wife, for instance, used to work for USC Medical Center while we were living in Los Angeles, getting paid $50-60 an hour to simulate suffering from jaundice or scurvy during training simulations for medical students.
"A lot of the students who volunteered for this simulation hadn't done work like this before, so it was a great chance for them to gain experience doing something that could benefit them in the future as an actor."
Coggins said the disaster simulation was a success, with plans to offer it in future semesters and, down the road, potentially explore crisis and trauma counseling as a stand-alone course.
"There were calls for mental health professionals after Hurricane Harvey and the wildfires in California, so (trauma counseling) is becoming more of a focus," Coggins said. "But while our students may never go and intervene in those situations, they will deal with people in crisis situations if they go into working in schools. When a school is impacted by a crisis, they're going to have to stabilize multiple people at the same time, so knowing the skills they can learn in these disaster simulations put them in a better position to intervene and help."
For more information on Austin Peay's counseling graduate program, visit www.apsu.edu/mscounseling