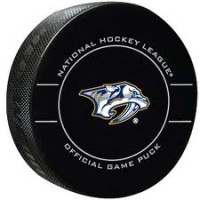 Clarksville, TN – Pekka Rinne scores his 300th career victory tonight, as the Nashville Predators absolutely dominate the San Jose Sharks at Bridgestone Arena, 7-1.
The elite NHL goaltender was brought to tears during a post-game interview reflecting on his accomplishment in front of his hometown crowd tonight. Pekka Rinne has been one of the most popular players in Predators history and he showed his love for his fans tonight.
The Predators were relentless against the Sharks who had won five of their last six games before entering "Smashville" to face the defending Western Conference Champions.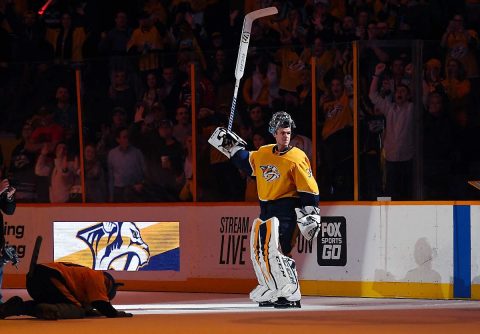 Nick Bonino got the scoring started early with his wrap-around goal against San Jose goaltender, Aaron Dell at 1:55 of the first period and put the Predators up 1-0. Bonino was assisted by Roman Josi and Ryan Ellis on the play.
Scott Hartnell put the Predators up 2-0 at 19:17 of the first frame with a tip-in off an assist from Nick Bonino and Calle Jarnkrok.
The second period got underway with San Jose turning up the pressure on Nashville, but would score their only goal of the night at 8:37 when Logan Couture slapped a back handed shot past Rinne and the score was now 2-1.
Nashville's Kevin Fiala would notch his 19th goal of the season at 15:57 of the second period with a wicked wrist shot past Dell and the Predators had a two goal lead once again. P.K Subban and Ryan Johansen would assist on the play.
The third period would start with the momentum clearly in favor of the Predators who turned the Sharks away at every opportunity. At 3:49, Viktor Arvidsson would score his 21st goal of the season giving Nashville a 4-1 lead. Arvidsson was assisted on the goal by P.K Subban and Craig Smith.
Ryan Johansen would get on the scoreboard at 6:30 of the third period with his goal, making it 5-1.
Mattias Ekholm scored at 11:00 of the final frame for a 6-1 Predators lead, while Calle Jarnkrok would wrap things up at 17:51 for the final 7-1 score.
The win is the third straight for the Predators after a brief two game losing streak.
The Predators will play host to a nationwide audience on Sunday, hosting the St. Louis Blues on a nationally televised game. Puck drops at 11:00am on NBC.