APSU Sports Information

Clarksville, TN – Senior Averyl Ugba of the Austin Peay State University men's basketball team has been invited to compete in the inaugural 3x3U National Championship in San Antonio.
The first-of-its-kind event will bring seniors from around the nation to compete and will pit 32 four-man teams consisting of players from every Division I college basketball conference against each other in a three day, 3-on-3 tournament.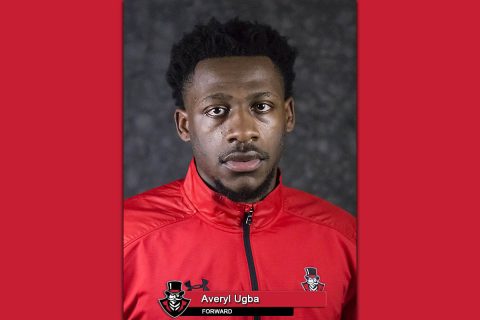 These teams, comprised of seniors who have exhausted their collegiate eligibility, will compete for a $100,000 prize pool viewable live on Twitter and ESPN2 from Friday, March 30th through Sunday, April 1st, 2018 at St. Mary's Universitys Bill Greehey Arena in San Antonio.
Ugba will be joined by Belmont's Austin Luke and Amanze Egekeze and Murray State's Terrell Miller Jr. The Dos Equis 3X3U National Championship Player Selection Committee consists of college basketball experts from a wide range of media outlets including ESPN, CBS Sports, The Athletic, USA Today, NBC Sports, The Ringer, and more.
The Committee worked feverishly throughout the season to determine the nation's top senior college basketball players who have been selected to compete. The complete rosters for each conference will be revealed through a series of studio shows streamed live on Twitter once a day from Monday, March 26th through Thursday, March 29th.
In his lone season in Clarksville, Ugba proved to be an absolute beast, averaging 15.7 points and 8.0 rebounds as Austin Peay advanced to the OVC Tournament semifinals and CIT quarterfinals. The Silver Spring, Maryland native was named first-team All-OVC for his efforts and earned a league-record eight OVC Newcomer of the Week honors.
His 17 made field goals against Jacksonville State, January 13th, remains the second-highest total in a Division I game this season, and he was named MVP of the John McClendon Classic to open Austin Peay's stay in the CIT, with a game-high 27 points against ULM. He concluded his Austin Peay career with 10 double-doubles, 273 rebounds (tied for 13th-most in a single season in school history) and a 14-game streak of double-figure scoring nights, averaging 18.7 points over that span.
The Dos Equis 3X3U National Championship will begin on Friday, March 30th with 24 pool play games streamed live on Twitter from 6:00pm-11:30am CST and will continue on Saturday, March 31st with another 24 pool play games streamed live on Twitter from 10:00am-2:30pm CST.
The event will conclude on Sunday, April 1st with the quarterfinals broadcast live on Twitter from 12:35pm-2:00pm CST, and the semifinals, third-place game and championship game broadcast live on ESPN2 from 2:30pm-4:30pm CST.