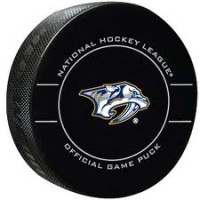 Nashville, TN – The Nashville Predators overcame a sluggish first period against the Colorado Avalanche, but kicked in the afterburners midway through the second period to defeat the Avs, 5-2 at Bridgestone Arena.
In game one of their opening round Stanley Cup series, Nashville knew that Colorado was fast and talented, but as all teams try to do against Nashville, a quick start and a quick strike is what they aim for.
But Nashville has Filip Forsberg.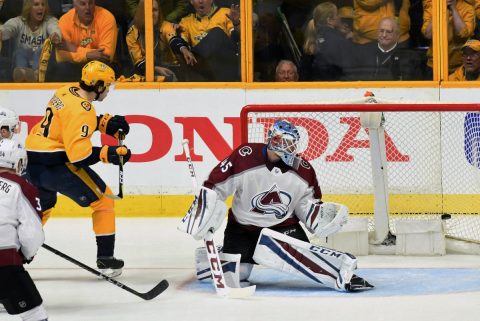 Forsberg had two goals on the night including a highlight reel score in the third period that had the sold out Bridgestone Arena crowd raising the roof.
Nikita Zadorov started the scoring for Colorado at 6:36 of the first period, taking a shot on a pass from Mikko Rantanen and the Avs led 1-0.
It took the crowd right out of the game.
Austin Watson tied the game at 3:26 of the second period when his shot from the right face-off circle beat Jonathan Bernier and Nashville had tied the game 1-1.
While the Smashville crowd was still cheering the Watson goal, Blake Comeau gave Colorado the lead once again when his redirection beat Pekka Rinne for the 2-1 lead. Carl Soderberg took the initial shot on goal. Most of the Nashville crowd didn't even realize that he had scored to give Colorado the lead once again.
Nashville's Craig Smith would bring the Predators back even at 8:50 of the second period on a Predators power play goal and the game was tied, 2-2. Ryan Johansen assisted on the goal.
At that point it seemed that the tide had turned in favor of Nashville. Colorado just wasn't the same the rest of the game.
Filip Forsberg would give the Predators a 3-2 lead at 6:08 of the final frame on a redirection from Roman Josi, who's shot was from the point. It would be all the Predators would need, but they weren't done.
At 12:10 of the third period, Forsberg drove to the net, slipping the puck between his legs, then through the legs of former Predator Sam Girard, and beat Bernier for the 4-2 score. It's a goal that will be talked about for a long time.
An empty netter from Colton Sissons would give the crowd it's final score, 5-2, and Nashville would take a 1-0 lead in the series.
Pekka Rinne stood tall in net for Nashville with 25 saves.
Nashville and Colorado return for game 2 on Saturday afternoon at 2:00pm for a nationally televised game.