Clarksville, TN – Clarksville Police are looking for Kirby G. Wallace, W/M, 52. He has two outstanding warrants for Aggravated Burglary and False Imprisonment.
Wallace is homeless and could be living out of a white Chevy Astro van bearing TN tag Y0311J (exp. 3/17). The van might have a mattress inside and possibly three TV's which are stolen.
Wallace is about 5'10, 160 lbs, brown hair, brown eyes and has tattoos, right arm – Eagle, Left arm – Cross, and chest – Mountain Lion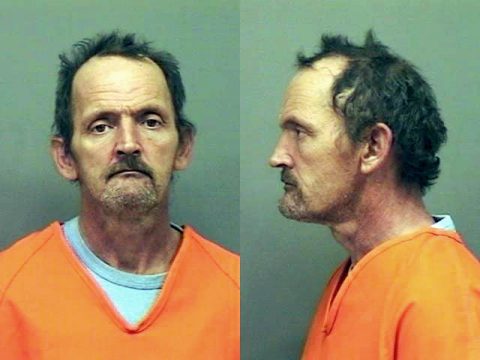 On Monday, May 2nd, 2018, around 11:30am, Clarksville Police were called to the 600 block of Liberty Parkway to investigate an Aggravated Burglary.
Kirby Wallace broke into the residence around 1:00am and demanded the victim's credit/debit card number and pin after tying her to the bed using various ropes, cords, and duct tape. Wallace threatened to come back and kill the victim if she gave him wrong information.
Additionally, he took three televisions and her cell phone and placed them in a white van during her confinement. Eventually, the victim was cut free and able to run out of her residence to a neighbor's house and call 911.
The victim has known Wallace for quite some time so she was able to identify the suspect.
The suspect may be armed with a knife.
If Wallace is seen, call 911. Anyone with information can call Detective Hamilton, 931.648.0656, ext 5535, TIPSLINE 931.645.8477, or go online and submit a tip anonymously at www.P3tips.com/591