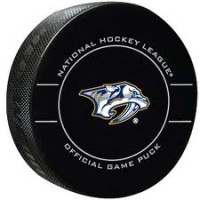 Chicago, IL – The Nashville Predators are having a real hard time winning games on the road. Tonight, the second game of a back-to-back series saw the Predators fall to the Chicago Blackhawks 2-1.

Nashville is still without the services of Filip Forsberg, P.K Subban, and Viktor Arvidsson due to injuries, and their absence is starting to show. The Predators are in the midst of an intense road trip this week with visits to Philadelphia and Boston on the schedule.

Things looked good early as Kevin Fiala put Nashville on the scoreboard first with his wrist shot that beat Chicago goalie Cam Ward top shelf and the Predators took a 1-0 lead at 19:27 of the opening frame.

The Blackhawks brought more pressure with them in the second period, which has been Nashville's achilles heel this season, and Gustav Forsling fired a shot from the top of the circle at 15:22, that careened off of the post and into the net past Pekka Rinne, and the score was tied, 1-1.

Chicago continued to put pressure on the Predators, and at 17:16 of the second period, Erik Gustafsson fired a shot into traffic and it glanced off of a defender and into the net. The power play goal gave the Blackhawks a 2-1 lead, and that would be the final score on the night.

Nashville had 31 shots on goal, while Chicago had 36.

The Predators will travel to Philadelphia for a Thursday night matchup in the city of brotherly love. Puck drops at 6pm.



Sections
Sports
Topics
Cam Ward, Chicago Blackhawks, Chicago IL, Erik Gustafsson, Filip Forsberg, Flyers, Gustav Forsling, Illinois, Kevin Fiala, Nashville, Nashville Predators, Nashville TN, National Hockey League, NHL, P K Subban, Pekka Rinne, Philadelphia Flyers, Predators, Tennessee, Viktor Arvidsson