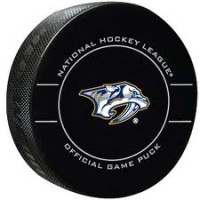 Denver, CO– The Nashville Predators broke through with a much needed win today in the mile high city of Denver, Colorado, shutting down the Avalanche, 4-1.
Coming off of back to back losses, the Predators stood tall behind the unbelievable play of their Vicenza Trophy winning goalie, Pekka Rinne.
Rinne absolutely shut the Avalanche down in the first period and had it not been for his stellar play, Nashville could have easily been down 5-0.
Head coach Peter Laviolette had commented that he saw a lot of good things in his team over the last couple of games, but they needed to come better prepared to start the first period. Nashville fell behind early in the last two games and couldn't recover.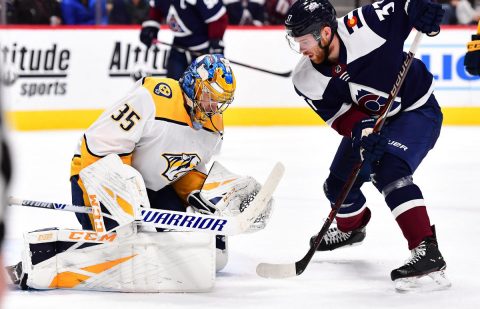 After a scoreless first, Nick Bonino finally broke through for Nashville at 5:01 of the second period. Bonino snapped a wicked wrister from the circle, beating Semyon Varlamov through the "five hole" for the 1-0 lead.
Viktor Arvidsson, who's been on a scoring tear since returning from the injury list, scored on a high speed wraparound at 6:35 and the Predators were ahead, 2-0.
Colorado finally scored at 16:43 of the second period when Alexander Kerfoot redirected a Sam Girard feed past Rinne and the Avalanche pulled to within a goal, 2-1.
Just over a minute later, THE CAPTAIN, Roman Josi took an Austin Watson pass on the give and go and planted the puck into the open net at 17:58 and the Predators lead was back to 3-1.
Colorado continued to apply pressure on the Predators, pulling their goalie with three minutes remaining, and during the fight for the puck in the Nashville end, Ryan Ellis fired a shot the length of the ice into the net for the empty netter and that would be your final score, 4-1.
The Avalanche fired 36 shots on goal to Nashville's 27. Neither team scored on the power play.
The win was a significant victory for the Nashville head coach, as Peter Laviolette logged his 600th career victory.
Nashville travels to Las Vegas for a Wednesday night match-up with the Golden Knights. Puck drops at 9pm.