City of Clarksville
Clarksville, TN – Several Clarksville roads and park areas remained closed Saturday because of rising water, and the Clarksville Parks and Recreation Department, Clarksville Street Department and Clarksville Police continued to monitor parks, roads and travel conditions as more rain was forecast.
The National Weather Service issued flood warnings Saturday for the Cumberland River at Clarksville and the Red River at Port Royal, saying potentially life-threatening flooding will be possible.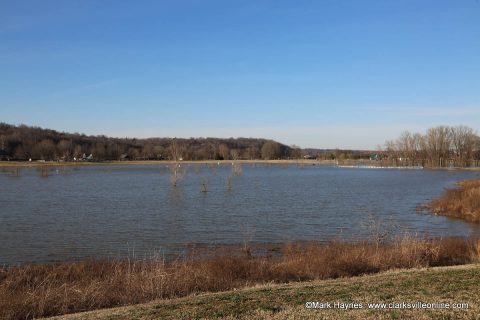 Flooding is expected to continue in low-lying areas of Clarksville near the rivers on Sunday afternoon and could persist through Monday.
NWS, which also issues a Flash Flood Watch for the area, said residents should avoid flooded areas along the rivers and move personal belongings to higher ground. Street flooding may become a hazard for travelers in Clarksville. Motorists should never drive through flooded roads, and be mindful of warning signs and barricades.
In Clarksville, Street Department emergency crews gathered late Saturday afternoon, and crews with chainsaws, backhoes and trucks were moving into place across the city to close roads if necessary and remove trees from roadways if high winds hit.
"I'm grateful for our City employees from all our departments who are out here in this rough weather, preparing for trouble if it comes, and keeping us safe," said Clarksville Mayor Joe Pitts, who visited the Street Department headquarters about 3:00pm Saturday for an update on conditions.
Earlier, Street Department officials said it had closed Thomas Street, between Bradley Street and Riverside Drive; and Dave Drive between East Bel Air Boulevard and Gino Drive.
Clarksville Police officers and Clarksville Street Department personnel were monitoring low spots prone to flooding. Signs and barricades were moved near known trouble spots, and were ready to be placed when needed as the water rises.
In Montgomery County, officials reported this list of roads closed by high water:
Lock B Road South; Shelton Ferry Road; Southside Road and CB Road.
Lock B Road North; Gholson Road.
Lock C River Bottoms — Lylewood Road at County line; Kirkwood Road at Lock C bottoms; Levi Road.
Other areas: Powers Place; Port Royal Lane; Chapel Hill Road at the bridge over Hurricane Creek; Hematite Road.
Water issues closed Liberty Park and McGregor Park, the city's two big downtown recreational areas, and Valley Brook Park, a neighborhood green space near downtown, also was closed.
Other park closings and use limits include:
Trice Landing
Greenway, South Section
Billy Dunlop Park.
Robert Clark Park, kayak access closed by swift current and rising water.
Barbara E. Johnson Park, disc golf course flooded.
Coy Lacy Park, field flooded.
Bel-Aire Park, field flooded.
Many other parks have localized flooding with water standing in playgrounds and fields.
Residents are urged to look for weather updates on Facebook at City of Clarksville, Tennessee Government, and stay tuned to NOAA weather radio and local media for further information from the National Weather Service.