Austin Peay State University Sports Information

Florence, AL – Austin Peay State University (APSU) women's tennis team ended their non-conference slate undefeated after a 7-0 win over North Alabama, Wednesday, at the UNA Varsity Tennis Courts.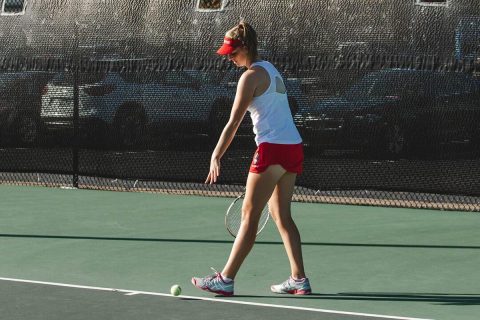 The Governors (12-0) have experimented with a couple different lineups and pairings in doubles as of late, but showed no signs of rust once again against the Lions (5-8)
Tatiana Lopez and Honoka Nakanishi moved up to the No. 1 doubles spot last match against Dayton and once again played there today, winning 6-2. The duo have now won eight straight doubles across the No. 1 and No. 2 positions.
The Yanes Garcia duo kept rolling along as well, winning 6-1 at No. 2 doubles to give the Govs a 1-0 lead heading into singles. Despite the Govs having won the doubles point, the new pairing of Fabienne Schmidt and Danielle Morris played out their match at No. 3 doubles, winning in a tiebreaker, 7-6.
Like they have done all throughout this season, the Govs rolled over their opponents in singles. Claudia Yanes Garcia continued her unbeaten singles season to this point with a dominant 6-0, 6-1 win at No. 2 singles to put the Govs up 2-0.
Schmidt is quickly finding her form in singles as well, winning 6-2, 6-3, at No. 4 singles to bring the win in sight. Lidia Yanes Garcia clinched it for the Govs with a workmanlike 6-4, 6-2 victory at the No. 1 spot, assuring the Govs they will be unbeaten heading into Ohio Valley Conference play.
Lopez, Morris, and Helena Kuppig all picked up straight-set wins in singles as well, as the Lions were the seventh team to fall victim to the Govs without winning a set.
The Govs host Tennessee State to open up OVC play, 10:00am, Saturday.
Box Score
Austin Peay 7, North Alabama 0
Doubles
1. Tatiana Lopez/Honoka Nakanishi (APSU) def. Nina Linke/Megan Humphreys (UNA) 6-2
2. Claudia Yanes Garcia/Lidia Yanes Garcia (APSU) def. Nele Seitz/Sydney Flesch (UNA) 6-1
3. Fabienne Schmidt/Danielle Morris (APSU) def. Payton Andrews/Elise Sickle (UNA) 7-6 (7-2)
Singles
1. Lidia Yanes Garcia (APSU) def. Payton Andrews (UNA) 6-4, 6-2
2. Claudia Yanes Garcia (APSU) def. Sydney Flesch (UNA) 6-0, 6-1
3. Tatiana Lopez (APSU) def. Nina Linke (UNA) 7-5, 6-3
4. Fabienne Schmidt (APSU) def. Nele Seitz (UNA) 6-2, 7-5
5. Helena Kuppig (APSU) def. Megan Humphreys (UNA) 6-2, 7-5
6. Danielle Morris (APSU) def. Elise Sickle (UNA) 6-2, 7-5
Order of finish: Doubles (2,1,3); Singles (2,4,1,6,5,3)