APSU Sports Information

Clarksville, TN – The Austin Peay State University (APSU) women's tennis team marched on in Ohio Valley Conference play, defeating UT Martin, 6-1, Saturday, at the Governors Tennis Courts.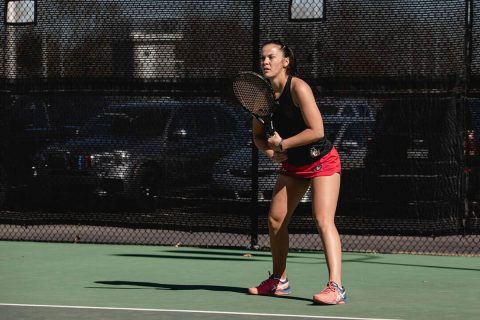 The Governors (16-0, 4-0 OVC) were led by Lidia Yanes Garcia and Tatiana Lopez, who each had a doubles and singles win.
It was crucial the Govs take the doubles point, as the Skyhawks (3-10, 1-4 OVC) actually won the doubles point in both meetings between the schools last year. Lidia paired with her twin sister Claudia Yanes Garcia at No. 2 doubles, running through their opponents, 6-0, to get the Govs off and running.
The Skyhawks responded with a win at No. 3 doubles, but the record-breaking tandem of Lopez and Honoka Nakanishi came through with a 7-5 win for their 11th straight doubles win, extending the record they set yesterday and giving the Govs a 1-0 lead going into singles.
Lopez made it a 100 percent weekend for herself, winning 6-1, 6-1, at No. 3 singles to put the Govs up 2-0. While the Skyhawks offered some resistance across the other singles matches, they only won one of the first six sets.
Freshman Danielle Morris won her ninth straight match with an impressive 6-1, 6-2 straight-set win. Morris, with a 7-2 doubles record and 13-2 singles record this spring, is making a strong case for the OVC Freshman of the Year to return to Clarksville for the second straight season.
Speaking of OVC Freshman of the Year's, last season's winner Fabienne Schmidt clinched the match for the Govs with a 6-3, 6-2 win. Not long after, Lidia, the Freshman of the Year in 2015-16, also picked up a straight-set win at No. 2 singles (6-3, 6-1) to stretch the lead to 5-0.
Helena Kuppig also won her 12th straight singles match in straight sets, winning both sets in tiebreakers. Kuppig's streak is now sixth all-time in Governors history, however Claudia Yanes Garcia saw her win streak of 14 dual matches (15 overall), which was fourth all-time, snapped with a loss at No. 1 singles.
The Govs make the Illinois road trip next week, starting next Friday at Eastern Illinois.
Box Score
Austin Peay 6, UT Martin 1
Doubles
1. Honoka Nakanishi/Tatiana Lopez (APSU) def. JUMAMUKHAMBETOVA, As/POTTER, Jemima (UTM) 7-5
2. Lidia Yanes Garcia/Claudia Yanes Garcia (APSU) def. SAKURAI, Mizuki/PRATT, Daphne (UTM) 6-0
3. CAMPBELL, Amelia/PLANTADA, Andrea (UTM) def. Danielle Morris/Fabienne Schmidt (APSU) 6-4
Singles
1. JUMAMUKHAMBETOVA, As (UTM) def. Claudia Yanes Garcia (APSU) 6-3, 6-4
2. Lidia Yanes Garcia (APSU) def. POTTER, Jemima (UTM) 6-3, 6-1
3. Tatiana Lopez (APSU) def. PLANTADA, Andrea (UTM) 6-1, 6-1
4. Fabienne Schmidt (APSU) def. CAMPBELL, Amelia (UTM) 6-3, 6-2
5. Helena Kuppig (APSU) def. SAKURAI, Mizuki (UTM) 7-6 (8-6), 7-6 (7-4)
6. Danielle Morris (APSU) def. STREIF, Jule (UTM) 6-1, 6-2
Order of finish: Doubles (2,3,1); Singles (3,6,4,2,1,5)