Nashville Sounds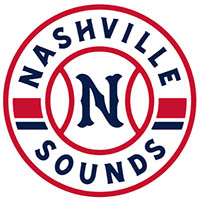 Nashville, TN – The Iowa Cubs maintained control over the Nashville Sounds for most of the game in front of a sellout crowd of 10,010 at First Tennessee Park Saturday night. With two big innings in the third and seventh inning, Iowa ran away with a 10-4 win.
The game was scoreless until the top of the third inning, where Iowa had 13 batters come to the plate and put up seven runs on five hits and five walks, including three doubles to give the Cubs a 7-0 lead.
Nashville answered with three runs in the bottom of the fourth. After back-to-back walks by Willie Calhoun and Matt Davidson to lead off the inning, Patrick Wisdom hit a three-run home run to left field to cut Iowa's lead 7-3.
After relieving Wes Benjamin in the third inning, Tim Dillard threw three scoreless innings from the fourth through sixth inning. Dillard did not allow a hit by the 10 batters he faced in that span.
In the bottom of the fifth, Wisdom came to the plate again, this time with the bases loaded and two outs. On a 3-2 count and runners going, he grounded out hard to second base to halt the Sounds' second rally.
Iowa caught fire again in the top of the seventh with three extra-base hits. With one out and a man on first, Taylor Davis originally hit a single off the top of the right field wall that was eventually overturned into a home run.
Later in the inning Dixon Machado hit a double to only trade places with Ian Happ, who hit another double right after him extending their lead over the Sounds 10-3.
Nashville made some noise in the bottom of the ninth inning when Eli White hit an RBI single to score Danny Santana. However, it was all the Sounds could muster as they fell to the Cubs 10-4.
Nashville Sounds Post-Game Notes
Dillard adds to his Nashville Sounds' career record of innings pitched total to 560.0.
Wisdom's three-run homer in the fourth inning was his first long ball of the season and his first career homer with Nashville.
Next Up For Nashville Sounds
Game four of the five-game series is scheduled for Sunday afternoon at First Tennessee Park. Right-hander Richelson Pena starts for the Sounds against right-hander Colin Rea for the Cubs. First pitch is scheduled for 2:05pm.
The 2019 season is the 42nd in Nashville Sounds franchise history and first as the Triple-A affiliate of the Texas Rangers. Single-game tickets are available now by calling 615.690.4487 or by visiting www.nashvillesounds.com