Written by Kyle Watts

Clarksville, TN – On Tuesday, September 3rd, 2019, Austin Peay State University (APSU) kicked off its inaugural Science on Tap – a monthly lecture series that unites two great things, science and local brews – at Strawberry Alley Ale Works.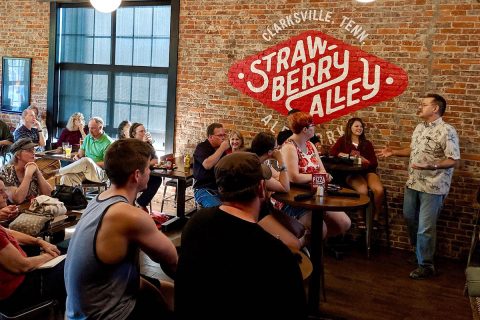 "We've been working on Science on Tap for about two to three years," said Dr. J. Allyn Smith of APSU's Department of Physics, Engineering and Astronomy. Smith was the speaker on Tuesday and gave a lecture about black holes.
The evening began with a brief introduction from Dr. Karen Meisch, interim Dean of the APSU College of STEM. The main objective of Science on Tap is "to bring science, as much as we can, into the community," she said.
About 70 professors, Austin Peay State University alumni and students filled The Pilsner Room at Strawberry Alley Ale Works to hear Smith simplify something even the greatest minds in science do not fully understand.
"The target audience (for Science on Tap) is the average Clarksvillian, not necessarily an APSU student," Smith said. "Not everybody knows about black holes so there needed to be a few slides on what the heck a black hole is."
The first few slides gave a brief history of black holes, how they were discovered and by whom. Smith then segued into the anatomy of a black hole, describing the differences between a neutron star and stellar, intermediary and supermassive black holes.
"We wanted to get the basics of black holes and then have some fun with it," he said. "Part of it is what's a hot topic, what's exciting for the time."
To give context to the crushing gravity of a black hole, Smith asked the audience whether or not he could fit an aircraft carrier into a coffee cup. He explained that it's possible, but only if the atoms are shrunk to such a degree that they fall through the bottom of the cup.
As beer and hamburgers made the rounds, one of Smith's former students, Bill Foust, talked about the event: "I think it's great (Austin Peay) is reaching out to the community. It's a really good thing to try and get everybody interested and share the knowledge."
The turnout surprised Smith. "I figured the first time with not necessarily a lot of advertising if we'd have 25 people there it would have been good."
The evening ended with discussions about humanity's place in the universe.
Science on Tap happens on the first Tuesday of every month at Strawberry Alley Ale Works.
The next "Science on Tap" is scheduled for October 1st, when APSU chemistry professor Dr. Allen Chaparadza will discuss the science of beer, aka fermentation.
To Learn More
For more about the APSU College of Science, Technology, Engineering and Mathematics, go to apsu.edu/costem.
For more about the APSU Department of Physics, Engineering and Astronomy, visit apsu.edu/physics.