Local activist Josh Brollier takes a long walk with a message of peace
Witness Against War is a 450-mile walk from Chicago to Saint Paul to challenge and non-violently resist our nation's wars in Iraq and Afghanistan.  The campaign seeks to hold both major political parties, both Democrat and Republican, accountable and responsible for continuing and ending the Iraq war.
The journey began in the City of Chicago, site of the 1968 Democratic Party convention in the midst of the Vietnam War. The walk will conclude on August 31 in St. Paul — in time for the start of the 2008 Republican Party convention in the midst of the Iraq war.
Joshua Brollier joined the walk in Chicago on July 12th and has participated in awareness events and community forums along the route to St. Paul.  The walkers will convene there on August 29th to march in step with the Veterans for Peace at the Republican National Convention protests.
Brollier, 25, is currently living in Clarksville with his wife Abby, and works as a guitar instructor at a local music store. He has worked with refugees from Afghanistan, Sudan, and Somalia while living in Memphis. He has also spent three months in Zimbabwe in 2004 working with youth orphaned from AIDS. He studied African and Latin American history at the University of Memphis and has been involved in various positions working with youth since he graduated in 2006. Josh has previously been involved with civil disobedience and counter recruitment as he's strongly opposed to the wars in Iraq and Afghanistan.
"I am excited to walk with a group, Voices for Creative Non-Violence, that has had a almost constant presence on the ground in Iraq during the sanctions, during the shock and awe bombings, and throughout the current phase of the war."– Josh Grollier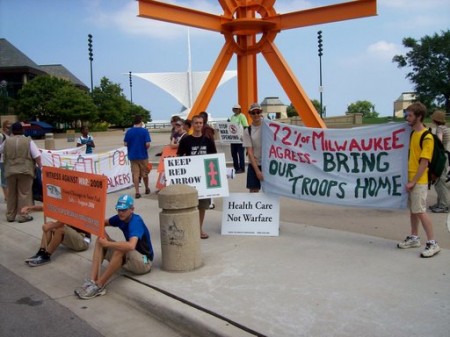 The group engaged in a non-violent act of civil disobedience at Ft. McCoy to dramatize the upcoming deployment of the 32nd Brigade Combat Team, a division of the Wisconsin National Guard.  "We hoped to speak with the soldiers about their right to refuse illegal orders, but we were denied entry to the base," said Brollier. "That's alright though; we have had the opportunity to have many other meaningful conversations with soldiers along the way."
Dan Pearson, the one who dreamed up the walk, scouted and planned the route, and coordinated much of the logistics, calls it "a totally worthwhile endeavor." He and Kathy Kelly are co-coordinators of Voices for Creative Non-Violence, the Chicago-based group that organized and sponsors the walk.
The walkers carry signs –"Witness Against War," "Keep Red Arrow (Wisconsin's National Guard division) Home," "Stop War Spending," "Rebuild Iraq, Rebuild America."
"We have made a lot of good connections with people along the way, both people who agree and those who disagree. It has ended quite well, usually, when people – often active duty military or veterans – pull over to talk. Once you show people you're willing to listen and they understand that we are not attacking them personally, we have had some good conversations and find there is a lot we can agree on." –Dan Pearson says in explaining why he thinks the walk has been an unqualified success.
When the walk reached Fort McCoy, Wisconsin's main military base, two weeks ago, 13 people – including core walkers Kathy Kelly, Josh Brollier, Lauren Cannon and Alice Gerard — were arrested for crossing the line onto the base. Most were quickly processed and released, but Kelly was held on a 10-year-old warrant from Ashland County for civil disobedience against Project ELF, a submarine communication antenna system based in northern Wisconsin, now abandoned.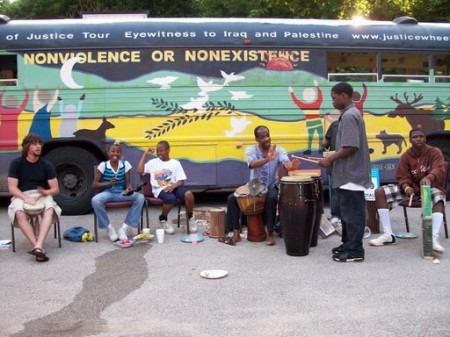 The walkers, with a colorfully painted old bus as backup, usually finish walking around mid-day, leaving afternoons to check in online, prepare for evening events, pitch tents if no one has offered overnight accommodations, prepare a meal, and have some personal time.
Along the way, many local peace groups have hosted the walkers, sponsored events and held community programs. Most of the walk has been in Wisconsin, and the Wisconsin Network for Peace and Justice, a Madison-based network of some 150 groups, has helped make those connections.
Witness Against War has benefited from a vast range of experienced peace activists and hopes to build opposition to the war through face-to-face encounters with people in urban and rural areas.
"Growing up near Ft. Campbell, I saw first hand the strain of separation that repeated deployments cause to families.  I have also seen the cost of these wars while working with refugees from Afghanistan.  Its time for these occupations to end."  — Josh Brollier
This article includes excerpts from Walk Blog: Walking against war in God's country and Voices for Creative Non-Violence/Witness Against War