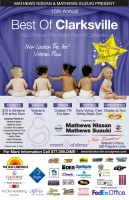 Clarksville, TN – The Best of Clarksville fundraiser for the March of Dimes is eagerly awaited each year by both businesses and area residents. The fundraiser this year featured 140 businesses in 65 categories; each one looking to score the votes of area residents to be declared The Best of Clarksville. The event consists of local vendor booths, silent auctions, dance performances, free give-a-ways, and a fireworks show by Allen's Fireworks. All of the money raised is donated to the March of Dimes.
Matthews Nissan Suzuki was the presenting sponsor. Other sponsors included Five Star Radio, Sango Village Florist, US Bank, Cumberland Bank and Trust, FedEx, Allen's Fireworks, Ad One Advertising, WJZM 1400 AM, and The Leaf-Chronicle.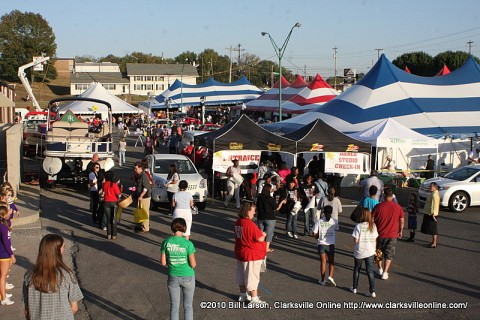 Brittnye Tranberg and her son Wyatt were the Ambassador family for the March of Dimes this year, Wyatt was born six weeks early and the family received assistance and support from the March of Dimes. Tranberg also works for Matthew Nissan Suzuki.
The event last year raised over $50,000, with organizers expecting to exceed that amount this year. To keep track of the Best of Clarksville throughout the year visit their website. For more information about sponsoring next years event contact Meredith Hendrickson via email at , or call 1-877-399-3463.
Photo Gallery
The 2010 Winners
Michael Caldarelli – Voting Chairman
Assisted Living Facility: Fieldstone Place
Auto Service Center: Wyatt-Johnson
Auto Window Tint Store: Ziebart Tidy Car
Bakery / Doughnut Shop: Silke's Old World
Bank/ Credit Union: F&M Bank
Barbecue: Golden Rule
Bridal Shop: Brides Boutique
Buy a Pool: Sango Pool & Spa
Car Audio Store: Audio One
Cheerleading / Gymnastics: Rossview High School
Childcare Center: The Red Barn
Chiropractor: Harris Chiropractic
Clothing Store: Once Upon a Child
Coffee Shop: Starbucks (Madison St)
Computer Store:- None participating –
Consignment Store: Plato's Closet
Dance Studio: Natalie's Dance
Dental Facility: Clks Pediatric Dentistry
Dentist: Dr. Jeannie Beauchamp
Drug Store: Walgreens
Dry Cleaners: Comet Cleaners
Electronics Store: <>
Engraving / Trophy Shop: Sporty's Awards
Flooring: Carpet Express Inc.
Florist: Sango Village Florist
German Restaurant: Silke's Old World
Gift Store: MeMe's Ewenique Boutique
Hair Salon: Eden Day Spa
Hair Stylist: Jenny Jenkins (Eden)
Happy Hour: Old Chicago
Health Club/Gym: YMCA
Heating & Cooling Company: Action Air H&C
Hotel: Hilton Garden Inn
Ice Cream / Smoothie / Shake: Coldstone Creamery
Investment / Insurance Co.: Farm Bureau
Italian Restaurant: Old Chicago
Jewelry Store: McKenzie & Smiley
Local Eatery (non-franchise): Edward's Steakhouse
Mexican Restaurant: Don Panchos
Music Store: Mary's Music
Nail Salon: Eden Day Spa & Salon
Optical Store: Lenscrafters
Optometrist: Dr. Matt Drew
Oriental Restaurant: China King
Outdoor/Sporting Goods Store: Play it Again Sports
Pet Store / Grooming: Alicia's K9 Kuts & Kennels
Place for Family Fun: Riverview Mounds Century Farm
Place to Buy a Boat: Thunder Road Marine
Place to Buy a Car: Jenkins & Wynne
Place to Buy Furniture: Furniture Connection
Place to Get a Beer: Old Chicago
Place to Get a Burger: Cheeseburger Charley's
Place to Get a Margarita: Don Pancho
Place to Get a Pizza: Old Chicago
Place to Get a Steak: Edward's Steakhouse
Place to Get Sushi: China King
Plumbing Business: MAC Plumbing
Print/Copy Shop: FedEx Office
Real Estate Agency: Keller Williams
Real Estate Agent: Valerie Hunter-Kelly
Restaurant: – None participating –
Sandwich Shop: Jersey Mike's
Sign Shop: Signs Now
Spa / Beauty Treatment: Cumberland Aesthetics Laser Ct
Studio Photographer: Barbee's Studio
Veterinarian Clinic: Family Pet Hospital
Wheel/Tire Shop: Wheel Shop
About the March of Dimes
The March of Dimes mission is to improve the health of babies by preventing birth defects, premature birth, and infant mortality. We carry out this mission through research, community services, education and advocacy to save babies' lives. March of Dimes researchers, volunteers, educators, outreach workers and advocates work together to give all babies a fighting chance against the threats to their health: prematurity, birth defects, low birthweight.