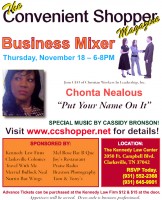 The Convenient Shopper Business Mixer was held yesterday at the Kennedy Center on Fort Campbell Blvd. The networking event hosted  by Treva Gordon and Damon King, and brings together local business people and potential clientèle to make the connections that makes success happen for your business.
Sponsors for the evening included the Kennedy Law firm, James Shelly State Farm Insurance, Travel with Me, Attorney Merriel Bullock Neal, Clarksville Colonics, Tom & Tony's, Praise Radio, L&S Elegant Weddings & Occasion Designers, L.E.A.P., The Young Daughters of Destiny, Maurice Hobbs Insurance, Braxton Photography, Sams' Club, Joy's Diner, Carolyn Long. Chick Fil A on Madison Street, MelRose BBQ, Nuttin But Wings, and Sports Clips.
Business was the primary focus of the evening. Topics included Clarksville Colonics and how stress affects weight loss, Putting your name on your business by Chonta Nealous, Praise radio conducted a session on how the ongoing corporatization of media affects our local market. At times their session seemed more like a worship session.
Local attorney Kevin Kennedy who provided the location for the meeting said "The Convenient Shopper Business Mixers are a great place to make new friends in our area, and whenever you meet new people it always helps your business"
The next Convenient Shopper Business Mixer Networking Event will be held March 2011.
Photo Gallery