Written by By Army Staff Sgt. Ryan C. Matson
Task Force Bastogne Public Affairs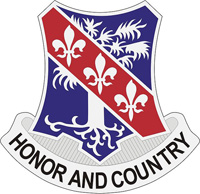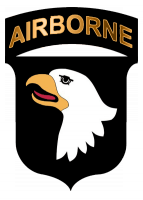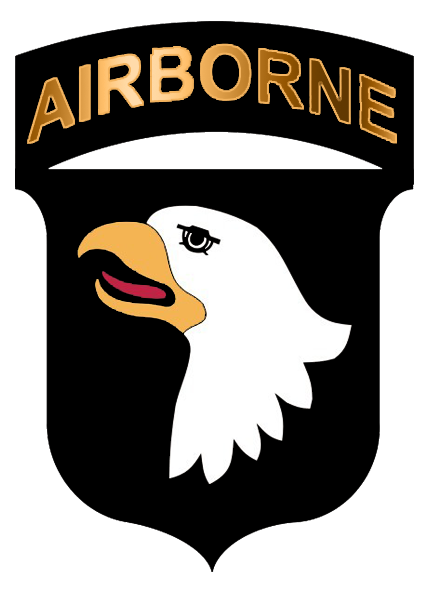 Nangarhar Province, Afghanistan – All their lives, the Ragle brothers, Bradley J. and Brandon J. V., said they have found a way to stick together.
For the last five years, they have been chasing one another around, from Phoenix, AZ, to Indiana to Fort Campbell, KY. For the time being, at least, the journey has found them together again in Afghanistan, both serving as Army cavalry scouts with the 101st Airborne Division at Forward Operating Base Connolly as part of Troop A (Attack Troop), 1st Squadron, 61st Cavalry Regiment. Bradley, 27, a sergeant, is assigned to 2nd Platoon, while Brandon, 22, a specialist, serves with 1st Platoon.
"It's outstanding," Bradley said of being deployed with his younger brother. "My best friend is in a tent three feet away."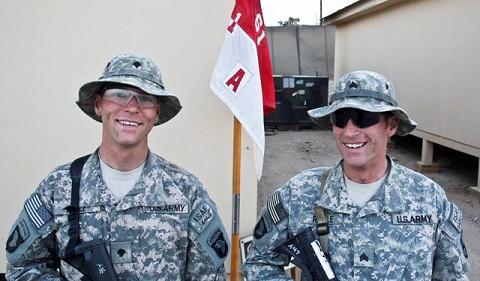 "Ain't nothing better," Brandon agreed. "I've always got somebody to talk to; I've always got somebody I've got something in common with. I know there's always one person who's got my back."
The road that brought them here had a few turns along the way. The brothers grew up in Summitville, IN Bradley served four years in the Navy.
"Brandon's got about a month longer in the Army," Bradley said. "But I've got four years longer in the military."
Bradley said he joined the Navy when he was 18 and came home in 2005, after serving four years as a gunner's mate. He met up with Brandon in Phoenix, AZ, where the two attended the Motorcycle Mechanics Institute together for a little over a year to become motorcycle mechanics. The brothers both have Harley Davidson motorcycles, although they no longer own the same models.
"We started out riding dirt bikes when we were kids," Bradley said. "We still ride together as much as we can."
"It's a common passion," Brandon added. "Most of our free time, we're riding them or working on them so we wanted to go to the school, not necessarily as a career move or anything, just to go to the school."
After attending the motorcycle vocational college, the brothers headed back home together to Summitville, IN, a town of about 1,000 people, to try and find some work. They joined their mother Lisa Fields and stepfather Robbie Fields there. Jeff Ragle, their biological father, passed away in 2007.
In Summitville, the two worked numerous odd jobs together. They worked as movers, fabricators, repairing semi-trucks, grain haulers and swimming pool installers. They said hiring them was basically a package deal.
"We would actually go to job interviews together," Bradley said. "They'd call us into the interview and we'd sit and talk to the boss together. If a job wasn't together, then we pretty much said 'forget it.'"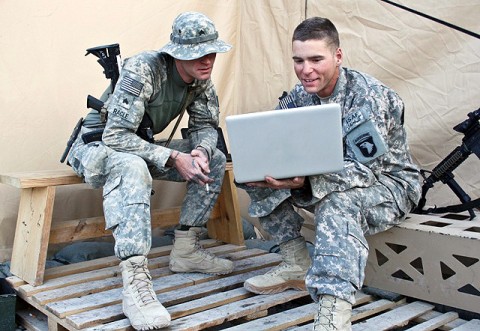 They said there was only about a period of two to three months when they didn't work together.
But the brothers also said finding a good job without traveling 40 to 50 miles was challenging. They said they went through their share of getting laid off then being brought back for jobs when work picked back up.
Brandon, said he had always wanted to join the military and Bradley said he was missing it.
One day, after a couple years of working various jobs around town, the two were sitting in their living room.
"I said, 'Let's just join the Army,'" Brandon recalled.
"And I said, 'Ok,'" Bradley said.
"And that was pretty much it," Brandon finished.
The brothers said they spent a lot of time talking to recruiters and researching different military occupational specialties.  They both wanted to do something in combat arms but cavalry scout appealed to them and was the right fit for them both.
"It's just what I wanted to do, I like the job," Brandon said. "I like being outdoors and just doing stuff."
After a couple months of looking at MOSs online, particularly on YouTube, the brothers made up their minds and enlisted. They went through the Military Entrance Processing Station together.
"Going to the MEPS together was pretty interesting, too," Bradley said. "They'd call out Ragle and we'd both stand up, then they went to 'Ragle, B,' and that's both of us, too."
Even the brother's middle initials are also the same. Bradley's middle name is "J."- not "J-a-y", just the letter "J", period. Brandon's is John Victor.
"I've got two middle names. They realized they forgot to give Bradley a middle name and made up for it on mine," Brandon quipped.
Since Bradley was prior service in the Navy, he did not have to go through basic training as Brandon did. So Brandon shipped out about a month before Bradley, who went through the Warrior Transition Course instead. The WTC is a course designed to familiarize those from other branches of the military with the Army.
After completing WTC, Bradley joined his younger brother at advanced individual training at Fort Knox to become a cavalry scout. Brandon had already been there for a few weeks.
"(Bradley) actually roadmarched past my class' graduating formation," Brandon said.
Getting in the Army together in the same jobs was simple enough; however, winding up in the same unit took a bit of work.
"I had to reenlist to get to Fort Campbell," Bradley said, "and Brandon had to reenlist to stay there. That should give us about two years that we both know we'll be at Fort Campbell together."
Brandon got his orders to Fort Campbell first, and Bradley spent a year at Fort Bliss, Texas, but reenlisted to join his younger brother. They had some help getting in the same unit, though.
First Sgt. Zachary Lever, the Troop A, 1-61 Cav. first sergeant of Cle Elum, WA, said Brandon told him his older brother was coming to see him and that was a cavalry scout also.
"(Bradley) told me he would like to talk to me when he was on leave," Lever said. "So he came to my office, met me and I said, 'Well, I'll talk to the sergeant major and see what he thinks about putting you both in the same troop.'"
"Some sergeant majors don't really want brothers together in the same unit, but I went to the sergeant major and I told him, 'I really want this kid; the younger brother's performance is terrific, so if I can get another Ragle, that's great.' Sergeant major said he'd done it before; he didn't see any reason why not. So a few months later, (Bradley) showed up."
Bradley said he drove all the way from Indiana to Fort Campbell, Ky., just to talk to Lever for the 10 minutes or so he spent talking to him on leave. And when he was done he turned around and drove back to Indiana for the rest of his leave.
Bradley finally joined his younger brother Aug. 10 as a member of Fort Campbell's 101st Airborne Division. Though they are in the same unit, Bradley and Brandon said they don't really work together on a daily basis because they are in separate platoons, pulling separate missions.
"They can't put us in the same platoon," Bradley explained, "because that would kind of be like a conflict of interest, being brothers and of two different ranks. But there's no reason we can't be in the same unit."
Day to day in Afghanistan, the brothers are often on different shifts with different missions, so they see each other whenever they can.
"We occasionally grab lunch together, or dinner chow," Brandon said.
"If we're both awake at the same time, we'll get breakfast, too," Bradley added.
The brothers said they can't see any real disadvantages to being in the same troop together, other than cases of mistaken identity, which they say happen often, and which they find amusing.
"I'll always have someone come up to me and say 'Ragle! Hey man, how ya doin'?'" Bradley said. "Then they'll leave and I'll be like, 'Who was that guy?'"
"If there's disadvantages, we haven't found them yet," he added.
The two said their personalities are very similar, which is evident as they often answer questions at the same time or finish on another's sentences.
Bradley and Brandon also have three half-brothers, including one, Jake, 17, who may also follow in their footsteps.
"He's just itching to get in the Army, too," Bradley said. 
One of the best moments the brothers said they've had together in Troop A was when Lever and Bradley had a surprise for Brandon.
"The neat thing we did was the day we deployed," Lever recalled. "Brandon was getting promoted from private first class to specialist, and we didn't tell anyone in the unit, just his brother, and we got Brandon's wife in on it, too. The day we left, Aug. 24, his brother came up and promoted him (pinned his rank on.) He had no idea, it was dark outside, there were families around and I called him forward and he did it."
Lever said he does not go out of his way to treat the brothers any differently than any of the other Soldiers in his unit. However, he said he does try to do little things he knows their family will appreciate, such as setting up their mid-tour leave on the same dates so the family can see both brothers at once.
Their mother, Lisa Fields, said she is definitely happy with the arrangement.
"It makes me feel good to see them together," she said.
For now, the brothers say they're also enjoying their time together again.
"Most people need to go to the Morale, Welfare and Recreation building and get on the phone or internet to talk to family, but I really only need to go to the tent next door," Brandon said. "I don't know how it happened, but I'm thankful for it. I've got family here, and I really couldn't ask for anything else."
There is no doubt Bradley feels the same.