APSU Women's Golf

Dickson, TN – Chelsea Harris closed out her superb Austin Peay State University golf career with an even-par 72, but it was not enough to help lift the Lady Govs out of fifth place on the final day of the Ohio Valley Conference golf championships.
In fact, Harris was the lone Lady Gov to break 80 as APSU shot a final-round 317 for a 948 three-day total. Harris ended with a three-day 226, tying her for fifth and making it a fourth straight year she earned OVC all-tourney recognition.
Last Game for APSU Seniors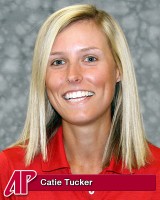 It was a bittersweet day for the Lady Govs, who saw three seniors-Harris, Ashley Wathen (84-78-81=243) and Catie Tucker (83-79-84=246) end their respective careers.
"It was a hard day for the seniors," APSU coach Sara Robson said. "It started early. The wind was really tough on Catie today and she kept trying to make something, trying to make something happen. That's usually when it doesn't happen. She wanted to go on a good note. She just tried too hard."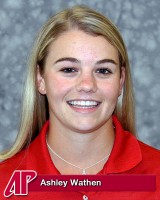 "The other girls-Ashley (Wathen), Rachel (Deaton) and (Ashley) Averitt-they battled today. It just wasn't one of those days where putts were falling all over the place.  We did play some of the tough holes better today, but we just didn't make as many pars today."
Morehead State captured its first-ever OVC title with an 890, easily outdistancing the 2010 champs, Murray State (904) by 14 strokes. Jacksonville State was third (924), Eastern Kentucky fourth (932) and the Lady Govs (948). Eastern Illinois was sixth (978) followed by Tennessee Tech (981) and Tennessee State (1084).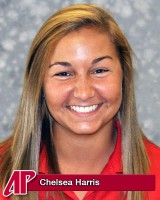 Harris, who shot a one-over 37 on the front side, came back with her finest nine holes, shooting a one-under on the backside. In fact, she made par on the 18th hole-a hole that all week had her number-dropping in a eight-foot putt to close out her career.
"It was great to see Chelsea go out with an even-par round, make a par on that last hole," Robson said. "To make your final putt like on your final hole is pretty awesome.
"The seniors asked me to walk in with them on the last hole. I met Chelsea down there on the fairway and she said 'it is okay that I may bogey on this final hole, but I am not making anything worse than bogey.' She started laughing and I told her we are going to make par."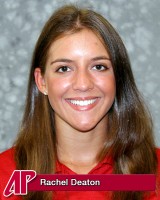 Freshman Rachel Deaton, playing in her first OVC championship, closed with a an 81 for a 243, but it still left her tied for 15th. Junior Ashley Averitt ended with a final-day 83 for a 244 total.
As disappointed as Robson is in seeing her three seniors depart-all three will be attending graduate schools in the state, she was equally pleased with the support shown by fans during the three-day tourney over a holiday weekend.
"We had a great turnout for the tournament and considering it was Easter weekend, they were very supportive," Robson said. "It was really awesome and I know the girls appreciated it."