Written by Sgt. Joe Padula
2nd Brigade Combat Team PAO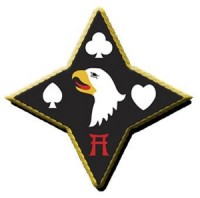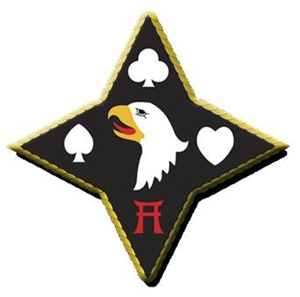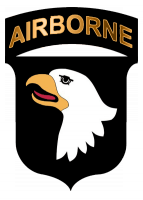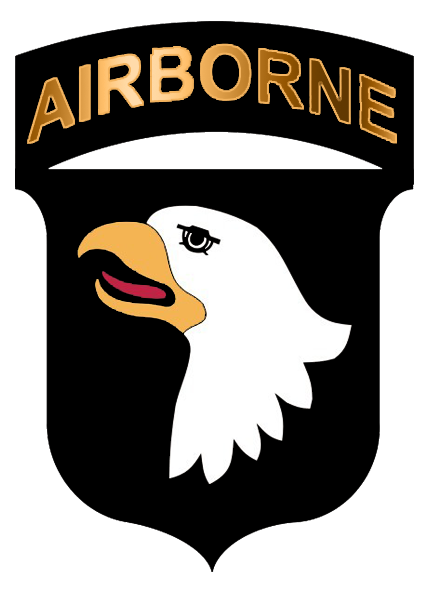 Fort Campbell, KY – J.R. Martinez, ABC's "Dancing With The Stars" Season 13 winner and former Soldier with the 101st Airborne Division (Air Assault), came back to Fort Campbell and met with today's Screaming Eagles and their families, December 4th.
Martinez was an infantryman with Company D, 2nd Battalion, 502nd Infantry Regiment, 2nd Brigade Combat Team back in 2003 and the 19-year-old deployed with the Strike Brigade to Iraq that year in February. About two months later, the HMMWV, better known as a Humvee, he was driving rolled over a land mine and Martinez suffered smoke inhalation and severe burns to more than 40 percent of his body.
Since his life-altering injuries, Martinez has become a motivational speaker, an actor on the soap opera "All My Children" and most recently the winner of DWTS. He came to Fort Campbell with a message about overcoming harsh conditions.
"We all face some kind of adversity…whether you're wounded or not, the one thing that connects all of us is that thing adversity," said Martinez to a crowd of about 100 Soldiers and family members. "We're all equipped to overcome the adversity that we face and I'm here to tell you, you have what it takes and it does get better."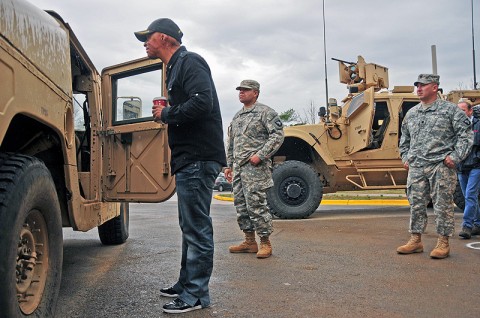 Martinez toured his old base and recalled memories from the post's education center outside of Gate 4 and the SKIES Unlimited building, where in 2003, he received his pre-deployment brief. He returned to the Strike footprint and met with the Strike Force leaders and Soldiers. There he stopped and paid his respects at Strike's OEF 10-11 Fallen Soldier Memorial.
"It gave him an understanding on how hard our last deployment was; it was critical for him to see the memorial," said Sgt. Maj. John White, the command sergeant major of Strike Force.
White briefed Martinez on the operations of Combined Task Force Strike and its fallen Soldiers, whose names are etched into the memorial.
A display of today's weapons and troop vehicles were shown to Martinez at his old company's headquarters. He talked about his time spent there more than eight years ago.
"I did a lot of push-ups in here," said Martinez while laughing. "I was a private when I got here and I used to do push-ups all the time."
Awaiting the Screaming Eagle dancing star at the Strike Dining Facility were 101st Soldiers and families. They gathered on the rainy Sunday morning to hear his motivating words on overcoming obstacles.
"It's hard, but all of you are winners and have what it takes to make this the winning Army that it is," said Martinez. "You fight that fight overseas and fight that fight in other parts of the world, you can fight this fight when you come back home and you can win."
The Soldiers there to hear his words appreciated his time spent with them. J.R.'s words hit the mark.
"He brings the message to stay strong and you can do anything in this life," said Sgt. Charles Reagan with Strike Force's Headquarters and Headquarters Company. "His brief was awesome and I'm walking away with a much better understanding of adversity."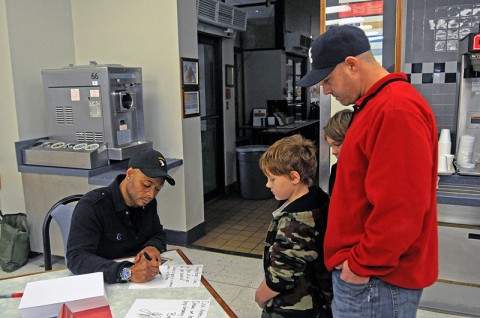 After an hour of signing autographs and sharing stories with his audience, Martinez moved to a lunch with wounded Soldiers at the Fort Campbell Fisher House.
"I got hit pretty early in the deployment while in our vehicle on the Personal Security Detachment team in Zharay," said Sgt. Joshua Peters who at the time of his injuries was a team leader with Company C, 1st Battalion, 502nd Infantry Regiment. Martinez was also injured in a vehicle early into his deployment, about two months in. "It's comforting to see J.R. come here and tell us he is doing well, especially after all of the tough times he had to of went through. I'm glad he's here and I am glad I'm here." Peters attended the lunch with his wife and son.
The 'Dancing With The Stars' winner showed his rhythm to the youth of Fort Campbell at the MWR's SKIES Unlimited building with a dance routine taught to him by the children there taking after-school dance lessons. After learning the new routine from the tiny dancers, Martinez continued sharing his message.
"The biggest thing I can pass along to you is you're young, dream big, have goals and whatever it is you want to do, believe that you can do it," Martinez said in a dance room filled with kids. "It doesn't matter what your situation is, no matter what potentially you feel is holding you back, you can still accomplish it."
Martinez left Fort Campbell after the dancing portion of his visit and even though he no longer wears the 'Old Abe' patch on his sleeve he still remains one that serves the 101st Airborne Division.
"As they say, in order to know where you're going, you got to know where you have been and to be able to share with all of the troops and families and meet with them was more of an honor for me than maybe it was for them," said Martinez. "I've come back here to reflect, remember how far I've come and pass on what I've learned in the eight-years since being here onto these troops and families and give them inspiration to get through these times."