March is National Nutrition Month®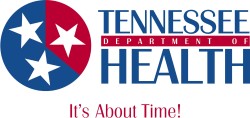 Nashville, TN – We all know exercise is a great way to get our bodies in shape. But don't forget about nutrition! The Department of Health urges Tennesseans to "Get Your Plate in Shape" starting this March during National Nutrition Month® by including healthy items from all food groups at each meal.
"We should all strive to make sure our eating plans include vegetables, fruits, whole grains, lean proteins and low-fat dairy products," Health Commissioner John Dreyzehner, MD, MPH, said. "Real food is the best way to get the nutrients we need to keep us healthy."
The United States Department of Agriculture's MyPlate tool is a free resource to help guide users toward a more balanced eating plan. MyPlate illustrates the five food groups that are the building blocks for a healthy diet using a familiar image:  a place setting for a meal. Find the guide at www.choosemyplate.gov.
Tips from MyPlate to get your Plate in Shape
Make half of your grains whole
Choose brown rice, barley, oats and other whole grains for side dishes and cooking ingredients
Switch to 100-percent whole-grain breads, cereals and crackers
Switch to fat-free or low-fat milk
Reduced fat and fat-free milk have the same nutrients as whole milk with much less fat and calories. Make the switch for better health!
Vary your protein choices
Eat a variety of protein foods each week like seafood, nuts and beans, as well as lean meat, poultry and eggs
Keep meat and poultry portions lean and limit to three ounces per person per meal
Try to make fish or seafood the protein on your plate at least twice a week
If you choose cans or pouches of tuna or other fish, look for those packed in water instead of oil
Cut back on sodium and empty calories from solid fats and added sugars
Drink water instead of sugar-sweetened beverages like tea, sodas and fruit-flavored drinks
Choose foods lower in sodium–the amount is listed on the Nutrition Facts Panel
Season foods with spices or herbs instead of salt
Use heart-healthy oils like olive, canola and sunflower oil for cooking
Eat locally
Food obtained from local sources is fresh and benefits the local economy. Visit www.picktnproducts.org to find sources of local food in your area.
Cooking at home can also help you improve your health and nutrition since you can control what's in the foods you choose to prepare and eat. It's important to pay attention to portion sizes wherever you eat. Aim to fill half of your plate with fruits and vegetables at each meal.
For more tips on healthful eating, visit the Get Fit Tennessee website at www.getfittn.com.
National Nutrition Month® is sponsored by the American Dietetic Association. For more nutrition education resources, go to www.eatright.org.