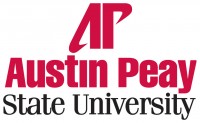 Clarksville, TN – A couple of years ago, Austin Peay State University student and former cross country team standout Tracee Gruskiewicz fell out of love with running. She didn't want to lace up her shoes anymore and push herself to do three-, four- or five-mile runs through the streets of Clarksville.
That attitude seems so foreign to her now. Particularly earlier this month, when she ran through the Mojave Desert at night to stay cool. Or the day she jogged into Texas, the humid air thick like a sweater against her skin. Not running was never an option. Instead, she dipped a shirt in ice water, draped it around her head, and tried to get her average 35 miles of running in for the day.
Gruskiewicz, partly in an effort to resurrect her passion for the sport and partly to support causes she believes in, is in the middle of a strenuous 2,800-mile run across the country. On Monday afternoon, she arrived in Clarksville's Freedom Deli, 17 pounds lighter and in her third pair of shoes, to rest before continuing her journey to North Carolina.
"I started at Huntington Beach, California," she said, still in her running shorts and shirt. "I have two friends that drive a pickup truck and a camper. They drive ahead three to four miles. I stop there, get water. I have to eat every two hours. I do that every single day for 12 to 15 hours a day."
She came up with the idea to run across the United States last fall, when she was late for class at APSU. Gruskiewicz, a pre-vet major, sprinted up the stairs of the Sundquist Science Complex that November morning, passing one of her agriculture professors who noticed she was out of breath.
"He said, 'What are you doing, running across the country?'" she recalled. "At that point, I decided to do it. I was like, this is what I want to do to get back into running for the reasons I love to run."
She went on the Internet and discovered that the youngest woman ever to run across the country was 24 years old, and she did it in 97 days. Gruskiewicz turns 24 this year. Her goal is to reach the East Coast in 96 days.
"But I thought, I don't want to run for just me," she said. "I want to make it more meaningful than that."
Gruskiewicz spent months trying to find a cause that inspired her. Through her ministry work with the Church of Christ Student Center, she met a young man named Kyle Ferguson and learned the tragic story of how his mother and special needs brother, Cole, were murdered last year in Gulf Port, Mississippi. Ferguson has two surviving younger brothers, so Gruskiewicz decided to name her cross country trip, "Cole's Run," with the money she raises going to a scholarship fund for those two brothers.
"The College Fund, we're trying to raise $10,000," she said. "And I'm going to fundraise, even after the run, until I get $10,000."
Gruskiewicz is also running to promote 4feet2feet, a nonprofit she is developing that will pair people with mental illnesses with therapy animals.
But her goal now is simply to continue spending her days doing nothing but running and eating so she can sprint into the water of the Atlantic Ocean on August 12th. It'll be the culmination of a long, arduous journey that took her across rarely traveled back roads of America.
"I've been on mostly state highways, but at times, a lot through Arizona and New Mexico, I was on dirt roads," she said. "It was so shocking to be out in Arizona and see mountains in 105 degrees and see snow on them. You go through towns that are not touristy, that you would never go through. I went through these towns so small, they had no running water or electricity."
When she finishes, she'll only have a few weeks to recuperate because her final year at APSU begins at the end of August. And when she graduates in May, it's off to veterinary school.