Austin Peay State University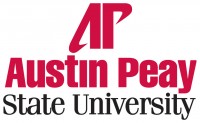 Clarksville, TN – Faculty and staff members at Austin Peay State University recently announced publications or conferences attended as part of their professional and scholarly activities.
Maj. Amy Buck, recruiting operations officer, and Master Sgt. Maj. Randall Johnson, assistant professor of military science, were promoted recently to their current Army ranks.
Gina Garber and Christina Chester-Fangman, associate professors of library administration, presented at the Southeastern Library Association/Georgia Council of Media Organizations Joint Conference held October 3rd-5th in Macon, GA. The presentation was titled "Poster Power! Communicating Visually with Your Library Users."
Jake Lowary, coordinator of Student Affairs Publications and adviser to The All State, presented three sessions at the Associated Collegiate Press conference held October 31st-November 4th in Chicago, IL. The sessions he presented were war reporting, professional versatility and the importance of good writing skills. Lowary is a former working journalist who spent more than five years at The Leaf-Chronicle covering Fort Campbell, KY, and the 101st Airborne Division (Air Assault), among other assignments.
Dr. Sergei Markov, APSU associate professor of biology, and Dr. Elvira R. Eivazova, APSU adjunct professor of microbiology, anatomy and physiology, recently published a paper, titled "Conformational regulation of the hydrogenase gene expression in green alga Chlamydomonas reinhardtii," in the International Journal of Hydrogen Energy. This study was funded in part by a National Science Foundation grant and the APSU Summer Research Fellows program.
Dr. Melony Shemberger, assistant director of communication in the Office of Public Relations and Marketing and adjunct faculty in the department of communication, recently reviewed the textbook, "The Art of Feature Writing" by Earl Hutchison, for Oxford University Press for an upcoming revised edition. She uses the textbook to teach undergraduate and graduate sections of feature writing for the communication department.
Dr. Carter F. Smith, assistant professor in the department of public management and criminal justice, presented a paper, titled "Gang Investigators' Perceptions of Military-Trained Gang Members in the Southern U.S.," and participated in a roundtable discussion on "Changing Aspects of Gangs" at the 2012 American Society of Criminology conference held November 14th in Chicago, IL.