Austin Peay Governors vs. Arkansas State
December 16th, 2012 | Tipoff: 2:00pm
ASU Convocation Center | Jonesboro, AR

Jonesboro, AR – After week off for finals its back to the business of basketball for Austin Peay State University. The Govs will hit the road to face Arkansas State, 2:00pm, Sunday December 14th in the ASU Convocation Center.
The Governors business begins and ends with taking care of the basketball. APSU committed 28 turnovers in its 83-65 loss to Memphis-it was the third time this season the Govs committed 20 or more turnovers.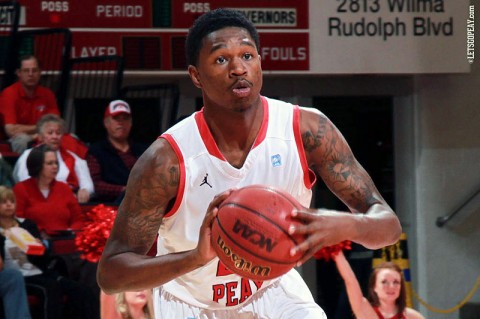 With senior point guard Jerome Clyburn out indefinitely with a hamstring injury, APSU ended up using four players at the point guard, even leading scorer Travis Betran. It won't get any easier against a deep veteran Red Wolves backcourt. Arkansas State is forcing 16.6 turnovers per game while collecting more than eight steals.
The Govs turnover woes nearly overshadowed Betran's outstanding offensive performance. He scored 27 points, including knocking down 5-of-6 triple attempts. Also lost in the turnover malaise was APSU's 50 percent shooting-the first time the Govs have lost shooting 50 percent or better this season.
After losing two straight Sun Belt Conference games to open league play, ASU bounced back to beat St. Bonaventure, 73-70, last week before taking a finals break.
Even though he doesn't start, guard Ed Townsel leads the ASU scoring at 14.5 ppg while forward Brandon Peterson is averaging a double-double (11.9 ppg, 10.5 rpg).
Fastbreak
After playing three straight home games, Austin Peay is playing the second of two straight road games. The Govs lost at Memphis, December 8th, before concentrating on finals this week prior to this contest.
Austin Peay enters the game still seeking its first road victory, having gone 0-3 so far this season at Western Kentucky, DePaul and Memphis.
Arkansas State is playing the second of a three-game homestand, owning a 3-0 home record thus far this season.
The Red Wolves were picked to finish second in the Sun Belt West Division behind North Texas.
ASU guard Trey Finn was named preseason All-Sun Belt while forward Brandon Peterson was named second team and guard Marcus Hooten third team.
Arkansas State coach John Brady is 2-3 against APSU coach Dave Loos, dating back to his days as Samford head coach.
What You Should Know
The Series: This is the 27th meeting between Austin Peay, a member of the Ohio Valley Conference, and Arkansas State, a member of the Sun Belt Conference. The Governors own a 14-12 lead in the series. That includes the Govs' 86-82 overtime victory in Clarksville, December 5th, 2011. Josh Terry had 22 points in that game and Melvin Baker 21 for the Govs while Marcus Hooten had 27 for Arkansas State.
Deeper Meanings
What A Win Would Mean: The Govs would move back to the .500 mark at 5-5. They would go to 2-2 in December. The Govs would gain their first road victory. They would go to 15-12 all-time against Arkansas State. It would give Loos a 4-2 mark against Arkansas State coach John Brady. It would improve Loos to 5-2 against Arkansas State. It would be APSU's 102nd win against current Sun Belt Conference members. It would be Loos' 450th career victory.
What A Loss Would Mean: The Govs would drop two game below the .500 mark for the first time this year at 4-6. It would make the Govs 0-4 on the road this season. The Govs would fall to 1-3 in December. It would be their 127th all-time loss against current Sun Belt members. It would be Dave Loos' 316th APSU loss and 369th all-time.
4X Recipient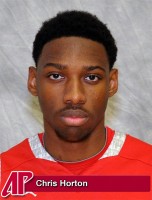 For the first time in a decade the OVC Men's Basketball Freshman of the Week honor has gone to the same person for four straight weeks. That player is the Govs' 6-8 center Chris Horton, who averaged 14.5 points while shooting 82 percent from the floor last week in helping the Governors gain a split.
Horton became the first OVC freshman to receive the award four straight weeks since Eastern Kentucky's Matt Witt captured it five straight times in the 2002-03 season. He recorded his career 20-point outing against Oakland City, going 10-of-12 from the floor. He also had a season-high 11 rebounds to record his season's second double-double and also blocked a season-best five shots in the contest.
Against Memphis, the Decatur, GA, native got into early foul trouble but still finished with a team-best seven rebounds to go with eight points in just 22 minutes.
For the week, Horton connected on 14 of 17 field goals (82 percent).
Betran Earns 3rd New Newcomer Award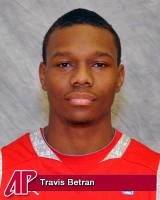 Junior guard Travis Betran was named OVC Newcomer of the Week for a third time after his spectacular effort against Memphis. He scored 27 points, going 9-of-15 (60 percent) from the floor. He knocked down five of APSU's six three pointers.
On the week, he averaged 22.5 ppg, shooting 59.3 percent (16 of 27), including 8-of-12 from three-point range.
Finding Comfort Zone
Junior guard Travis Betran, who joined the Govs as school started, has found his comfort zone. The Harlem native has scored in double figures in each of the past seven games. However, in the last six games the Kilgore College transfer is averaging 19.6 ppg and has connected on no less than three three-point field goals in those contests.
He is shooting 53 percent from the floor in those games, including 55 percent from three-point range. The 6-3 guard is ranked 13th in the nation in three-point field-goal percentage (51 percent) while being 37th in three-point field goals made (2.89) per game.
Turnover Troubles
The 28 turnovers against Memphis represented a season high and the most turnovers since the Govs had 29 in a 68-58 win against Tennessee State, January 14th, 1999. It also was third time this season the Governors had 20 or more turnovers.
Steal Away
The 10 steals against Memphis represented a Govs season best.
Be-Sting
Travis Betran's 27 points represented a season high and was the second time he has scored 20 or more points. Those 27 points were the most by a Gov since John Fraley had 31 against Tennessee Tech last February 2nd.
Breaking Point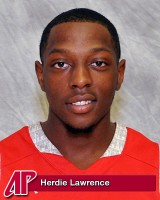 With senior point guard Jerome Clyburn out indefinitely, the Governors used four different players at point against Memphis.
Herdie Lawrence started at point for the second straight game while AJ Lynch, Thomas Greer and
even Travis Betran also played the position.
Sreak Snapped
Chris Horton blocked one shot against Memphis, ending his streak of eight games with at least two blocked shots.
Rebound Headache
The Govs' 22 rebounds against Memphis, Saturday, were the fewest by APSU since they had 21 against Southern Illinois, November 21st, 2010.
Percentage Decrease
When Austin Peay shot 24 of 48 from the field against Memphis it was the first time since losing to Jacksonville State in the 2012 OVC tournament the Govs had lost when shooting 50 percent or better.
Game Time
The game will air on the Governors Radio Network, WVRY 105.1-FM. David Loos will be doing play-by-play along side analyst Brad Kirtley. Live stats can be seen on the Austin Peay Sports website www.letsgopeay.com .