Tennessee Titans (5-10) vs. Jacksonville Jaguars (2-13)
Sunday, December 30th, 2012 • Noon CT
LP Field • Nashville, TN • TV: CBS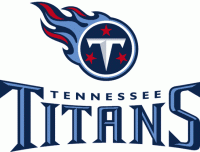 Nashville, TN – The Tennessee Titans (5-10) conclude their 2012 season this week with a home game against the Jacksonville Jaguars (2-13). Kickoff at LP Field (capacity 69,143) is scheduled for noon CT on Sunday, December 30th.
This week will mark the 37th all-time meeting between the Jaguars and Titans, with the Titans holding a 20-16 lead in the series. The three games since the start of the 2011 season have been decided by 13 total points. The Jaguars won last year's season opener 16-14 in Jacksonville (September 11th), followed by the Titans' 23-17 victory later in the year (December 24th).
In the first matchup this season, played in Jacksonville on November 25th, the Jaguars prevailed 24-19. Jaguars quarterback Chad Henne passed for 261 yards and a pair of second-half touchdowns, and the Jaguars intercepted two Jake Locker passes late in the fourth quarter to preserve the win.
This week's game will be televised regionally on CBS, including Nashville affiliate WTVF NewsChannel 5. Don Criqui will handle play-by-play duties while Randy Cross provides analysis.
The Titans Radio Network, including Nashville flagship 104.5 The Zone, will broadcast the game across the Mid-South with the "Voice of the Titans" Mike Keith, color commentator Frank Wycheck, sideline reporter Cody Allison and gameday host Larry Stone.
The game can be heard locally on 1400am WJZM.
Titans Look To Close Out 2012 With A Win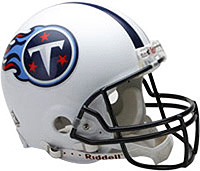 The final rankings in the AFC South are solidified for 2012. At 12-3, the Houston Texans are the division champions, followed by the 10-5 Indianapolis Colts, who have secured a Wild Card berth.
The Titans and Jaguars will finish third and fourth in the division, respectively.
Last week the Titans suffered their 10th loss of the year, falling to the Green Bay Packers in Green Bay by a final score of 55-7. They scored in the fourth quarter on a two-yard pass from Locker to Kenny Britt.
In his second pro season, Locker has started 10 games. He has completed 168 of 299 passes for 2,024 yards, 10 touchdowns and 11 interceptions and also has 288 yards and a touchdown on 36 rushing attempts. He missed five starts earlier in the season due to a left shoulder injury.
Chris Johnson has rushed for 1,187 yards and five touchdowns on 255 carries in 2012.
With 13 more rushing yards this year, he will reach 1,200 for the fourth time in five NFL seasons. Entering the finale Sunday, Johnson is 168 rushing yards from becoming the fourth player in NFL history to reach 7,000 rushing yards within his first five seasons. He would join Eric Dickerson, LaDainian Tomlinson and Emmitt Smith.
The Jaguars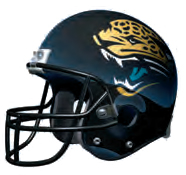 The Jaguars are in their first season with new ownership and a new coaching staff. In January, the sale of the franchise from Wayne Weaver to automotive parts magnate Shahid Khan was finalized. A week later, Khan and general manager Gene Smith hired former Atlanta Falcons offensive coordinator Mike Mularkey as the club's new head coach.
Last week, the Jaguars hosted the New England Patriots and suffered a narrow 23-16 defeat. Henne passed for 348 yards and a touchdown for the Jaguars, and he positioned the Jaguars for the tying score on two separate occasions late in the fourth quarter. However, in both cases, the Patriots intercepted passes near the goal line.
Henne, playing his fourth NFL season, became the starter after second-year quarterback Blaine Gabbert suffered an elbow injury in Week 11. He was signed by the Jaguars as an unrestricted free agent from the Miami Dolphins during the off season and has passed for 1,786 yards, nine touchdowns and eight interceptions this season.
Jaguars Pro Bowl running back Maurice Jones-Drew has not played since suffering a foot injury on October 21st. Prior to his injury, he rushed for 414 yards on 86 carries (4.8 average).
Titans-Jaguars Series At A Glance
Overall series (regular & postseason): Titans lead 20-16
Regular season series: Titans lead 19-16
Postseason series: Titans lead 1-0
Total points: Titans 715, Jaguars 658
Current streak: One win by Jaguars
Titans at home vs. Jaguars: 9-8
Titans on the road vs. Jaguars: 11-8 (including 1-0 in playoffs)
Longest winning streak by Titans: 5 (twice, last 2001-03)
Longest losing streak by Titans: 4 (1996-98)
Titans vs. Jaguars at LP Field: 9-4
Last time at LP Field: Jaguars 17 at TITANS 23 (12/24/11)
Titans vs. Jaguars at EverBank Field: 11-8
Last Time at EverBank Field: Titans 19 at JAGUARS 24 (11/25/12)
First time: OILERS 10 at Jaguars 3 (9/3/95)
Mike Munchak's record vs. Jaguars: 1-2
Mike Mularkey's record vs. Titans: 1-0
Mike Munchak's record vs. Mike Mularkey: 0-1
A Titans Victory Would
Give the Titans an all-time record of 69-43 in regular season games at LP Field, including a 4-4 mark in 2012.
Improve Mike Munchak's career record as a head coach to 15-17.
Give Jake Locker a 4-7 career record as a starting quarterback.
What To Look For This Week
RB Chris Johnson can record the 34th 100-yard rushing game of his career and his sixth 100-yard rushing game of 2012.
RB Chris Johnson (1,187 rushing yards in 2012) needs 13 rushing yards to record his fourth career season with 1,200 or more rushing yards.
RB Chris Johnson (1,187 rushing yards in 2012) needs 168 rushing yards to become the fourth player in NFL history to reach 7,000 rushing yards within his first five seasons. He would join Eric Dickerson, LaDainian Tomlinson and Emmitt Smith.
WR Nate Washington can extend his streak of consecutive games with at least one reception to 78 (64 games with the Titans).
WR Kendall Wright (62 receptions) needs 10 receptions to tie Bill Groman (72 in 1960) for first place on the team's all-time rookie receptions list.
There are eight Titans players who can finish the 2012 season with starts in all 16 games: DT Jurrell Casey, S Michael Griffin, CB Jason McCourty, DE Derrick Morgan, TE Craig Stevens, C/G Fernando Velasco, CB Alterraun Verner and DE Kamerion Wimbley.
Titans-Jaguars Series History
The Jaguars are the Titans' longest-standing division rival. The clubs have met at least twice each year since Jacksonville began play as an expansion franchise in 1995. For the first seven seasons of the rivalry they played in the AFC Central, and for the last 10 years they have been members of the AFC South. The teams have met a total of 36 times, with the Titans holding a 20-16 advantage.
The majority of Titans-Jaguars contests have been highly competitive. Overall, 21 of the 36 Titans-Jaguars meetings have been decided by seven points or fewer.
First matchup of 2012, played November 25th at EverBank Field, was no exception. Despite seven sacks by the Titans defense, the Jaguars intercepted two late passes by Jake Locker to preserve a 24-19 victory.
The last time the teams met at LP Field was December 24th, 2011. The Titans held on for a 23-17 victory on a day in which Matt Hasselbeck passed for 350 yards, including 169 yards and a touchdown to tight end Jared Cook.
The Titans have posted two separate five-game winning streaks against the Jaguars, dating from 1998-00 and 2001-03. Jacksonville's longest winning streak in the series was a four-game run from 1996-98.
The stakes of the rivalry were never higher than in 1999, when the Titans and Jaguars met three times, including the AFC Championship Game in Jacksonville. Steve McNair rushed for two touchdowns and Derrick Mason returned a kickoff 80 yards for a touchdown as the Titans earned their first Super Bowl berth with a 33-14 win. Tennessee went on to Super Bowl XXXIV and eventually fell at the hands of the St. Louis Rams, 23-16.
The Jaguars played their first game in franchise history against the then-Houston Oilers on September 3rd, 1995. Playing in Jacksonville, the Oilers won the game by a 10-3 final score.
Titans-Jaguars: The Last Meeting
Tennessee Titans 19 at Jacksonville Jaguars 24
Sunday, November 25th, 2012
EverBank Field, Jacksonville, FL
| | | | | | |
| --- | --- | --- | --- | --- | --- |
| | 1 | 2 | 3 | 4 | Final |
| Tennessee Titans | 3 | 3 | 3 | 10 | 19 |
| Jacksonville Jaguars | 7 | 0 | 7 | 10 | 24 |
In Week 12, Chad Henne passed for 261 yards and a pair of second-half touchdowns, leading the Jaguars to a 24-19 victory over the Titans at EverBank Field.
Henne was sacked seven times and intercepted on his first drop-back of the game. However, it was the Jaguars defense which came up with two late takeaways to seal the Titans' fate.
After the Titans cut the Jaguars' lead to 21-19 with less than five minutes remaining in the fourth quarter, the Titans defense forced a three-and-out. But two plays into the subsequent series, quarterback Jake Locker was intercepted by safety Dwight Lowery on a tipped pass (linebacker Russell Allen) that was intended for tight end Jared Cook.
Taking possession with 2:40 on the clock, the Jaguars ran the ball and forced the Titans to spend their remaining two timeouts. Josh Scobee then made a 41-yard field goal with 24 seconds remaining, and Locker's desperation heave as time expired was intercepted by safety Chris Harris.
Locker completed 23 of 40 passes on the day for 261 yards and a touchdown, and he added 21 yards on the ground. Chris Johnson rushed 21 times for 80 yards. But the Titans only got inside Jacksonville's 20-yard line twice and routinely were forced to settle for field goals by Rob Bironas, who made four of five attempts.
The Titans forced their only turnover early, leading to the game's first score. On Jacksonville's initial play from scrimmage, Henne's pass was tipped by defensive tackle Sen'Derrick Marks and then intercepted by cornerback Alterraun Verner. Four plays later, Bironas booted a 38-yarder.
The Jaguars took the lead on their third series and would never trail again. They drove 75 yards on 12 plays, finalized by a one-yard touchdown run by Rashad Jennings.
After Bironas made a 40-yard field goal at the end of the first half, the two clubs exchanged long scoring drives in the third quarter. The Jaguars extended their lead when, on a third-and-seven play, Henne connected with Cecil Shorts on a 59-yard touchdown pass. The Titans responded with a 12-play, 64-yard scoring drive, highlighted by a 15-yard catch by tight end Cook on third-and-14 and a 27-yard reception by wide receiver Damian Williams. Bironas capped the series with a 39-yard field goal.
In the fourth quarter, Locker led the Titans on a 10-play, 72-yard march, but once again, they were forced to settle for a field goal, this time from 33 yards.
With the Jaguars' lead cut to two points, Henne engineered an 80-yard drive that ultimately would be the difference in the game. A 15-yard roughing-the-passer penalty was tacked on to a 23-yard reception by Shorts, and then Justin Blackmon's 23-yard catch put them inside the 10-yard line. Two plays later, Henne and Blackmon connected for a seven-yard score.
The Titans' ensuing drive was their most productive of the game, with Locker going five-for-five. Chris Johnson ran for 31 yards, and on the next play, Kenny Britt hauled in a six-yard touchdown pass from Locker.
However, it would be the final threat of the game by the Titans, as each of their final two possessions would end with interceptions.